We humans love our traditions. Some have persisted for valid reasons. Others? Well, I think on some level, we just enjoy the drug of empty repetition.
I've long been an eager proponent of the history, rituals, and heritage of the meal. But sometimes, we confuse the latter concepts. Some traditions are really just calcified habits – long grown irrelevant. To find their rightful place as a cultural and an economic force, restaurants need to transcend the "tradition" of front-line staff, working for tips.
Now, I realize that I'm treading on dangerous ground. Thou shalt not criticize the 20% gratuity, especially here in La Belle Province. But after years of experiencing both sides of the gratuity system, the situation has become as clear as day to me.
The compensation methods, and hence the respect for and the job security of the server has not kept up with its rapid professionalization.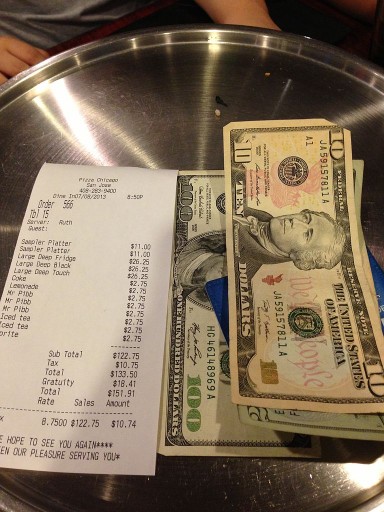 Despite a sharp hike in gastronomy's cultural currency here in North America, we still cling to the quaint tradition of "tipping the service what it's worth."
There are college degrees for restaurant service now, for God's sake, not to mention mixology, tableside prep and food service theory. (More on the odd tension of these degrees in a future article).
Artful dining and drinking are finally entrenched as legitimate "cultural fields" here in North America. The wealth of highly skilled servers has long outweighed the pretenders. It's time to shake off the cobwebs and allow the industry to occupy its rightful place.
Where else are consummate professionals still legally encouraged to work for well under minimum wage?
The consumer's echo? How unfair. I'll just leave a bigger tip.
Well, I do that, and I used to get tips both big and small. That's the problem. Instead of thinking beyond the issue, everyone just screams out to increase tips. We are perpetuating a system that is ultimately harmful to servers, restauranteurs, and eaters.
Why, in this one industry alone, are all the tried and tested responsibilities of the owner — adequate compensation for skilled employees, evaluation of roles and performance — deflected so heavily to the customer?
Tradition? Job instability, high turnover, and an uncomfortable and unnecessary dynamic for the client. That's a tradition! An ineffable part of restaurant culture. But who is really winning from this tradition? And do we realize it's predominantly a North American addiction?
I'm continually amazed by how rarely we compare the resto to similar cultural experiences. For some reason, we blindly accept that over-regulation and unquestioned traditions can utterly stifle in this one case — for no real reason other than the resistance to change. I've ranted in the past about how utterly counterproductive it is for this province to outlaw restaurant tickets, or to let people pay for reservations.
When it comes to working for spare coins, this old, logic-defying current prevails: Servers are inherently different from workers in cognate industries.
The problem is, that is just not true.
Perhaps we just feel guilty about being served food? Does it seem too much of a luxury to be compensated like a normal part of the economy? Try this offhand analogy: riding by plane is luxurious, yet I don't hear of passengers being asked to invent a rate for the pilot once they'd safely landed.
Servers are not a special class. They are simply skilled people with jobs. Their skills and experience are as valid as any other profession.
Yet there is some weird mystique to the profession that fogs our view. The latter is one of the nasty byproducts of an empty tradition. It goes something like this: My server is akin to a street performer, s/he should have to surprise and delight me if I am to allow him/her to make ends meet.
No.
Firstly, such expectations are not consistent with those we have for other services, and other skilled professionals. Customer satisfaction, typically, revolves around the expectation that the person we deal with is competent — hopefully decent — in their role. In most situations, this is easily enough for us to expect someone to be fairly compensated.
Second, a server is also not a freelancer in a public place. A server is an employee generating revenue for a government-sanctioned business. The restaurant industry is one of the most heavily legislated in the province, which is about the the furthest thing (on the surface) from an emergent street economy.
Why not just start paying servers like everyone else, which is to say paying servers based on normal principles of compensation? I'm no expert on the latter, but from my own life, it usually involves one's prior levels of experience and performance year over year.
Some say serving is a sort of performance. Fine. Yet unless they are being defrauded or willingly gigging for free, even, say, actors and musicians know to a much higher degree than servers the terms of their contract before performing the actual work.
Because when it comes to a server's core earnings (tips), the contract is wholly unkonwn. The real contract is not with their boss. It's with their diner. And they do not have permission to interview diners before the first glass of water is brought to the table.
The problem, therefore, is not the tip itself. People should always tip in life if they feel compelled, and cash is only one (albeit efficient) vehicle to acknowledge one's actions, or to express gratitude.
But regular wages — eventually salaries — are the only way to keep servers and restaurants stable and relevant in today's economic and cultural sphere. In no one's fantasy is the restaurant still an economic or cultural experiment. Rather, it's an institution, for whom structural change is long overdue.
So how can restos afford to pay servers real wages? Maybe increase booze markup, add a service charge, hike menu prices; in other words, let us diners absorb the cost of a newly stable profession. Because in many ways, we already are.