I remember the first time I ever saw Hairspray- it literally changed my life. I was young and had already seen The Rocky Horror Picture Show and the Toxic Avenger, so I was familiar with Transvestites and Drag Queens, Mutants and Creatures of the Night, but this was a whole new level.
I was always a big girl, and the way Tracy Turnblad just killed it in that roach dress and got the hottie was just inspiring. The higher the hair the closer to god! Perfection.
At that point Ricki Lake was a talk show host, it was awesome to see her in that role John Waters has a way of capturing the completely insane in such a viceral and glamorously realistic creepy way. I love it.
My art and fashion has been transformed because of these films. Pink Flamingos, Desperate Living, Female Trouble, Multiple Maniacs, Cry Baby, Pecker, A Dirty Shame and MORE! are showcasing the fucked up ghetto strangeness of Baltimore. It's beautiful and in Technicolor.
I visited Baltimore once in my life, it wasn't all that different from Buffalo. As soon as I arrived I got out of the car and the first man I spoke to was (in his southern gay hospitality voice) like "Darlin' don't be offended by this but you remind me of a John Waters character."
I almost cried, hugged him immediately. I AM! I thought to myself. I feel like I just need to camp out at Atomic Books and wait for him to pick up his mail. I relate to his movies so much because they are SO offensively real.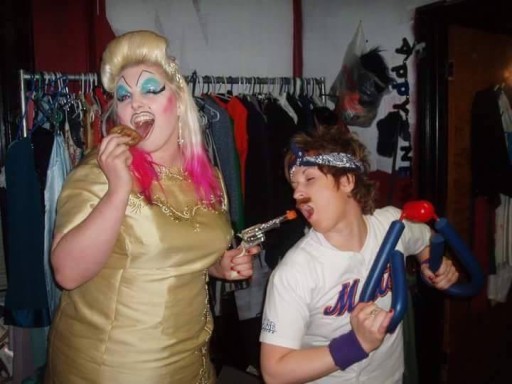 I am far from perfect, I am downright gross sometimes, I have shit my pants, I have dry shitty skin, I get like a weird smegma under my flappy fupa, my stretch marks have stretchmarks, I have blead through a tampon, I have pissed on church steps, I have been covered in pudding, I have had people eat sushi off of me, I have pulled American flags out of my cock, I have fucked a wide array of human creatures in some very strange and unusual ways, I have seen drag queens pull shit tipped beer bottles out of their ass in NYC, and recently saw a girl fuck a cake at an BDSM Burlesque night in New Orleans.
My life, friends, crazy family, and all the other happenstance interactions I have with people feel like they are right out of a John Waters movie. My life is like a crazy queer acid trip, and I love to see Edith Massey and Divine on screen being the fucked up things I see in my mind. I would love to get inside the mind of John Waters.
On a whim I booked a trip to New Orleans to see the John Waters Christmas Special with a meet and greet. THIS WAS MY CHANCE! I was finally going to meet the man who inspires my insanity. I even brought him a painting. My best Kitty Porn.
I put on my worst Christmas drag, the original mullet wig (now dreading) and mustache (so stiff that when it was on the floor my friend thought it was a cat shit) of Cock Sinclair, a beautiful patch of chest hair, two ugly sweater vests, assess zubaz and a shit stained santa hat.
I was ready. I was in NOLA for the first time with a great friend, we arrived at the venue, and instantly my dream was crushed, the music in my little heart melted, I fucked up. By the time I had ordered the tickets I guess the meet and greet had already been sold out, but it didn't tell me that, just let me choose the meet and greet option and then charged me for a general admission. I felt like a Make A Wish kid who got the wish taken back.
I literally wept on a street corner in New Orleans in drag smoking weed. I wished that John would have driven by in his Buick and had mercy on my wretched soul. I've only cried in drag twice before. Once was when Barack Obama was elected president, I walked up after doing a very politically charged show and watched the announcement in real time. It was incredible. The other time I was being a little butch bro bitch.
But anyways. The Christmas show was incredible, I loved being in the same room as him an listening to him go on about Christmas and other fucked up shit. My dad literally texted me during the show and asked me what I wanted for Christmas, I respond with CHA CHA HEELS. By far the best Christmas scene in history.
I had a magical adventure in New Orleans, at the end of the day it didn't matter that I did not meet John then. I explored a new place and got the filth on my own hands, I lived it. I probably would have been disappointed when meeting him, like nobody can live up to that kind of pedestal.
Ok, I'm lying to myself to make me feel better. I just have to go back to Baltimore to meet him someday drunk randomly in a gay strip club. Until then I will get my fix from the Montreal troupe Glam Gam's homage to the Pope of Trash.
Their event reads: "Just when you thought Glam Gam couldn't get any stinkier, they have saved their most rotten performances for the last hour of 2015. Put on your best polyester frock, douse your do with copious amounts of hairspray and join us as we pay homage to the beloved Pope of Trash, John Waters! We will eat shitty food, drink shitty champagne and basically put on the most Divine shit show you've seen all year!"
I was lucky enough to be able to interview a couple of the sexy hosts of this monstrosity, Julie Paquet and Michael J. McCarthy. They gave me a little insight to what inspired the show and are even offering FREE TICKETS to this event On December 31st 2015 at the historic Cafe Cleopatra (which I had the extreme pleasure of performing drag and burlesque at once with the fantastically subversive Candyass Caberet superstars). All you need to do is write your favourite John Waters movie in the comments and share this post.
You cheap dirtbags better get in on that before its too late. This show will sell out and can't be missed. Unspeakable acts of violence and pure mind fuck awesomeness will ensue. And there is booze.It's an incredible venue, the most magical hopeful glittery sequins drunk sex with strangers night of the year, and all of your favorite Dreamland cast alive and in your face with a variety of "talents."
I have an art boner for this show. It is the only place I want to be at midnight. But who will I kiss? I hope they are truly filthy. Maybe it will be you. Enjoy this interview, trying answering the questions yourself if you are a fan. See you at Cleo next week! I'll be the one in disgusting drag…. *laughs maniacally* My body is ready.
1) What was the first John Waters movie you ever saw? How did it make you feel? Life changing?
Julie: I saw Hairspray when I was about seven years old, I loved dressing up and dancing along with the characters. Later, when I was a teenager I saw Pink Flamingos and was severely traumatized…in the best way.
Michael: For me it was Desperate Living. After seeing Grizelda suffocate Bosely Gravel with her ass and later get crushed in a rickety old shack in Mortville, my life was never the same. I was hooked.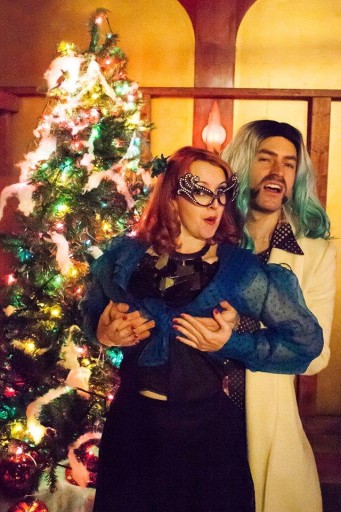 2) Who is your favorite Dreamland actor? Which is your favorite of their characters?
That's a tough question. While every dreamland actor is iconic we both agree that Mink Stole takes the cake for outrageous delivery, style and comedic timing. You gotta love Edith Massey's snaggle-toothed eccentricity; while she's a terrible actress, her awful delivery is incredibly endearing and hilarious. And obviously when you think John Waters, you think Divine, without her contribution and killer aesthetic, Water's films would not be the cult classics they are today.
3) How would you compare John Waters to someone like Andy Warhol or Lady Gaga?
First of all, we think John Waters is in a category of his own; there's no one quite like him. While both Warhol and Waters parodied American culture, Warhol focused on Manhattan city glamour where Waters preferred Baltimore suburban grit. John Waters defined the aesthetic of trash in a way that was never seen before. As for Lady Gaga, sure she had a few catchy hits but there's really no comparison. She has done nothing original; crtl c, ctrl v.
4) Who do you think is the current filthiest person alive? (mine is Donald Trump)
That's a tough question especially since the Pope of Trash himself is still alive. However, people have left our shows shocked and horrified, demanded refunds and then sent us their dry cleaning bills.
5) John Waters revolutionized queer radical film – what inspires you most about his work?
He glorified poor, fat weirdos like us. He paved the way for queers, queens and social rejects. Waters films were revolutionary satirical masterpieces. His work was not only hilarious, it made social commentary on subjects that were taboo and untouched.
6) Tell me about the show. Is it just a tribute or more of your own interpretation?
A bit of both. There are classic John Water's skits that are untouchable which we will pay homage to, but in classic Glam Gam style we will definitely put our own silly spin on things as well.
7) I'm excited that it's Odorama, what kind of fucked scents should we expect?
Well we are creating our very own odorama cards with delicious fragrances such as shit, fish and grandma to represent each character. Unfortunately though, unlike Water's original version, our cards are not edible so please save your appetites for our complementary trashy buffet.
8) Did you hate the newer John Travolta Hairspray as much as I did?
Yes. Hairspray was already one of Water's most mainstream movies, it did not need to be made more mainstream. That's like making a dance remix of an Aqua song…unnecessary. The original cast featured powerhouses like Debbie Harry, Ricki Lake, Mink Stole and Divine and the remake features John Travolta in a fat suit…please. There are plenty of fat queens out there who could have paid proper tribute to Divine; she would be rolling in her grave.
9) John Waters will not make a film for under a million dollars and talks about wanting to sell out – when he used to make classics for no money. How does that make you feel?
He's done his time; artists deserve to get paid for their work. We keep on producing shows because we love what we do. We put our heart, soul, sweat and tears into each production yet we can barely afford to take the bus. After all Waters has accomplished and at his age, why get out of bed for less than a mill?.
10) What is your favorite John waters quote?
"The world of heterosexuals is a sick and boring life."
Glam Gam Presents ✖✖✖ ODORAMA: A Baltimore Ball Drop ✖✖✖ starts New Year's Eve at 9pm (doors 8pm) at Café Cléopatra, 1230 boul St-Laurent. Tickets are $15 in advance, $20 at the door.
Win a pair of tickets by telling us your favourite John Waters film in the comments and sharing this post on Facebook or Twitter and tagging @forgetthebox and @glamgamproductions (FB) or @glam_gam (Twitter). We'll pick a winner and announce who it is next Tuesday!