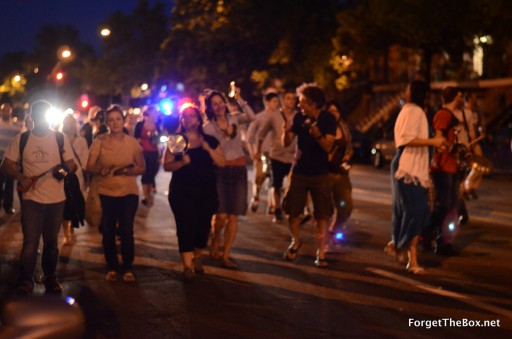 As a student living in Ontario, I pay more for tuition than Quebec students. I don't have any scholarships. I pay full price. If I was told I would be paying around $450+ more a year, I honestly wouldn't care. I really fail to see why students in Quebec are taking this so difficultly.
And why is that? Why does Quebec seemingly expect everything to be handed to them on a silver platter filled with cheese curds? Why? Keep in mind, this is the same province that got its panties in a bunch when the Montreal Canadiens hired a coach who couldn't speak French. Everything has to be a certain way in Quebec. And if it's not done "right", or different, then everyone goes bonkers. Can't turn right on a red light either. Gah.
I have heard numerous attempts by Quebec students and their supporters to make the protests (riots) seem acceptable. Things such as claiming that the Quebec students are doing it for all of Canada, or that the real issue is debt. If you don't want debt, don't pay for something you can't afford. It's that simple. But such is the issue with the left-wing ideology. Even NDP Leader Thomas Mulcair can't handle his affairs. But that's besides the point. The thing is, in the real world, things are not just handed to you. I've learned this throughout my life. I would have hoped others would have too.
The issue I have with a lot of these students is what they think they're going to get with a pointless degree. Majoring in 17th century art history sounds interesting, but you're not going to get a job with that major. You're wasting your time. And wanting the government – the tax payer – to waste our money, your time, and not accomplish anything just isn't how the world works. I was taking film of all things. Film. Then I dropped out because I realized no one is going to care whether or not I know three characters from an old Mexican film no one has ever heard of, wants to see, or wishes to read about on IMDb. There's just too many basket-weaving courses out there and there aren't enough baskets that need weaving in the world for everyone. I'm sorry, but it's the truth.
The whole argument that it's all of Canada Quebec is fighting for is utter lunacy. I have not seen a single Canadian flag at any of these protests. Instead, I constantly see the blue and white symbol of entitlement. The flag that resembles a province that doesn't see eye-to-eye with the rest of Canada. A province of xenophobia and bills far worse than Bill 78. How about before Bill 78 gets shredded, a certain other bill is destroyed first? That's what I want. And I could give you 101 reasons why too, but I'm not going to. At least, if such an event were to occur, it would make me nod in approval to my neighbouring province. Maybe not in respect. But just a friendly nod. You know, like when you see your neighbor take out the trash every garbage day?
The point is, Quebec should suck it up. If you don't want to pay anything, work hard, and get a scholarship. If you are going to accumulate debt, make sure you know what you're doing with your life so you can actually pay it back. Grow some balls (they don't have to be large, just visible), and do something with your life other than acting like the big bad government is out to get you, because it's not. The fact is, I find this utterly pathetic. There's no revolution happening. There's nothing worth fighting for. There is just so much more you can be doing right now than marching in the street, screaming and rioting. I'll leave you with this…