Before I write about the event I attended on Thursday I want to remind readers of the urgency of the situation of the Turcot Interchange.
As I write this many lanes on the structure are closed for emergency repairs, snarling traffic, adding to motorists' stress and pumping extra greenhouse gases into the atmosphere. Much of the underneath of the structure is covered in wire mesh to prevent chunks of it from falling right off. Though some readers may not sympathize with motorists' issues, giant chunks of concrete falling from heights of up to 100 feet in the air isn't exactly good for anyone.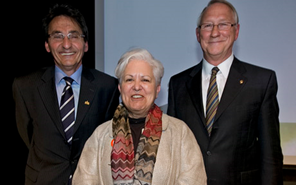 The event I attended on April 29th was a presentation of a newly-completed alternate proposal of the Turcot Intersection and yards in response to that of the MTQ (Ministère des Transports du Québec) plan that has been highly criticized by local residents, environmentalists and others. Noteworthy is that this new Montreal plan has been endorsed by all three main City of Montreal party leaders, Gérald Tremblay, Louise Harel and Richard Bergeron, as well as Westmount Mayor Peter Trent (Westmount borders directly on some of the work to be done).
Absent from the meeting was anyone at all from the Charest Liberal party, who have final say in the matter and who stated their rejection of the new plan practically before it was released.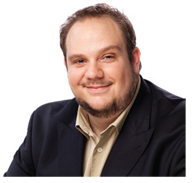 It was Sud-Ouest borough Mayor Benoit Dorais who convened the meeting, aimed at informing borough residents of the new plan as well as endorsing it. The meeting was hosted by Dorais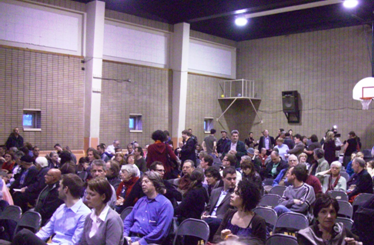 and a panel of experts and follows the release of the plan last week. Residents turned out in droves, nearly filling the CRCS Saint-Zotique recreational facility's gymnasium. The meeting started off with Dorais explaining the opposition to the MTQ Turcot plans and the issue of the MTQ proceeding as if there was none. Criticisms of the MTQ here are many.
There is that expropriation of homes in the Tanneries part of St-Henri and condos nearby. The MTQ plan places much priority on increasing car traffic and little on public transit and would actually increase the area taken up by the interchange itself. The MTQ did not look at best practices nor interchange scenarios that were readily available and have been proven successful in cities such as Chicago and Shanghai. In fact they actively sought to discredit some international planners' recommendations. An initial cost estimate of 800 million dollars by the MTQ has grown to 2.5 billion and does not seem to be gaining precision with time.
Montreal's new project can be viewed at http://www.montreal2025.com/pdf/Turcot_medias.pdf and was presented by Alain Trudel of the City of Montreal.
I'd like to point out that yes, the new plan does look like a roundabout. However it is actually nothing close to that. The concept basically uses the clover leaf interchange model and compacts it by having the traffic circles piled one on top of another. The north-south and east-west highways remain uninterrupted and there are no out of the ordinary mergers, exits or lane changeovers.
The Montreal plan succeeds in their main goal of reducing the land covered by the interchange. It adds many possibilities for decreasing the need for single occupancy vehicles, such as adding a tramway linking downtown with parts of Lachine and LaSalle, new AMT train stations and links to western parts of the island including the proposed airport link, keeping much of the highway infrastructure raised to allow for easy mobility between bordering neighbourhoods and designating highway lanes for taxis and public buses. This means that this plan strongly facilitates cuts in greenhouse gases.
Speakers at the event also pointed out that this new structure would be rather unique in design and could become something that Montreal is known for, like the Jacques-Cartier Bridge. They also presented many unique opportunities in other areas of the Turcot Yards such as creating an expanded parkland south of the Falaises St-Jacques, allowing some of the area to return to its natural wetland state, creating unique connections to the Lachine Canal for non-motorists and general infrastructure beautification.
In terms of project economics, the new Montreal plan takes into consideration return on investment. This philosophy was used in the development of Montreal's Quartier International which has since won international awards. Spinoffs from having more Turcot Yards land available for development and using infrastructure beautification would generate more tax revenues, allowing for this project to pay for itself in a shorter time than the MTQ plan.
Since both sides, Montreal and Quebec City, may have their merits (remember Quebec City not wanting to build another raised structure?), a project of this magnitude must include much more collaboration between the two than is happening. I think we'd all like to see this before the existing monstrosity begins collapsing on the roads and people underneath.