In the winter, I decided to (finally) commit to learning about urban homesteading and what some term radical home economics. Urban homesteading is a movement, a paradigm shift, that is based on principles of DIY, sustainability, environmental awareness, eating homegrown food and self-reliance within urban settings.
It was time for me to go beyond casual interest and the quick reading of blogs and start digging my hands into things. Literally. I began by gathering a few books considered essential reading on the homesteading blog circuit and got thinking about which projects I wanted to start with. Two of my favourite books are The Urban Homstead: Your Guide to Self-Sufficient Living in the Heart of the City and Making It: Radical Home Ec for a Post-Consumer World. In this preliminary phase it became quite clear to me that I was going to face one major problem in terms of my urban homesteading endeavors: I don't have a backyard or a front yard. Most blogs and books seem to have access to some land as an a priori condition as well as living in an area where keeping chickens is possible (and/or ambiguously legal which is unfortunately, although perhaps understandably, not the case in Montreal).
Underlying the very principle of urban homesteading is the spirit of resourcefulness and looking for creative solutions: a development of self-sufficiency (although I like to think that this incorporates a community building/networking element). Therefore, here are some of the solutions I have turned to in the infant stages of my urban homesteading. I thought I would share them for those of you looking to build an infrastructure for your own homesteading endeavours.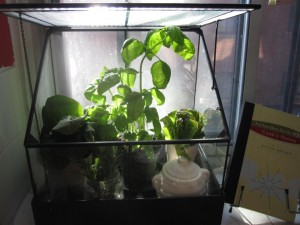 Growing Plants in Different Spaces
If you have the room, you can set up an indoor greenhouse with growing lights and shelving units. This is part of my plan for later on, but I don't currently have the space. I do have a few large windowsills and have grown seedlings there. I've included here a small photo of my terrarium or, as I like to call it, my mini greenhouse. These are practical for growing herb gardens indoors as well as keeping furry friends out of your seedlings. Also, balcony gardens are a fun project for landless folk. In her book Grow Great Grub, Gayla Trail blogger of yougrowgirl.com discusses how to grow food in small spaces. Like balcony gardens, vertical gardens are also an innovative way to deal with the lack of space and can be made out of a variety of material including recycled pop bottles.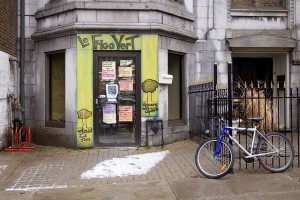 CSA Basket + Food Coops
Lack of space undoubtedly results in limiting what a budding homesteader can produce for themselves. A couple solutions I have turned to to compliment my homegrown foods is to join a local food cooperative (photo is the Concordia students food cooperative). Food cooperatives operate slightly differently by coop, but they usually offer natural organic food and products, have ties with local farms and producers and are a great way to meet other (and potential) homesteaders and DIY-ers.
The other great way to supplement your food production and especially during the winter provide you with fresh tasty fruits and veggies is to sign up for Community Supported Agriculture baskets or CSA's. CSA's are a great way to get to know local food producers, growing seasons, and community ogranizations. The funnest part about CSAs is that they come in many varieties depending on the season and/or the producers. Some of the CSAs I have been trying out are: Lufa Farms, Santropol Roulant, and the McGill Farmers Market. Think about what you will be growing and look at what different baskets have to offer, their mandates and missions, their methods(hydroponic, rooftop, student-run, cooperative, family-owned, etc). There are CSA- like options that include exotic fruits as well like Bonne Boite Bonne Bouffe. There also exist CSAs for local organic meat products, but I have yet to try those out and have been relying on local markets like Jean-Talon and Atwater market to find those meats.
Having a CSA basket, as I have been learning, can mean having a shortage of a certain vegetable you might want and/or a surplus of veggies you have no idea what to do with. Take on the challenge and find new innovative ways to use your veggies and discover new dishes. Also, this is a good way to start experimenting with food storage methods and learn about how food reacts to its environment. My first adventure with my CSA basket led me to experiment with pickling, something I'd never done before. I found myself a pickling mentor and have since launched on a pickling journey, which is coming up in future posts.
Compost
Urban homesteading is about sustainability and so now we gotta talk compost! Without any land, composting becomes somewhat of an issue. There are three solutions that I considered to solve this problem. Since food waste can easily be turned into fertilizer, this is an important element to consider for growing food. First, look into your eco-quartier and see if they have any composting locations and/or pick up. Second, consider vermicomposting, which can be real fun for kids and educational as well. Third, look into projects like Compost Montreal which offers a pick up service and redistributes the fertilizer to clients for a fee. Without land, consider giving extra fertilizer to friends and/or community gardens.
Sharing Green Spaces
Last but not least, look into joining a community garden and/or ask friends who do have land if you can share some of the space in return for providing them with fresh vegetables and good company. Making networks and connections, in my opinion, are great ways to begin an urban homesteading journey. Don't be afraid to try different options and formats and don't get discouraged if, at first, things aren't exactly the way you want them to be.
Feature image courtesy of heartanddesign.blogspot.ca