In February of 1990, Barack Obama was the first black person elected to head the Harvard Law Review. The presidency of the Review is considered the highest student position at Harvard Law School.
It's therefore fitting that in his final days as the first black person to hold the highest office in the United States, Barack Obama has gone back to his roots by publishing a piece in the Harvard Law Review. His essay is called The President's Role in Advancing Criminal Justice Reform and was published on January 5, 2017.
The article is many things. It's well written and it's footnoted so you never have any doubts as to where Obama is getting his facts from or whether he's making them up. It puts faith in you as a reader because there's never a word wasted. On the other hand it also requires you to do some visual acrobatics because his sources are cited within the text, requiring you to skip over the citations to read the rest of what he's saying.
His piece is also a little self-aggrandizing, but unlike the incoming president, all the things Obama says are substantiated by facts. He highlights his tackling of racial profiling as a legislator in Illinois and all sources indicate that he did just that.
In 1999 he proposed a bill against racial profiling after hearing that police were pulling over drivers simply for being black. When the bill failed, he revised and reintroduced it over and over again until it passed in 2003, making a point of publicly saying that "race and ethnicity is not an indicator of criminal activity."
He also mentioned pushing for the videotaping of police interrogations as a requirement for interrogations and confessions in all capital cases. A measure he helped to pass in Illinois.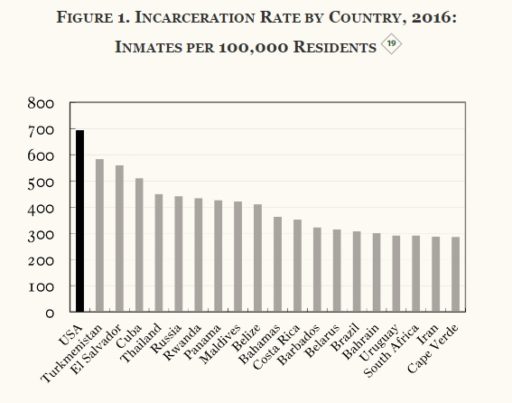 As President, he used his power of clemency to pardon or reduce the sentences of 231 people, many of whom had been punished for minor, non-violent drug crimes under tough anti-drug laws. The impact of this gesture is huge, for unlike other pardons, presidential ones wipe away the legal consequences of previous criminal convictions.
Obama hints at his frustrations battling a Republican Congress determined to undermine him during his presidency. Though he successfully passed the Fair Sentencing Act in 2010 which eliminated mandatory minimum sentences for simple possession of crack cocaine thus reducing excessive punishments imposed on people of colour, he had no such luck with the Smarter Sentencing Act.
The Smarter Sentencing Act was a bipartisan – meaning supported by both Democrats and Republicans – bill that would have reduced mandatory minimum sentences for some nonviolent drug offenses from twenty years to ten, and given judges greater discretion regarding whether or not to impose said sentences.
Despite support across party lines, many Republicans were skeptical of the bill and it never made it to the floor of Congress. The same happened with the Sentencing Reform and Corrections Act, a law that would have reduced more mandatory minimum sentences for nonviolent drug offenses and offered credits to prisoners who participate in rehabilitation programs. The Republicans tabled that one to death in November 2015.
Despite Obama's frustrations with Congress in his attempts to pass progressive criminal justice reform, he constantly highlights his respect and faith in the American people and the rule of law.
In a none-too-subtle warning to the incoming president, Obama writes that the President "does not and should not decide who or what to investigate or prosecute." He praises red states like Georgia, Texas and Alabama for reducing sentences and investing the money saved on incarceration in other public safety programs that help those affected by mental illness and substance abuse, many of whom had previously ended up in jail.
At the same time Obama highlights all the problems with the American Justice System: the systemic racism, overly harsh penalties for non-violent offenses, the excessive use of solitary confinement, and the economic problems caused by the US' excessive use of incarceration. He points out that the US incarcerates 25% of its population and that the cost of maintaining so many prisons and the people within it is both "unnecessary and unsustainable."
Though Democrats are widely accused of being fiscally irresponsible, it's Republicans that always seem to be pushing for harsher penalties that increase the American prison population, thus straining state and national budgets regardless of whether or not it makes people safer. Obama quotes Deputy Attorney General Sally Yates who pointed out in November 2016 that every dollar spent on excessive sentences is "a dollar we don't have for investigating emerging threats, from hackers to home grown terrorists," a point that is especially relevant amidst widespread acknowledgement that the Russian government hacked the election to get an orange bigot into office.
Obama's article reflects his awareness of the higher standard he was constantly being held to. In America people still seem to expect women and visible and sexual minorities and younger people to perform worse than middle aged white men at the same jobs, no matter how despicable and lazy individuals of the latter are.
Though the United States has less unemployment, a decreased federal prison population, and more people with health care due to Obama's efforts, entitled rich white men are still questioning whether or not he was a good president. Obama clearly knows that he had to be beyond reproach during his time in office and while he did not achieve all he had promised – Guantanamo Bay has yet to be closed, for example – as a president he came pretty close despite all obstacles.
Regardless of what Barack Obama did or did not achieve, the one thing to take from his article is a warning that all the good that he did in his attempt to do right by the American people is in danger of being undone when a racist misogynist Russian puppet takes office on January 20, 2017.