I had the good fortune of business meetings in Los Cabos, Mexico this week. The exquisite beauty of San Jose del Cabo captured my heart and soul.
I stayed at the lovely boutique hotel El Encanto Inn & Spa. Gorgeous gardens, beautiful rooms, comfortable bed and friendly staff made my stay pure paradise. I highly recommend it! This hotel also offers spa treatments and the opportunity to meet with excellent and renowned health professionals such as Isabelle Gagnon, holistic health coach extraordinaire, Dr. Allan Laird, chiropractor and massage therapist, and Wendy Rudell, naturopath and author of  The Raw Transformation (which I proudly came home with!)
Maintaining a vegan lifestyle in San Jose del Cabo, Mexico this past week was easy and pleasurable with the abundance of fresh organic produce everywhere. As with my other trips, being vegan while traveling was not even an issue.
Dinner at Flora Farm was a culinary experience like no other! I've done quite a bit of traveling in my day, but this was by far the best meal I ever had. I ordered an unforgettable arugula and basil pizza with a thin, gluten-free crust. How can you compare the freshness and tastiness of food that is grown right on the land where the restaurant is located?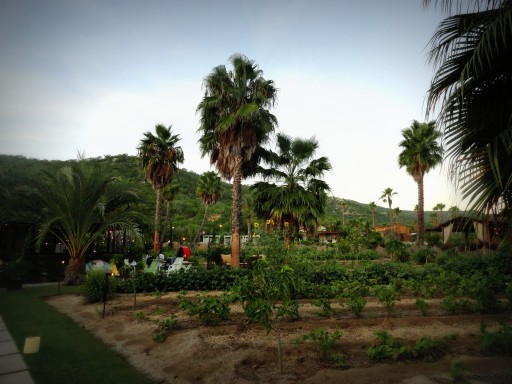 Flora Farm is a brilliant concept of combining farm and restaurant in the same location. Ten acres of organic produce growing at the foothills of the Sierra de la Laguna mountains in San Jose del Cabo, Mexcio makes for dishes that are unparalleled in flavor and freshness.
I had another excellent vegan meal at Cynthia Fresh. Take a look at this heavenly salad topped with black sesame encrusted chunks of tofu, cranberries and pine nuts. Scrumptious!
Dinner at Salsitas was equally delicious and creative. A lovely vegetable taco dish, where the tacos were made from raw jicama! Not only was this delicious dinner totally vegan, it was also grain, soy and corn-free making it very accommodating to various dietary needs.
Salsitas also offers excellent service, friendly staff and amazing margaritas and salsa!
The town of San Jose del Cabo is charming, serene, pretty and artistic. The beaches are spectacular. I highly recommend you check it out! Upon my departure, I admit I shed a few tears, but I did not say good-bye; instead, I declared: "Hasta pronto San Jose del Cabo!"
"Happy are those who dream dreams and are ready to pay the price to make them come true." ~Leon J. Suenes
Follow me and my vegan culinary adventures on my Facebook page.