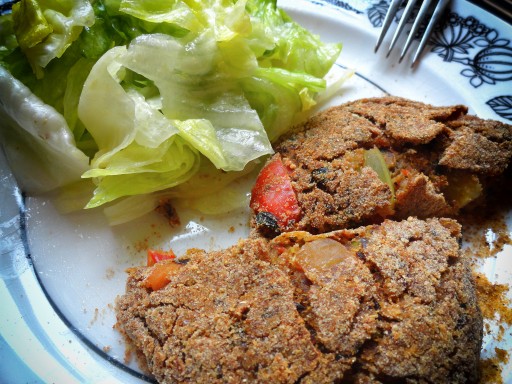 As you noticed, I veganize everything, including breaded cutlets, known as "cotoletta" in Italian. For this recipe, I combined a whole bunch of organic veggies and black beans, then breaded and baked them. You can also fry them, as is typical for cutlets, but I find it easier to bake and also appreciate the fact that we don't have to use any additional oil.
This recipe is somewhat time consuming just because there are several vegetables to chop, and they should be chopped into small pieces. The other tricky part is once the mixture has been blended, it tends to be quite sticky.
The bread crumbs come in handy here, as they coat the cutlets, they become manageable. The bread crumbs (I make my own with sprouted whole grain bread which I dry and grate) also add to their deliciousness once baked.
I especially love this served with iceberg lettuce, with a simple lemon vinaigrette. This week, I share with you both recipes.
I also want to share a very informative and quite entertaining video that captured my attention recently. Dr. Michael Greger is a medical doctor, author and speaker who analyzes and presents the latest medical research on nutrition.
In the video, he presents some truly eye-opening information regarding the incredible benefits of a vegan diet. Can you believe that just two weeks of a completely plant-based diet can stop cancer in its tracks? From the research, it appears that a vegan diet is even more important than exercise for cancer prevention!
There you have it: in addition to the obvious ethical and environmental reasons to adopt a plant-based diet, medical research also indicates that it is the single most important thing we can do to improve our health, as well as reverse and prevent disease.
Enjoy this delicious, fully plant-based meal! Live your best health!
Sweet Potato Veggie Bean Cotoletta with Iceberg Lemon Salad
Ingredients:
Makes approximately 12 cutlets
2 cups black beans, presoaked and cooked
1 cup kale, stems removed, chopped
1 cup broccoli florets, chopped
2 tomatoes, chopped
1 onion, chopped
6 cloves of garlic, minced
2 celery stalks, chopped
2 carrots, peeled and chopped
1 bell pepper, chopped
1 sweet potato, peeled and chopped
1 tablespoon fresh ginger, minced
3 tablespoons grapeseed oil
2 teaspoons sea salt, more to taste
1 tablespoon steak spice
1 teaspoon coriander
1 teaspoon cumin
1 teaspoon chipotle
1 cup fresh parsley, chopped
1 cup kamut flour
½ cup bread crumbs, more to coat cutlets
5 tablespoons ground flaxseed
½ cup water
Method:
Preheat oven to 400˚F.
Line baking dish with parchment paper and set aside.
In a small bowl, combine flaxseed and water and set aside.
In a large pot, heat grapeseed oil on medium heat. Add all chopped veggies (make sure veggies are chopped into very small pieces), including onion, garlic and ginger. Add all spices and sea salt. Sauté on medium heat for about 15 minutes, or until all vegetables are very soft. Remove from heat.
Add chopped parsley and beans. Mash with a potato masher.  Add soaked flax seed, bread crumbs and flour. Mix well.
Place half of the mixture into a food processor (we will only blend half of the mixture) and blend briefly. Return mixture to pot with mashed veggies and mix well.
Form patties by taking a small amount of veggie mixture with your hands and coat with bread crumbs. Lay the patties on the parchment paper.
Place in the oven to bake, uncovered, for 30 minutes. Flip them over after 15 minutes.
Remove from oven. You may sprinkle more sea salt overtop if desired. 

Iceberg Lemon Salad
Ingredients:
1 head iceberg lettuce, chopped
1 or 2 lemons
2 tablespoons olive oil
Sea salt and black pepper to taste
Method:
1. In large salad bowl, combine lettuce, oil and juice from one lemon. Add sea salt and black pepper to taste. Toss. Taste test to see if salad has enough lemon for your liking. If desired, you may add the juice from a second lemon.
Join me on my Facebook page where I share vegan recipes and health-related articles every day!
The greatest wealth is health.  ~Virgil