I adore watching documentaries. In fact, I hardly ever watch another genre of film. This week, I saw an excellent documentary called Vegucated. Highly informative, funny and entertaining, Vegucated chronicles the lives of three New Yorkers who agree to adopt a vegan diet for a period of six weeks as part of a social experiment.
During the course of these six weeks, they learn how to shop for cruelty-free vegan products, how to prepare fully plant-based meals, and how the animals we eat are raised. They are also followed by Dr.  Joel Fuhrman who checks their weight, blood pressure and cholesterol before and after the six week vegan diet to see what effect this change has on these three indicators of overall health. Not surprisingly, all three individuals lost weight and both their cholesterol and blood pressure went down.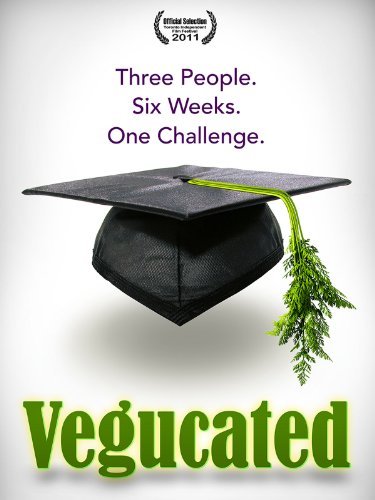 Marisa Miller Wolfsom is the film's writer, director and editor. She posted an ad on New York's Craigslist requesting volunteers who would be interested in converting to a vegan diet for six weeks. She interviewed several people, and chose three: Tesla, Ellen and Brian.
Tesla Lobo is a 22-year old student living with her family whose diet relies heavily on meat. Tesla's biggest challenge was to let go of the convenience of her father's home cooking and learn how to prepare, and enjoy, plant-based meals.
Ellen Mausner is a psychiatrist, stand-up comic and single mom of two. She is attracted to a vegan diet for its potential for weight loss and improvement of cardiovascular health.
Brian Flegel is an aspiring actor who often eats out and jokes about vegans being weird.
Among the challenges faced by Tesla, Ellen and Brian is acquiring the taste for foods they had previously never tried. In the film, Dr. Fuhrman explains how most of our food preferences are acquired tastes and that sometimes we need to try something several times before we know whether we like it or not.
One of the things I try to convey to my vegan cooking students is how easy it is to be vegan, once you learn new ingredients. Tempeh is often one of those new things we learn about when we go vegan. I too had heard of tofu before changing my diet, but not tempeh. Tempeh is a fermented soy product (whereas tofu is not fermented). The fermentation process renders tempeh more nutritious than other soybean products: higher protein content, more vitamins, minerals and fiber. You usually find tempeh in the freezer section of health food stores.
I would say it is for most people what Dr. Fuhrman describes as an acquired taste. Whereas tofu doesn't have a taste before we give it one, tempeh has a bold, nutty flavor. Without proper preparation, you may not enjoy the flavor.
The recipe I'd like to share with you this week is a tempeh dish I created with Indian-inspired flavors. I call it Tandori Tempeh because I chose a lot of the Indian spices commonly used to make Tandori dishes. I sprinkled chia seeds overtop, not only because they are so nutritious, but because I really enjoy that additional little crunch they add. I accompanied it with a tasty sweet potato side dish. Don't let these exotic spices intimidate you; this is actually a very easy dish to prepare and so delicious! Try it!
Tandori Tempeh and Spiced Sweet Potato Mash
Ingredients:
Makes approximately 4 servings
1 package organic tempeh
2 tomatoes, diced
1 onion, chopped
3 cloves of garlic, minced
3 chili peppers, chopped
¼ cup (60 ml) water
2 tablespoons (30 ml) grapeseed or olive oil
1 ½ teaspoons (7.5 ml) paprika
1 teaspoon (5 ml) turmeric
½ teaspoon (2.5 ml) coriander
½ teaspoon (2.5 ml) cumin
½ teaspoon (2.5 ml) ginger
½ teaspoon (2.5 ml) cardamom
½ teaspoon (2.5 ml) black pepper
¼ teaspoon (1.25 ml) cayenne
2 tablespoons (30 ml) wheat-free tamari
1 tablespoon (15 ml) Dijon mustard
2 tablespoons (30 ml) chia seeds
Method:
Preheat oven to 350˚F (180˚C).
Tempeh is usually frozen when purchased. Thaw out and slice into thin squares.
Prepare the marinade for the tempeh by mixing all the other ingredients in a bowl, except chia seeds, including chopped onion, peppers, tomato and garlic.
Line large baking dish with parchment paper to avoid sticking. Place tempeh squares, single file on the paper. Pour marinade and vegetables over tempeh. Sprinkle chia seeds overtop.
Cover dish with aluminum foil. Puncture foil with a fork or knife in a few places.
Bake for 30 minutes total. After 15 minutes, remove from the oven, turn tempeh squares over, discard aluminum foil and return to the oven, uncovered, for the remaining 15 minutes.
Serve warm.
Spiced Sweet Potato Mash
Ingredients:
2 sweet potatoes, peeled and chopped
3 white potatoes, peeled and chopped
2 cloves of garlic
2 tablespoons (30 ml) nutritional yeast
2 tablespoons (30 ml) vegan butter
1 tablespoon (15 ml) turmeric
1 tablespoon (15 ml) paprika
Sea salt and black pepper to taste
Method:
Placed chopped potatoes in a large pot and cover with water. Add sea salt, about 1 teaspoon (5 ml) and chopped garlic. Bring to a boil. Lower heat and let simmer until potatoes are very soft, about 20 minutes.
Drain all water.  Add nutritional yeast, vegan butter, turmeric, paprika and mash with a potato masher. Taste test to see if      more sea salt is desired. Add black pepper to taste. Serve warm.
"Medicines cannot drug away the cellular defects that develop in response to improper nutrition throughout life." ~Dr. Joel Fuhrman
Join me on my Facebook page where I share vegan recipes and health-related articles every day.