Content Warning for descriptions of sexual, physical, and psychological abuse
On July 17th, a friend from my hometown, Lima, Peru, added me to a private Facebook group called Ni una menos: movilización nacional ya (Not one less: national mobilization now). Launched by a small group of young Peruvian women, the group described itself as a platform for strategic mobilization against violence, harassment, and discrimination against women in the South American country.
I am a Peruvian female human being, so this group directly struck a nerve. Like many of the women in the group, verbal street harassment scares me, unwanted physical contact angers me, and gender-based violence makes me feel powerless. In the past, I have normalized some sexist behaviors and comments by men and women in my life. Is this habit? Ignorance? Shame? Perhaps a combination of the three.
Posts calling for a protest in the streets of Lima soon evolved into the organization of a massive nationwide protest that will take place on August 13th . The turning point happened when hundreds of the over 56 000 women who are now on this platform started sharing their testimonies.
Strangers, acquaintances, and some close friends of mine all began sharing their stories in this open forum.
"…[the doctor] covered my mouth and while he touched me and put his fingers inside of me, he told me to be a good girl if I wanted to stay alive…"
– N, at six years old
Painful stories of abuse bled over the group.
"…I was repeatedly raped by more than one person during my childhood. My brother "rented me" to strangers for sex…"
– J
For many, it was the first time speaking about these issues at all.
"…He [her cousin] lifted me and placed me on his penis. He was erect…I stepped down and ran out. I said nothing I felt guilty because I had gone to speak to him, I felt that I had brought this on me…"
– F
At the same time, an indescribable sense of companionship and newfound strength grew. Initiatives such as spontaneous committees for psychological and legal clinics by practitioners within the group began taking shape. What started as a group for strategizing has grown into a space for questioning, sharing, healing, and denouncing.
Let's put this movement into context.
As in many of its Latin American neighbors, institutional response against gender-based violence in Peru is mediocre at best. At worst, it dehumanizes the victim, and justifies the assault by questioning what she possibly could have done to provoke the incident. Machismo is rampant across all socioeconomic strata.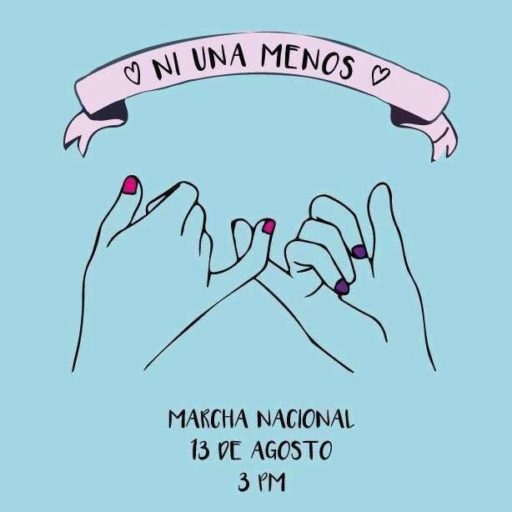 Additionally, judicial bullshit processes, mass media, and the Catholic Church are often accomplices in the violation of women's rights and liberties. One needs to look no further than Juan Luis Cipriani, Archbishop of Lima.
He recently stated that "there are young girls getting abortions, but it is not because the girls are abused, but often because women put themselves on display, provoking [attacks]." This individual gets a monthly salary that is twice the national minimum wage, courtesy of all the taxpayers of this "secular" republic.
His latest declarations have outraged thousands and prompted a petition to remove him from his charge. Members of the cabinet of newly elected president Pedro Pablo Kuczynski, such as Ana Maria Romero, Minister of Women and Vulnerable Populations, have also voiced their rejection.
Young girls and grown women keep quiet because abuse is not something you talk about in public. Contrary to what many think, abuse mostly happens at home and the majority of victims know their aggressor. Assaults by strangers hiding in a dark alley are only a small fraction of the overall numbers. This is true in Peru, in Quebec, and in most places around the world.
Reporting an aggressor can take a huge psychological toll on the victim and in many cases put her in further danger. The financial burden of filing a case also falls on the on the victim, unless the case leads to a conviction. The latter is highly unlikely as accusations are regularly minimized, and rarely lead to consequences for the aggressor.
"They have to see you dead to make justice happen."
These are the words of Lady Guillen, a young Peruvian woman. After years of pursuing a trial against her former partner who savagely beat her in 2012, he walked away with four years of probation instead of the seven years of prison that, by law, correspond to his offense.
Lady Guillen's excruciating fight is one of a few cases of violence against women that have received attention from the Peruvian media. Another case is the one of Arlette Contreras, a woman whose aggressor walked away with a year of probation for "minor injury," despite there being videotaped evidence of him beating her and dragging her on the floor.
The impunity and judicial indifference in the Lady Guillen and Arlette Contreras' cases were catalysts for the #NiUnaMenosPerú movement.
They survived, but too many do not. So far this year, according to the Peruvian Ministry of Women and Vulnerable Populations, 54 Peruvian women have been murdered by their partners. These tragic ends are the logical consequence of the micro and macro aggressions that are the underlying norm.
Furthermore, sexual violence is rampant. In a country that ranked first in a Latin American study for prevalence of sexual assault in 2013, DEMUS (The Center of Study for the Defense of Women) estimates that 75% of rape victims in Peru are under 18.
As the #NiUnaMenosPerú's D-day, August 13th, comes closer, more women and men are joining in. T-shirts, billboards and signs are being created with sentences such as "You touch one of us, you touch all of us," "They've taken so much from us, that they even took our fear," and my personal favorite: "Cipriani, take your rosaries out of my ovaries."
This movement is a vital first step in bringing women's rights to the forefront of the public agenda. Storytelling played a crucial part in sparking this dialogue, allowing for women's voices to be heard and protected. Personal testimonies have translated cases of gender-based violence from statistics into raw, human experiences that are too brutal to overlook.
The energy that has built over the past weeks needs to translate into policy that is held accountable by civil society and by the State. There is promise in the newly approved 2016-2021 National Plan Against Gender-Based Violence which, for the first time, recognizes LGBT women as a vulnerable group.
The skeptic in me cringes when I read the words "official, government, plan, and action" all in the same sentence. However, the skeptic in me would have never have predicted the exponential growth of #NiUnaMenosPerú. I have been truly moved by the empathic responses of astounded men and most of all by the incredible courage of women who have spoken up.
It is now in the Peruvian public's hands for the momentum to continue after August 13th. I am done feeling powerless, and so are thousands of other women in Peru and around the world.
On the 13th, I will scream for the girls who haven't had the chance to speak up yet. After that, I will keep questioning and confronting misogynistic norms and behaviors around me, even if it makes me and you uncomfortable.
#NiUnaMenosPerú #NiUnaMenos #13A
Note: The testimonies in this article were shared with consent from their authors
Edit: An initial version of this article referred to Juan Luis Cipriani as the head of the Peruvian Catholic Church. As Archbishop he heads only one fifth of Lima's Catholic Church, sharing the leadership with four bishops. The title of Archbishop does not necessarily entail a higher degree in the Roman Catholic Church hierarchy, which has often caused misportrayals in the media.