Bon Voyage parties are bittersweet celebrations for a friend who is leaving town. It's a chance to wish them well in their travels while secretly hoping they return some day. What's happening this Saturday at Vol de Nuit is, well, different.
You can call it a Good Riddance party, celebrating the fact that a total asshole has left town, wishing their travels are as rocky as possible and hoping they never return. More specifically, though, this is the Montreal Victory Party, a chance to celebrate the mystery women who gave Roosh V what he so rightly deserved, beer all over his face and wig.
Montreal Stepped Up
Last weekend, Montreal really came together and showed so-called "pick-up artist" (maybe sexual predator is a better term) Roosh V that he was not welcome. While we may have our differences, our community, by and large, respects women and doesn't want a man who supports legalizing rape on private property and has admitted to committing rape online to speak here or prey on our fellow Montrealers.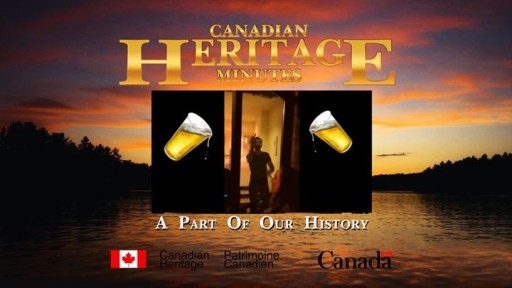 First he lost his venue, then the Mayor said he wasn't welcome, then there was an official protest, then bars and other establishments started banning him. It culminated with him trying to pick up the wrong woman who knew exactly who he was, even though he was going by the name Luke and wearing a wig. (Really? Apparently.) After Roosh and his acolytes tried every trick in their misogynistic book, which pretty much amounted to lying (one even said he was with Doctors Without Borders), the woman, who is now going by the pseudonym Jennifer, threw her beer in his face and the rest, as they say, is history.
Montreal history. Something to be proud of. We have the Habs. We have the best bagels in the world. And now we have proven to everyone that we are a people who say no to misogyny and rape and have some of the most kickass feminist shit disturbers to drive the point home. This just fills me with Montreal civic pride.
The Saga Continues
If you're wondering where I'm getting these little nuggets of bullshit Roosh trains his folllowers to use, you should follow the Twitter account Amy Lee. I doubt that is really the name of the person behind it, but it is way more real than any of the characters Roosh tries to be.
wait, what was that other fake name you had at bar Vol du Nuit, @rooshv? Was it "Burt"? "Bert"? @rooshvforum #rooshv pic.twitter.com/Ezg9nqgzVG

— Amy Lee (@amylee556) August 11, 2015
You see, following his humiliation, Roosh contacted Montreal police saying he was assaulted. I'll give you a minute to stop laughing. Done? Good. He even accused "Jennifer" of seducing him, though I imagine seducing a man like Roosh takes only two things: being female and the ability to not vomit while listening to him talk.
Roosh is desperately searching for a woman to charge. Oh well, I guess it's better than him searching for a woman to rape, but still, it does force some people into anonymity.
He's now in Toronto and facing what looks like an equally vocal opposition. He's in what he calls war mode, though it looks more like running scared mode.
Also, apparently he's now a Muslim, claiming that his views on women stem from his faith and calling his critics Islamophobes. Interesting considering he has displayed some rather Islamophobic views in the past. Sudden conversion to Islam? More like desperate trolling. Roosh, we're not that fucking stupid.
This guy really pisses me off. And he should piss you off, too and not just if you're a woman and a potential target. He really gives men a bad name, too. Come to think of it, he gives humans a bad name. I really don't like that I'm from the same species as this piece of human excrement.
And, in one of the oddest segues ever, let's get ready to party!
Party Deets and Rules
Okay, back to the fun stuff. Now that Roosh is Toronto's problem now, in Montreal we get to celebrate! The event is being put together by Fuck Yeah Feminism and takes place at the scene of what Roosh considers to be a crime, but the rest of us see as justice, Vol de Nuit.
Misogynists, Roosh Minions, Rapists, and Rape Apologists aren't welcome and don't come expecting to pick up women. Not too hard to follow, but you break one of the rules, well, ask Roosh how well that worked out for him. Also, this is a safe space, LGBTQ friendly, Trans and Queer inclusive.
The fun starts at 10pm, Vol de Nuit, 14 rue Prince Arthur Est, details on Facebook. Feel free to drink your drink instead of throwing it. Bring your own wig.