Since the Denis Coderre administration seems to be all about conservation these days, I thought I would conserve a little web space and tell two Coderre-related stories in the same post. Are they related in any other way? I'll let you be the judge. Here goes…
Coderre to Consider Charging Montrealers For Water Use and Trash Collection
According to a task force Montreal City Hall put together last February, the best way to encourage business in the city is to charge residents for water usage and trash collection. The group presented its recommendations last Monday and Mayor Denis Coderre is considering them.
The group wants the city to fast-track water meter installation in commercial buildings and introduce them, along with fees for picking up garbage, to residential buildings. The committee also proposed that the city have construction crews work 24/7 to complete projects on major arteries and bring in an overall customer service attitude when dealing with businesses.
While the last two suggestions sound like things that will, in fact, help local businesses, the first two come across as a cash grab. Instead of dealing with problems that affect business, the think tank is suggesting that the city get extra cash from residents.
One thing residential water meters and fees for trash collection have in common is that they can both be sold as a way to help the environment. While it's true that some people who live in this city waste water and throw away too much trash, it's also true that the city really doesn't care, unless they can make a buck off of it.
Banning single-use plastic bags is an environmental policy. Charging five cents for a single use plastic bag is a greenwashed cash grab, pure and simple.
You can point to lower water consumption in places like Toronto all you want, but we all know that's not the point. It's collecting cash, this time, officially at least, to help out the business community.
If it's about money, before changing the very concept of major city trash pickup and water delivery, we should be sure there isn't an easier way to make or save some public cash.
Coderre's Obsession with Pieces of Granite as Public Art Continues
Yesterday, a new work of public art was revealed in Lasalle. It has three things in common with the last piece of public-funded art Montreal Mayor Denis Coderre touted: it involves placing slabs of granite in the middle of nature, it is quite expensive and it is unpopular.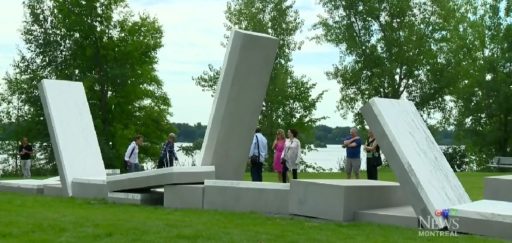 Au Grand Dam cost $680 000 and features large slabs of concrete and marble placed somewhat haphazardly on top of each other in the middle of the beautiful Parc des Rapides overlooking the equally beautiful rapids of the Lachine Canal. While some, like former Prime Minister Paul Martin, tout that it represents the history of the canal and exploration in Canada, others see it as a bit of an eyesore in the middle of such natural beauty.
Public funding for the arts is important. Especially when it comes to helping out emerging or underground artists do their work and not starve in the process.
While this particular installation smacks of cronyism, it does have some historical and possibly some artistic merit. However, it seems to be part of a pattern that Montrealers got wind of a few months ago. Back in June, Denis Coderre announced that he would be placing much smaller and much more expensive ($3.45 Million) pieces of granite (without marble, this time) in the shape of tree stumps on Mount Royal and other locations.
While we can question or even mock the Coderre Administrations seeming undershaped granite in nature-focused approach to public art, we must also ask if there is anywhere else the money could be spent. Anywhere our municipal government desperately wants funds to the point they would charging residents for basic services to get it.
Can you think of a place?
* Featured image by Angus (Flickr Creative Commons)