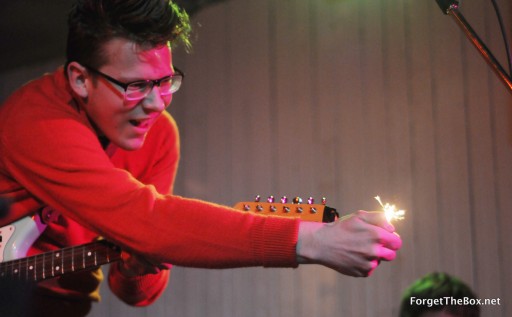 When bands from the west like Rah Rah (Regina) and We Are The City (Kelowna) come to town, they leave the crowd crying for more. On Tuesday night at Casa del Popolo that's just what they did; they entertained the hell out of a packed house. If it weren't for the geographical obstacles, I would see bands like these much more often.
Rah Rah puts on an impressive live performance. Although exhausted, I found I had no choice but to dance! The fun possessed me… I didn't want to get my toes stepped on, but before I knew it I was dancing. You can tell that the years have been good for Rah Rah since their sophomore album. It might be have something to do with them being on tour for three straight years -it's really built up the band's character.
I don't know if "band" is the right classification for Rah Rah. As I mentioned in my preview article, Rah Rah really resembles a commune or an artistic community more then a band. Rah Rah are a rare a group of musicians that have the capability to pick up any instrument and compose a great sing along song. Trust me- you'll want to join in the fun!
You can actually say that this incarnation of the band not only has musical talent, but their ability to switch instruments on a whim, shows that they can still be masterful musicians and have a good time (like the excellent live-version of the catchy pop song Tentacles). The eclectic and electric sound: bass, drum, violin, accordion, and keyboards, really give them a full live sound.
They also played a great rendition of Arrows and Henry, both songs off there latest album Breaking Hearts. I wish Rah Rah the best of luck as they head out to Canadian Music Week in Toronto and South by Southwest in Austin.
Aiden Knight's (Victoria) opening set was pretty good as well, with light country style songs. Usually he has back-up players, but this night, he put on great set as a one man show. His songs were well composed, and made me want to get in touch with lost feelings and memories of places that I had long forgotten.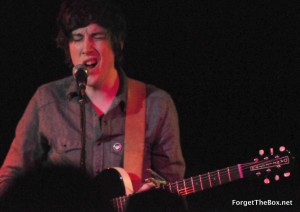 Aiden's songs warmed the heart and evoked great feeling from his acoustic guitar playing. I really liked his song North-east South-west which made the crowd very nostalgic and silent. His whole set was composed of songs about traveling, they focused on moving different places, from west to east, east to west. His banter between songs was memorable and whimsical, especially when speaking with the audience.
The last band I saw that night was We Are The City. They played their powerfully temporal displaced piano song Astronomers, which was by far my favorite song of the night. The greatest feature of the band is their ear for great notes. We Are The City can make songs come alive!
It was a great Tuesday night and after all, spring is on its way. I went to work the next day feeling that joyous feeling you get from great music and having a good time. Now it's my turn to head west.
Photography by Cindy Lopez
For more Photos check out our Facebook page