It was with a sense of melancholy that I lowered my ever-widening behind into the seat at Cinema du Parc before the screening of When Marnie Was There. The future, in case you didn't know, is uncertain for Studio Ghibli, the renowned animation studio that produced such classics as Nausicaa, Princess Mononoke and My Neighbor Totoro. With the retiring of Hayao Miyazaki and Isao Takahata, what comes next for the studio is hazy and uncertain, with no new films announced at the time of this writing, and implications looming that When Marnie Was There might just be the final Ghibli film.
Like many North Americans, I discovered Studio Ghibli late in the game. I want to say my first Ghibli film was Mononoke, and not Spirited Away, which served as an introduction to both Miyazaki and Ghibli for many of us here in the West. But it was long ago, and memory is unreliable. No matter where and when Ghibli came into my life, what matters is that it was important. Like so many others, Ghibli showed me what animated films were capable of, perhaps even more so than the great and mighty Pixar, who, by the time Ghibli really caught on in North America, had already been sitting on their throne so long they'd worn a comfortable ass-groove in the upholstery.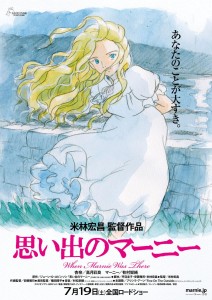 Ghibli films, and more specifically Miyazaki films, taught me things. They challenged me to understand characters I may not initially like or agree with. They showed me beauty and humor and sorrow. They were an important part of my coming into my own as a film buff – and now it may very well be over. Miyazaki and Takahata have seemingly retired and Miyazaki's son has proven himself unable to properly follow in his father's footsteps. Ghibli has employed other directors in the past (and is doing so in the case of Marnie) but thus far, none of them have been able to capture that Ghibli magic.
The spectre of Ghibli's potential closing hangs over When Marnie Was There. Like an 18th century sailor press-ganged into service, this film has been pushed into the role of Ghibli's swan song, their coda, their final bow. As such, reviewing it is… Tricky. I'm torn between viewing the film as just another Ghibli movie and viewing it as the FINAL Ghibli movie. My brain keeps ricocheting back and forth between seeing the film on its own merit, free from context, and seeing it in the role its been forced into, and the context that looms over it. In either case, though, the results aren't good.
When Marnie Was There is the story of Anna, a depressed, socially withdrawn girl sent to live with her aunt and uncle in the country, in the hopes that clean country air will cure her asthma. After having trouble fitting in with the local kids, Anna meets Marnie, a young girl who lives in a mysterious house isolated by marshlands. Anna and Marnie become friends, despite growing evidence that Marnie is not all that she seems, and that strange things are afoot.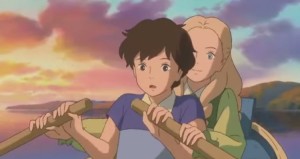 For the first half hour or so, When Marnie Was There completely had me. Having dealt with these problems myself, tales of depression and social withdrawal always strike a chord with me. The quiet, lonely, self-loathing Anna resonated with me as a character, and I was eager to see how the film would treat these issues. But then in prances Marnie, blonde haired and bedecked in lolita fashion (in the Japanese sense, not the Nabokov sense), giggling with every alternate sentence and pulling Anna by the hand into whimsy and vaguely homoerotic bonding that incited giggles from sections of the audience.
When Marnie enters the film, it ceases to be about Anna and her depression and becomes a game of how long it can possibly take Anna to guess that Marnie is obviously not what she appears. How many strange occurrences can she take in stride, how often she can fail to ask the burning questions any sensible person would ask in the situations she's thrust into.
Rather than driving the story herself, Anna is pulled along through the rest of the narrative by this golden haired doll-girl. They don't form a friendship: Marnie declares Anna "her precious discovery" and Anna immediately goes along with it. There's no sense of her coming out of her shell or grappling with the crippling social anxieties she showed a scene before. Marnie just appears and takes over her life, sweeping us from an interesting and nuanced character piece into a sweeping, schmaltzy melodrama capped off by a contrived revelation better suited for a daytime soap.
I began to grow frustrated with Anna's sudden lack of agency or reasoning power, started hating the film for its reliance on sentiment rather than character and intrigue. How is it that meeting Marnie is the catalyst that sparks change in Anna? Was a whimsical blonde who stands on the prows of boats really what was missing? Why does Anna immediately become infatuated with Marnie, and open up to her in a way she hasn't before?
In Princess Mononoke, you can understand how the introduction of Ashitaka brings change and reform to the world. In Castle in the Sky, you can see how Sheeta and Pazu draw strength from each other. But there's never any sense of an actual relationship between Anna and Marnie. Marnie seems, quite intentionally at that, to be on an entirely different wavelength from Anna. Her half of the conversation feels pre-recorded, like she could be speaking to anyone. Marnie doesn't form a bond with Anna, Anna gets caught in Marnie's wake, sucked along like a piece of arm candy. I got a sense more of the bond and connection between Totoro and Satsuki and Mei, and Totoro didn't even speak.
And since the relationship between Anna and Marnie is what drives the plot, this and Anna's stout refusal to get the picture makes the film alternately dull and frustrating. The music soars and tears flow and I feel empty inside, completely uninterested in the characters and their relationship. If anything, I yearn for the days before Marnie flounced into the film and Anna's emotional turmoil felt like the core of the film.
When I try and view When Marnie Was There as a film in its own right, it comes up as merely harmless. Melodramatic fluff straight out of a dime novel tear-jerker, something Nicholas Sparks would cook up, perhaps. But as the potentially last Ghibli film, all I want to do is stamp When Marnie Was Here into the dust and bury it so that I can go play the previous year's one-two-punch of emotional and thematic depth (The Wind Rises) and artistic vision (The Tale of Princess Kaguya).
When Marnie Was There's worst enemy is its context. If the rumors prove to be untrue and Ghibli rises again to produce more films, this one can join the ranks as a pretty but ultimately toothless B-entry in the studio library. But if history does make this the last Ghibli film, and this was really the last time I'll ever get to see that blue logo precede a new film, When Marnie Was There is frustrating for how much of a shallow note it ends the Ghibli legacy on.