The internet has been all aflutter recently with the release of the first images of the upcoming live action adaptation of Ghost in the Shell. The response to the images has not been one of excitement. It's been one of outrage.
The original Ghost in the Shell is a Japanese animated film that came out in 1995. The plot revolves around Major Motoko Kusanagi, a highly intelligent law enforcement officer whose ghost has been transferred into a full body prosthesis or shell.
Though the heroine is technically a cyborg, fans of Ghost in the Shell had widely accepted that should the film be adapted into live action the role of Major Kusanagi should go to an Asian actress. So of course the role went to Scarlett Johansson, the third whitest woman in America (first and second being Gwyneth Paltrow and Kate Hudson, respectively).
It Happens Quite a Bit
The casting of white actors in roles that should go to people of colour is called Whitewashing and it is endemic in Hollywood. Though it's an era of supposed political correctness white people are still being cast in roles that they don't belong in.
Take the 2015 film Aloha which featured Emma Stone as Captain Allison Ng. The real life Allison Ng is of Chinese, Hawaiian and Swedish descent.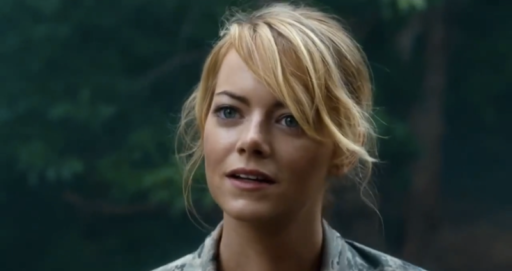 By all accounts, the real life Allison Ng doesn't look Asian or Hawaiian, she's even a natural redhead. Nevertheless, anyone who knows someone half Asian knows that even those who don't look Asian don't look quite as Caucasian as a very blonde Emma Stone. The outrage over the film eventually resulted in director Cameron Crowe apologizing for the casting choice.
Then there's this year's Gods of Egypt. Though the statues and images of Egyptian deities leave lots of room for diversity in casting, most of the Egyptian gods are played by whites.
The movie Pan, an adaptation of Peter Pan released in 2015, cast the lily white Rooney Mara in the role of Tiger Lily, a Native American princess.
Though white actors are no longer being dressed and made up to look like caricatures of minorities, a la Mickey Rooney as Mr. Yunioshi in Breakfast at Tiffany's, that doesn't make whitewashing OK.
Money and Scarcity
Despite the outrage of all these poor casting choices, movie studios and execs always hide behind the same arguments: money and scarcity. They either claim that films featuring people of colour don't make enough money OR they argue that there aren't enough ethnic actors to fill the roles. Let's tackle these arguments one by one.
Don't think movies with people of colour make money? Tell that to the people behind the X-Men franchise.
The X men comics feature a lot of people of colour including Storm, a black woman able to control the weather, and Jubilee, an Asian girl who can generate pyrotechnic energy plasmoids from her hands. In every film adaptation of the franchise, the casting choices have been fairly close to the characters' ethnicity and in spite of this, or perhaps because of it, those films made money. X men grossed 296.3 million USD at the box office, X-2 grossed 407.7 million, and X men The Last Stand grossed 459.4 million USD.
Then there's The Hunger Games. Racist trolls went bananas on the net when a black actress was cast as Rue in the 2012 film even though the book never actually alludes to the character's ethnicity. Despite a few obnoxious noisemakers, the film grossed 653.4 million USD at the box office.
Life of Pi, which cast an Indian actor as an Indian character grossed 609 million USD.
The Jungle Book, released on April 15, 2016, cast a boy of Indian American descent as Mowgli, an Indian boy living in the jungle. It's already grossed $377.4 million and is still going strong.
When you compare that to the pitiful $26.3 million grossed by Aloha or $128.4 million grossed by Pan, the argument about people of colour being a poor investment doesn't add up.
If execs are really concerned about money, there's one more argument to consider. Many people of colour don't visibly age at the same rate as white people. That means they can pass for younger for a lot longer, an argument worth considering when casting for franchise films. Hugh Jackman, our beloved Wolverine is looking his 48 years, whereas Jet Li does not look 51 nor does Don Cheadle look 52.
Then there's the notion that there aren't enough ethnic actors to fill roles and the ones out there aren't well known. That's bullshit, and here's a list of capable, well-known actors of colour to prove it:
Will Smith
Sandrine Holt – Of Asian and French origin, featured in Terminator Genisys
Jet Li – Chinese
Keanu Reeves – ¼ Hawaiian, ¼ Chinese – while not everyone agrees he can act, he still counts
Kristin Kreuk – Of Chinese and Dutch descent, known for Smallville
The Rock – ½ Samoan
Rosario Dawson – Puerto Rican, Afro-Cuban and Irish
Morgan Freeman
Salma Hayek – Mexican with Lebanese Roots
Kal Penn – American of Indian origin, known for the Harold and Kumar movies
Gabourey Sidibe – African American, played the leading role in Precious and was Oscar nominated for it
Jackie Chan – Chinese
Kerry Washington
Chiwetel Eljiofor – of 12 Years a Slave
Priyanka Chopra – Indian
Oded Fehr – Israeli
Lupita Nyong'o – Mexican with Kenyan parents
Adam Beach – First Nations
Sandra Oh – Canadian of Korean Ancestry
This list is just the tip of the iceberg. There are tons more visible minority actors who are more than capable of drawing crowds and bringing in revenue and are ready and willing to do it. Audiences worldwide now want to see themselves in the movies they watch and that means casting choices that reflect the world's diversity.
The only excuse studios and executives have left is their own racism. And in 2016, that's not good enough.