Chelsea Manning, the American soldier jailed in 2010 for leaking information to Wikileaks, is finally free after serving seven years out of her 35 years sentence.
Barack Obama had announced the shortening of her sentence back in January after years of campaigning by multiple civil rights defense groups, including the ACLU and Amnesty International. This Wednesday, Manning's legal team confirmed that she was safely released from the US military prison in Fort Leavenworth, Kansas.
"After another anxious four months of waiting, the day has finally arrived. I am looking forward to so much! Whatever is ahead of me, is far more important than the past. I'm figuring things out right now–which is exciting awkward, fun, and all new for me." Manning said in a press release.
First steps of freedom!! 😄https://t.co/kPPWV5epwa#ChelseaIsFree pic.twitter.com/0R5pXqA1VN

— Chelsea Manning (@xychelsea) May 17, 2017
Manning leaked more than 700 000 documents to Wikileaks, revealing various instances of misconduct by the US in the Middle East. Among the most shocking leaks was an infamous video of two American soldiers bantering about perpetrating an airstrike that killed 12 people, including two Reuters journalists, as well as evidence that the US military summarily executed a number of Iraqis and deliberately concealed the true civilian death toll of its attacks.
At the time, Chelsea Manning was only 23. She had not yet come out as transgender and she was working as an intelligence analyst in Baghdad, under the name of Bradley Manning. She was sentenced to 35 years in prison, the longest sentence ever given to an American whistleblower.
Manning was detained with the male prisoners in a military jail and denied hormone therapy and treatment for gender dysphoria. The impacts on her were devastating and she had to be put on suicide watch. Four months ago, Obama commuted this sentence to time served plus 120 days in one of his last significant decisions as president.
While advocates for transparency and for LGBTQ+ rights rejoiced, others fumed, calling her a traitor who put US lives at risk. Then President-Elect Donald Trump was quick to tweet his displeasure: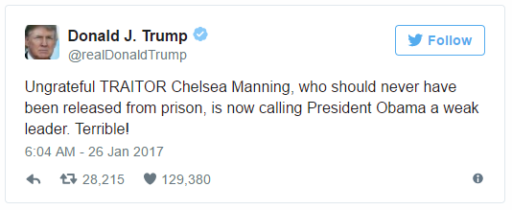 (For those wondering, he was referring to a column in which she argued that the Obama administration should stop compromising their progressive stances)
According to the Obama administration, the four months delay between the announcement of a commutation and its effect is meant to allow detainees to prepare for life outside. Manning's entourage started the "Chelsea Manning Welcome Home fund" for the same reason. Within three months, the GoFundMe campaign raised more than $163 000 US.
Surprisingly, Manning is still a member of the US army "on active duty"  until her criminal appeal is over. The Army Court of Criminal Appeals and the Court of Appeals for the Armed Forces both have to issue an official decision on her dishonourable discharge before it can take effect. Until then, she is on "involuntary excess leave" which means she is on unpaid leave, but subject to the Uniform Code of Military Justice.
*Featured Image: Torbak Hopper under creative commons.