Star & Micey @ The Painted Lady
Star & Micey are a band I discovered day of show from Memphis, Tennessee. I'm so happy I chose to bike on over to catch this act. The group, especially lead vocalist Joshua Cosby, performed with high energy and excitement to the crowd that formed at the intimate Painted Lady. They wasted no time in getting everyone into their set. Their third song was the ever-catchy 'I Can't Wait' – one of my personal favourites. Before we knew it, they were hopping off the stage. Drummer Jeremy Stanfill opened on vocals, setting off a traveling performance of  'Change'. The band took this performance throughout the crowd, on top of the bar, serenaded a lady or two, and was back on the stage! I must say, for a last minute decision to check these guys out, I was thoroughly entertained.
Frank Ryan @ The Supermarket
Frank Ryan moved to Toronto from Dublin two years to the week of this performance. Judging from his set, he isn't doing too bad for himself. I caught his set at the Supermarket in Toronto's notorious Kensington Market Wednesday night. Sweating up a storm and joking that he wasn't used to the heat, Ryan pumped out some delicious and soulful tunes that had smiles on faces and hips swaying back and forth. One that stuck out to me was titled 'Joelle'. With lyrics like "Joelle I'll see you in hell", it was quite beautiful. I can see myself returning to see what else Frank Ryan gets up to in our fair city.
Willie Stratton & The Boarding Party @ Handlebar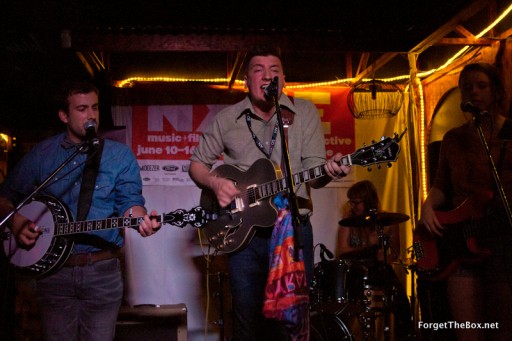 Willie Stratton is from Halifax, Nova Scotia. He played the Halifax Pop Explosion showcase at the Handlebar Wednesday night. This was a special performance for the band as it was the first time they were playing with a full drum set. Drummer Bianca Palmer performed with them for the first time. Willie's younger sister Grace moved to electric bass and rocked it. I was really looking forward to their usual acoustic set, which usually features a war drum, however the show had a much higher energy and rock edge to it. It was great to see Halifax faces in the Handlebar. If I didn't have my camera wrapped around my neck, I definitely would have been stomping my feet and jumping around with the likes of them. This band really makes you want to move your feet!
Santiago X The Natural @ The Crawford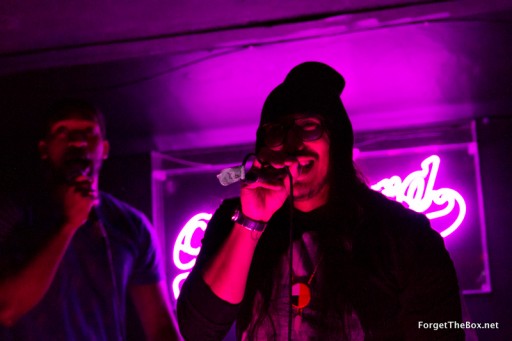 Santiago X The Natural was a compelling duo to absorb as my final show on the first day of NXNE. The duo played the basement of the Crawford. I was surprised there weren't more people there to check these dudes out as they came all the way from Chicago. I'll attribute the small crowd to it being so early in the festival and a Wednesday night. Let pity fall on those who missed out! Santiago, an an architect by day, donned an epic shark t-shirt and sang like he was getting down with each word that left his lips. The Natural, an attorney by day, spat his lyrics with minimal effort like he was born to be doing it. The pair make a really cool combo for that balance of rapping and singing, and it all flows on this line somewhere in the middle that completely makes sense. I was jamming, bobbing, and drooling, let me tell you.
*Photos by Celia Moase. Check out our NXNE 2013 album on Facebook for more photos.