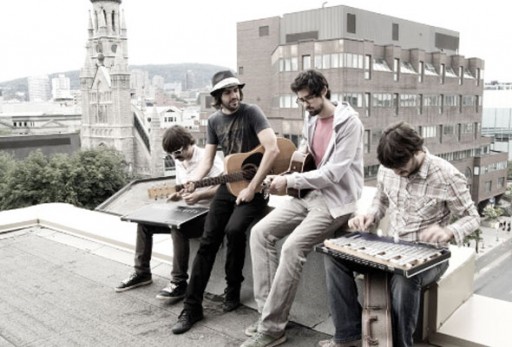 Montreal is known for its arts and culture talent. Yup, it's true. I mean we are designated as the arts and culture hub of Canada. But just because we're labelled this, doesn't mean they all make it out beyond the city. I'm not sorry, but it's true. Of course, you always have your exceptions.
Exceptions? Yes my friend, exceptions. I shouldn't even bother introducing them locally (yes boys I'm flattering you), but I will. Well, Montreal and beyond, meet/hear-about-again Winter Gloves. Ahhhh, yes. Montreal natives, Winter Gloves have been nationally syncing to your iPods and music devices since their second album release, About a Girl in 2008. This release put them on the "Best of" lists, including "Best New Artist" of the year on iTunes Canada.
In 2010 they took it a step further. We're talking global, kids global. Last year, Winter Gloves released their fourth album, All Red. The success of this stellar album has allowed them to venture far and wide playing with acts such as Born Ruffians, Tokyo Police Club and You Say Party! We Say Die!.
Oh no! What? Didn't see them? Well, no worries. They'll be back in Montreal on August 10 playing with The Naked and Famous. The Naked and Famous  yes, you read that right (over 100,000 likes and counting).
Anyway… enough of my talky-talk. To kick this HUGE show off, we've scored a sweet interview with Winter Gloves… only for you.
So, enough of me… and more of the music:
Travelling, sleeping (questionable), eating…how is touring going? How did you enjoy your first trip to Europe?
Nico and Charles: Every aspect of touring is intense. You get to travel, meet with your fans, and see a different city every day, but all that action makes sleep pretty impossible. You're on a constant buzz while you're away, so coming home is always a hard crash of deep sleep! One of the highlights on this last tour we did in the UK was being able to taste the traditional English 'Sunday Roast Dinner' they have at the pubs on Sunday nights.
Who has the best dance moves? And which move is most notable?
Nico: Pat Sayers has to win this one. He is our Dirty Dancer!
Do you still throw copies of your albums into the audience during your shows?
Charles: It's been a while since we've done that but we love the idea of giving away fresh music to show what we're working on. I'm pretty sure we'll throw our next demos in the crowd again soon.
Guidance! Tell us, what is the biggest lesson you've learned to date…
Charles: Don't drink and text.

What do you miss most about Montreal when you're on the road?
Charles:   Well, it depends on where we are. Good food and coffee is one thing we miss a lot on the road especially in the U.S and Canada, but personal space is a big one too. It's a challenge to find time for yourself on the road between the driving, the interviews and the shows.

Tell us your best tour bender story of 2011…
Charles: The day we arrived in the UK last May, the van we were supposed to rent wasn't available so we had to take a smaller model with   a standard transmission. The same day, we travelled 6 hours through the night and we also had to drive a standard in downtown London. Driving on the left was very difficult with the jetlag. The following few days we had multiple tires blow, but everything came about very nicely after that!
Okay, you're only allowed to eat either pancakes or hash browns for your entire tour, which is it (hypothetical of course!)?
Charles: I'm a big fan of red jelly made from 'who knows what', so I can last a while on a sugar rush eating pancakes.
Winter Gloves will be playing with Naked and Famous in Montreal on August 10 at Sala Rosa. Advanced tickets are $15 (or 4-$9) and $17 at the door. They're going fast, so get them ahead of time via indiemontreal.ca. Don't be hearing about it, be there.
band photo from duckduckgeese.com
flat tire from Winter Gloves facebook page.