Protest self serving so called feminists and end cultural appropriation NOW!
"My feminism will be intersectional or it is bullshit." One of my favorite quotes from feminist blogger Flavia Dzodan in Tiger Beatdown. Her words were on many signs as well as the stolen beautiful feminist words from other people of color. The people carrying them do not even know her fucking name. Come on girls, we are better than this!
This brought me back to last year when I asked a girl about her sign at the Women's March on DC. I was carrying the same sign, she got the idea from Pinterest. "I am no longer accepting the things I cannot change. I am changing the things I cannot accept!" She had no idea that her sign was actually a quote from Angela Davis, who was a feminist leader in the black panther movement, and that she was speaking THAT DAY at the historic march.
This one line from Flavia's essay has been taken like many other appropriated work and put on t-shits and all kinds of marketing materials. She has not profited from them one bit. This is why we must listen to her!
People of color, especially women and transgender people have their work and words stolen all the time. That's why they have been erased from history. That shit needs to stop! Fuck racism and capitalism. I am so over people stealing and appropriating everything. Just be original! Its easier to lift up others and celebrate their accomplishments than to demean them by ripping them off.
Let's keep each other in check! Call girls out who are misguided. I wanted to grab a mic or a megaphone and turn this whole thing into a protest against shitty whitewashed feminism. We need to celebrate diversity and stop thinking about only the things that affect people of our skin tone and socioeconomic status.
I am a white woman and white feminism has historically pissed me off. Even from the time of the early suffragettes there has been a major disconnect. They sold black women down the river instead of fighting for equal rights for all humans. We need to fight for all humans, the rights of animals, and the earth!
If you don't care about all of it you don't care about any of it. Being an activist that doesn't stand up for people who don't look exactly like them is wrong and not activism, it is self serving. You can't only fight for things that directly affect your life. There are so many more people who need your efforts! We need to hold each other up or we will crumble together in the rubble of this shithole time in history.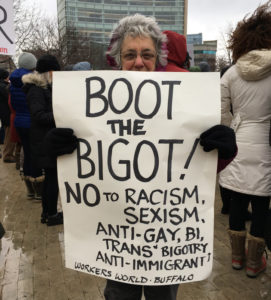 I march with my sisters not just my cisters, I march because I have feet and a voice, it felt like less this year. Sure, I was in Buffalo NY and not Washinton DC, but the entire vibe was less electric.
Trump has been in office for an entire calendar year and only bad has come of it. Same pink pussy hats, same fight. Again I noticed a large amount of white women carrying signs and taking selfies.
What exactly are we doing? I love bringing strong people out into the streets in masses. They need to have a message and know that the cops are not their friends. I see the police standing around the perimeters with their hands on their guns/dicks. Like this is a threat?
Grandmas and kids in pink knitted hats. I think it is important to have events like this that are accessible and low risk for all people, including children, the elderly, and differently abled folks.
One of my friends hurt her leg and she still made it! She was pushed in a wheelchair by comrades while carrying a red and black flag. It was a sight of pure loveliness. I am always the one who will drive all over town to pick up my friends for marches and protests.
Some things were incredible, but others were the same. I was again disappointed but not surprised by the mans-plaining and amount of cis gendered men that took the microphone in general. Just give us the women and trans humans!
Let us hear the voice of those fighting with us! Let our peers speak! It is the mother fucking women's march and there is a man telling us to speak into the microphone. Shut up and let our voices be heard!
The day was sunny, cold, but nice. Thousands of women and those in solidarity took back the streets on a Sunday.
This year I did not even bring a sign. I marched for the first time with a partner, I held her hand as we navigated the crowd. It felt powerful to be holding my head high with someone I care about.
I saw a sign that said "If Hilary won we would be at brunch right now!" That made me sad, we need to march no matter who wins.
Hilary would have obviously been better than T-bag cheeto douche but she was not the answer. I don't know who is the answer.
Maybe it's Oprah, but probably not. It is some little kid who knows no evil. The hope of the world lies in our children.
The most magical moment of the day was when I saw a very little girl go up to her mom and say "I want to take this sign to show and tell." It's beautiful to think that activism has been activated in this child already. Hopefully she will look around at all the strong women and feel empowered to rise up. Good parenting right there.
I asked my mom to come and she said no, she wanted to watch football. I was disappointed. I would love to march with my mother by my side. I am so proud to be her daughter and wish she would feel the need to speak up.
I was upset when she felt like it didn't matter. She burned her bra in the 70's and now she won't even take a walk on a Sunday.
Activists need to remain in practice always. We can't give up the fight! We must stay active and be present forever.
It feels so good to be with a ton of powerful people, make plans, corroborate, say it out loud that we need to do this more often. Sure, you can wear the pink pussy hat again, but remember it's not armor. We need to band together every damn day! It can't be once a year.
Of course I think there are more direct ways to enact positive change then march. Peaceful protests in the way of work strikes, freeing animals from cages, being vegan, feeding people with food that would have been waste, shutting down streets with comrades, using eco glitter to glitter bomb terrible politicians, and participating in sit ins are all way more active ways to speak your mind and get shit done.
We all need to write blogs, write to the editor of your paper, make a zine, do anything to say how you feel and use your voice and talents for good! Please be original and real. You can and will change the world!
Think about others, spread kindness, be pissed off and lift up those that the rest of the world steps on. Be like the little girl who took her sign to show and tell, but this time you should show up and YELL!