I will be attending the Montreal Infringement Festival this year and simultaneously protesting the World Fringe Conference. Everyone who tried to attend the conference from both the Montreal and Buffalo Infringement Festivals have been denied without reason.
Why do we scare you so much? If you want to have a well run festival you must know the counterculture you have excluded. Fringe artists are supposed to be cutting edge and on the fringe of new and exciting artistic expression. They must pay money to be part of the festival. Politically motivated acts are not welcome due to the chance of pissing off sponsors. Censorship and corporate sponsorship are evil.
The Montreal Infringement Festival was created by Donovan King in 2004 after the St. Ambroise (a beer company) Fringe censored the artist in 2001. The sponsor Can-West Global, a media company that owns the Montreal Gazette was to blame.
The theatre critic from the Gazette wanted a free ticket to Car Stories (experimental politically charged interactive street theatre where the audience moves and becomes the show) and after being told "no" caused a stink and decided not to cover the festival until the artists were ejected. The festival not only kicked the artists out but also refused to pay them their ticket sales after a sold out week or reimburse the registration fee associated with the Fringe trademark.
The following year Infringement spread to Buffalo. Infringement is a non-profit, non-hierarchal, grassroots art festival. It is a revolution that brings together independent, free spirited, and often controversial and experimental expression.
Donovan King attended the World Fringe Congresses in Edinburgh in 2012 and 2014 . He was invited as a representative of the infringement festivals. This year he the conference is in his hometown and he was denied access.
This is a blatant disrespectful slap in the face. Donovan was excited at the prospect of attending the 2016 Congress to continue the conversation in his home city and to try and finally resolve issues.
He has written and performed pieces that criticize the Fringe Festival and its ethics. Other artists have combined efforts to artistically challenge their exclusion from the St. Ambroise Fringe through culture jamming. The festival has responded with the complete exclusion of activist artists.
The police are called whenever there is a protest, even though the right to protest in Canada is protected by their constitution. Instead of communicating we are shunned, this cultural battle that has gone on for well over a decade and it must end now!
This year for the 3rd World Fringe Congress Donovan proposed a workshop on strategies to help ensure safer artistic festivals after unfortunate instances of sexual assault and discrimination against disabled people at recent Fringe Festivals. We need to create policies to ensure safety and inclusion of all people in our festivals.
He wrote a letter to the new Fringe CEO, Ms. Shona McCarthy, in response to the rejection of Infringement representatives:
"I find it really unfortunate that my colleagues in Buffalo are being rejected simply for being associated with me. It is important to remember that these artists simply wanted to do Fringe theatre until they were threatened by the Fringe in NYC, who claimed to control a Fringe trademark. Instead, they started an infringement festival, just like we did because of the Canadian trademark that prevented us from doing a populist form of arts we have been doing since we helped found the Fringe in Montreal. We are about as Fringe as it gets – if people won't let us play in their 'official' festival, we are going to do it ourselves, just like the artists who invented the 1947 Fringe Festival in the first place."
The Canadian Association of Fringe Festivals (CAFF) also threatens unfounded legal action against any independent artists who try to use the word Fringe without their permission. This is the antithesis of creative expression. There is an exclusion of artists actually on the fringe of societal norms.
The Infringement Festivals do not fit corporate agendas and are not allowed to voice creative solutions to critical questions. In order to spark our own counter conversation there will be a World Infringement Congress on Saturday November 19th in Montreal.
Infringement is about community, inclusion for all, challenging unjust politics, celebrating diversity, and changing the world through artistic expression. Buffalo comrades should make the trip.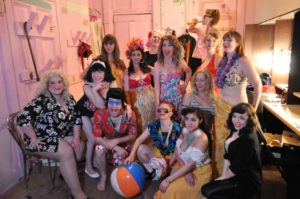 I will be exposed and covered in corporate logos for the world to see and performing with The Candyass Caberet at the historic Cafe Cleopatra. I have been one of the visual arts organizers, a participating artist, and performer in the Buffalo festival for years and am also proud to say that I won the 2017 poster contest.
I am dedicated to the conservation of artistic integrity worldwide. My paintings have been ripped off walls and people have walked out of my performances. If people are offended then you are doing it right.
I was surprised when I saw a giant ad and schedule for the Rochester Fringe Festival in a local Buffalo art publication. This is Infringement territory! We celebrate diversity and the pure unedited brilliance of local artists.
Try to tell me that what we are doing is wrong, that bringing the community together and celebrating the beauty of unity, artists of all walks of life and experience standing side by side making the world stronger, exposing children to art, collaborating with our neighbors and connecting to out of town artists who will soon become family.
Authentic and exhilarating politically charged art, discrediting idea of art as a commodity and fighting for the rights of all humans, and challenging mainstream ideas. No budget, totally volunteer run, guerrilla music, burlesque, dance, theatre, visual arts, poetry, comedy, and under the radar art that defies all categorization.
It is my everything, a citywide sprawling sweet escape from reality. I will fight for the integrity of this festival and others like it to the end.