There was once a time when the languages you heard in the streets of Montreal were English, French, and yes… Yiddish. In the early 1920s, Yiddish-speaking Jews from Europe immigrated to Montreal and were a large part of our diverse cultural landscape.
Early Jewish and Yiddish settlers opened the first Bagel shops, Smoked Meat dinners, and founded Yiddish theatres. In a new documentary, Abigail Hirsch looks at Yiddish theatre in Montreal, New York, and even Israel.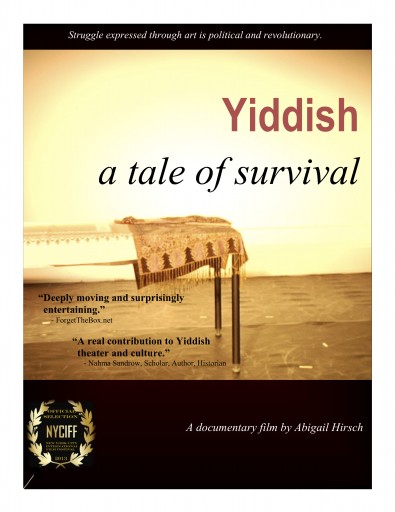 In Yiddish: a tale of survival, the history of Yiddish is revealed by exploring the lives and careers of three Yiddish performers. The first, Shmuel Atzmon, an Israeli actor who founded the Yiddishpiel Theater and has been acting for 50 years. Bryna Wasserman, from Montreal, is the heir to the Dora Wasserman Yiddish theatre legacy. And lastly, we meet singer and actress Milena Kartowski, who at the young age of 23 has discovered Yiddish and is helping to bring it to a new generation.
The film explores the paths that brought each artist to Yiddish and how it has shaped their lives. The film is deeply moving and surprisingly entertaining. Watching it, one hears the sounds of the almost forgotten language of Yiddish from the echoes of Sholem Aleichem to the young people's YaYa group performance, Raisins and Almonds. We are reminded of the legacy Montreal's Jewish community and Yiddish culture worldwide.
Watch for the film in select theatres this summer. For more information, check out AskAbigailProductions.com.
Yiddish: A Tale of Survival _ Trailer from AskAbigail productions on Vimeo.