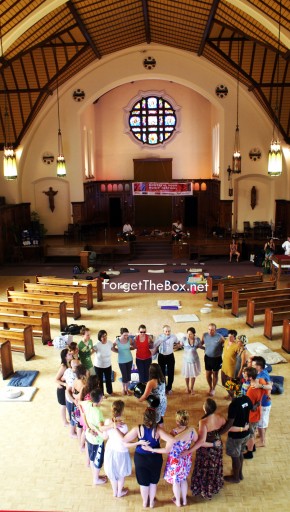 "Unless your heart is love, your life is just your dying." – Gurumatha Amma
I bet the thick silence that comes after each song must be a shock to those attending their first kirtan (devotional call and response) singing circle. It's been too long since I've taken part in one, and at the First Annual Montreal Yoga Music Festival I have to remind myself to resist the urge to clap and whoop in appreciation. Each song works itself up into a frenzy of celebration, everyone singing, music speeding up, until it winds down, settling into nothingness. I sit with my palms upturned, absorbing the wild energy that's let loose, basking in the electrical charge of so many hearts opening at once, and my own excitement.
I'm just in time to see The Bhakti Connection bring the goods to the table yet again; people don't seem to be singing along that much (or maybe just quietly) despite the song list and lyrics provided to get you to do just that. The audience is beaming though; compelled as they watch The Connection's collective radiant talent pour forth under the chapel's stained glass, crest to the rafters, and spill out ever so gracefully onto the lawn to create a fairy music background to Dr. Bali's calm, measured words.
Festival organizer and Kirtan mistress in her own right Lea Longo explains that happy fluke brought the musicians into the chapel. The concerts were scheduled to be held on the lawn of the picturesque Loyola Campus in NDG, but at the twelfth hour some sort of noise regulations were brought out, the chapel there was offered up as an alternative, and well…nothing could be more perfect, in my humble opinion.
We take a break from the tunes (read: I tear myself away from the final, and one of my fave songs, an old Celtic blessing, Longtime Sun), to get a tour of the grounds from Lea, who moves in a glow of joy and easy kindness. We're swept up and barefoot, forgetting that outside the real world is a seriously scorching million or so degrees not counting humidity beyond any human saturation point, and Iana, our brave and intrepid photographer, snaps pics while veritably hopping across concrete, smiling the whole time.
I admit that I was spying on Dr. Bali; having heard so many things second hand, spoken with considerable reverence by a few discerning folk who I consider interesting folk on that particular path, I don't know what I'm expecting, but know I can't help but stare. He's older, Indian, and dressed starkly head to toe in white, right down to his white sneakers and white tennis socks. He sits on a folding chair as he instructs the group on the lawn, and while I didn't have the chance to hear much, what I heard resonated with me, and what more can one ask for? My curiosity's been peaked further, but I know none of that will be resolved…today.
Finding myself itchy for souvenirs, the Festival didn't disappoint, and in between performances and lectures I picked up T-shirts, CDs, coconut water from CoCos~Pure, browsed lovely local veggies, handcrafted mandalas, Lolë clothing, and such supporters. It was quite the fun li'l carnival in an end of town that doesn't usually have mats strewn across lawns, or Krishna chants-a-chanting the way the Plateau tends to. It was a charming self-contained reality, the campus all to ourselves. I was beginning to think it couldn't get better.
And then there was Gurumatha Amma. Now, this is not Amma the Hugging Saint who draws hundreds of thousands of people to hear and hug her, but this Amma drew me, and hugged all who wished to hug her. She was already speaking when we walked in, and when I caught up with what she was saying, I feverishly began taking notes in the quickest (most terrible given the circumstance) way that I could, and subsequently looked like I was texting through her wisdom. Shameful though that may be, I don't regret the fragments I captured, nor the blatant, public tears I shed as I hugged her, taking part in my first darshan, and being fully moved by it, as Le Noble Chemin played us on. I sat with a friend right after as I collected myself, and he shrugged, unmoved by her, though he's been moved by others. I think of times I've heard teachers who I couldn't learn from, and I'm grateful today was wasn't one of those times. I'm grateful that there are as many teachers as there are students, as many paths as there are seekers, and an infinity of wisdom to tune into.
By midweek, mantras are still running through my head as I walk to work. Not unheard of, but it's been awhile. The Festival left me recharged, and with a distinctively centered bounce in my step, so thanks to Lea, the musicians, and all the people who shared smiles for being intricate parts of just such a dog gonned happy day. Namaste.
"Have a mind like Buddha,
heart like Jesus,
actions like Michelangelo."
– Gurumatha Amma
Watch Gurumatha Amma here.
Sorry you missed it? Well, be sure to be there next year :p
And check out Bhakti in the Woods in August. Looks like it'll light up Ladysmith.
Loan me your wisdom @McMoxy
*all photos by Iana Kazakova