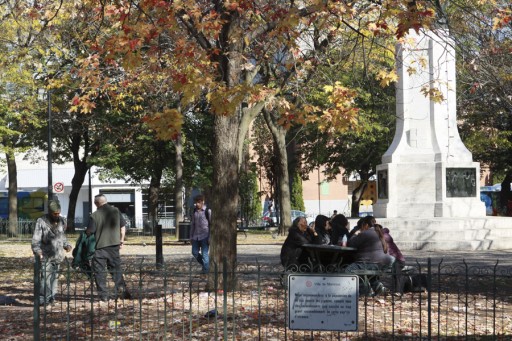 The people at Sharpie must be loving the spring of discontent that has blossomed into the season of protest and flourished from there so naturally into mayhem. I would venture that it's been veritable decades since so much ink has been spilled in the names of Hell No, and We Won't Go, and their various derivatives.
In so many ways, it's wonderful. It's all too rare that the voices of those who disagree are heard on the evening news, and it's true that in my heart I believe that if we are to remain a society and not a bureaucracy in which people serve as mere cogs in corporate wheels, we the people must never shut up.
That being said, I'm careful about which causes I get behind. If I don't feel strongly, odds are I won't post about it, let alone show up. While I do possess an immutable tendency to play Devil's advocate, I feel it a matter of integrity that I only raise my voice for matters I would go blue in the face standing up for.
Case in point, I would go to an abortion rally if the right was threatened, but I stayed clear of tuition talks (while it was still about tuition), deeming both sides so offside that I couldn't in good conscience throw my personal weight behind either. Now, of course, with law 78, and the sweet sounds of the casseroles (that make me misty, by the by, for the same reasons Norma Rae made me cry), I feel distinctly that we're all in this together, and the argument has drastically changed. Anyone who thinks this is still about the students needs to catch up; even the lawyers marched the other night, but this isn't about that…the pull of it is admittedly hard to resist.
Nonetheless, before my heart joined that protest, my mind, fired by the passion that's hit our airwaves, but unable to fully agree, wandered over to issues I feel a little more clear cut. After all, protesters as of late have proven themselves to be an inexhaustible and creative force, and I can't help but wonder if the energy could be applied to local, attainable social goals; you know, while the sentiment of uprising and reconstruction is hot.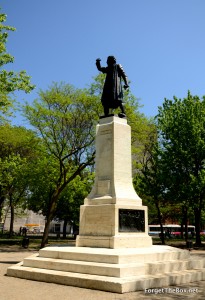 And I thought of Cabot Square.
Oh, you may know it as Crack Park — the one across from the old Forum, the small oasis of green goodness that the strip desperately needs, the one that's currently owned and operated by some of the crudest forms of humanity. I can think of no other spot in town that doesn't even try to conceal its seedy side in the sun; it doesn't pretend to have dignity or shame. Are you really drunk, smoking, pregnant, and fist-fighting on the sidewalk in the afternoon? Really?
A run into the nearest dep is an adventure prepared by Goodall and Jung's lovechild, quintessential anthropology, as popularized by reality TV. I have seen more police, ambulance, and security interventions at that corner than any other single spot in town. This includes my years living in some of the most colorful spots in NDG; take that, urban myths. Cabot Square is technically just outside of Westmount, but I feel safer on Walkley, or Berri Square, if I'm out that way.
In the 5 years that I worked at a studio on the infamous corner, I've seen the problem get worse, and while heads shake, and ladies tsk, the situation is vastly ignored as we turn away and write-off the park at least, and the area mostly.
Let me say that I am the first one (statistical fact) to bring a warm cup of tea to a cold, un-sheltered soul, and I have always been glad I did. Once, at a studio party, a woman who did postures but apparently knew very little of yoga, asked that I shoo a man who was looking to warm up from our foyer and into the winter. I brought him a plate instead.
I am also the first to curse and yell at classless vagrants who used to use said same foyer as a urinal and sometimes worse, before glass doors were installed, and privacy ruined. I am the bad cop who chased away belligerent daytime drunks blocking the entrance, and even called 911 for a non-responsive woman, who when they were able to wake her, assured the EMT it wasn't her they were looking for. Sigh.
Last spring my dear Mabel brought her son to the Children's hospital, and afterwards, having to wait for the bus there anyway, they popped over to Cabot Square to air the offspring and catch a breather, when in broad daylight, a man started coming toward them, undoing his pants as he walked. Mabel did what any mama bear would do: she got up on the picnic table, made her firecracker 5'2" frame bigger with arms overhead, and screamed the fucker down. She shouldn't have had to.
Years back, late one night, I met an arch-angel at Cabot Square. He told me his whole story, and while I don't remember any of it, I do remember the moment, and relish ones like it. Still, it isn't worth the cost of so many bad stories, and I can surely find arch angels somewhere that isn't across the street from a hospital, a library, a church, 2 malls and countless small businesses, all of which would be arguably far more successful if the Square pulled its pants up. It's not the right place for a shit show.
While residents and business owners have been calling for years for the government to revitalize the area as a whole, that's a large scale effort, and one that sounds a bit like passing the buck. How about a grass roots approach with the specific goal of making Cabot Square safe and family friendly for one afternoon and show the bigwigs what can be done when you actually put in the work.
I want balloons! Children! Friendly fluffy dogs! A day where the park is a park and not a cesspool. Maybe a day so lovely I could actually take a calm, slow gander at the metal sculptures that have sprung up around the park without waiting to be ambushed, or wondering why that man is screaming at me like we've been in a fight I wasn't aware of for a heated while now.
When I came up with this Brilliant-if-I-do-say-so-myself idea, there was no law 78, and I was hoping the cops would join in our joyful take-back. I would've filed paperwork for days to get this done, but now I'm in no mood for glorified permission slips and Mother May I's, and I get the feeling that this will have to wait on the back burner until at least fall. While I've never grown a grassroots park take-back revolution, I'm pretty sure it starts with a seed, and that this is it.
(I'm pretty sure we just had a Lorax moment, right there).
Let's start a movement @McMoxy