Trade Secrets appeared on my radar when they performed alongside Two-Year Carnival and The This Many Boyfriend's Club (whom I had recently interviewed) at l'Abysnthe. Needless to say, I was impressed and increasingly curious when TVM and local radio CKUT shot a live performance of Trade Secret's single 'On the Road':
On Tuesday April 9, I met up with Trade Secrets at Bifteck shortly after one of their practice session for beers, lots of laughs, and great discussions about the local liminal music scenes. Introducing the musicians of Trade Secrets: Taylor Evans (bass), Taylor Berce (vocals, guitar), Chris Taggesell (guitar), and Kyle Jacques (drums). Taylor B., Chris, and Kyle met at Gardner Hall, a McGill University student residence, where their first musical incarnation took the form of a Weezer cover band (mostly stuff from Weezer's Pinkerton album). For their first gig, they carried their instruments into the residence's communal washroom, posted 'out of order' signs on the doors, strung up some Christmas lights, and partied away with their fellow floor mates. Last September, Taylor E., whom they met through mutual friends, joined them and soon thereafter, Trade Secrets began.
Last January they launched their first EP No Relation at Psychic City, their jam space where they sometimes hold musical parties with other local bands. Happy with the reaction to their tunes, Trade Secrets is ready to move forward with new material as they continue to perform (after an unfortunate upcoming short summer hiatus). Their EP has a recognizably lo-fi 90s alt rock feel and of the tracks  "Gonna Die" and "Nocturnal" take the lead. No Relation is perfect for the thawing of winter for those who are looking forward to dancing, romancin' and having some burrs in the sun.
In terms of inspiration and influence, the band members have a hodge podge of muses: Kyle used to play in a hardcore band called Oceans, Taylor B. likes folk rock as does Taylor E., who also has a strong inclination towards the music of Prince, and Chris is into metal and psychedelic music. This isn't an Achilles heel, but rather they balance each other out and what makes their sound unique is the way in which their contributions come together: "The music that we make comes out sounding like a band that none of us really particularly identify with," said Kyle, "all of the bands people would compare us to aren't necessarily any of our favorite bands, but it's where we end up when we play together." The band has common ground over the songs of their youth, Weezer, The Pixies, Modest Mouse, and their round up song: "Everybody Wants to Rule the World" by Tears for Fears.
"My self-realization is that when I was young I thought that what I wanted was to get interviewed by someone on Much Music, but I realized that it's more fun to play in dingy bars and have interviews in dingy bars", said Kyle as we discussed the changes in the music industry in the last fifteen years. "It used to be that everything had to be mediated through a third party," Talor B. continued, "Now with this sort of decentralization, it's easier to form informal communities." Chris noted the important aspect of meeting people through playing shows and through music and the kind of spaces that this can create. Performing live is an important factor in entering the Montreal music scene, which they see as having a great grassroots component which is the fulcrum of its accessibility.
Venues we're an interesting topic of conversation for a band that recognizes the importance of supporting those DIY and band friendly spaces. Taylor E. recounted that his favorite show took place at a small cafe in Kingston called The Sleepless Goat where they played with Sweet Jets for the local crowd. The cafe transformed into a great venue where everyone had a blast, until the cops showed up to break up the party. Nodding towards band friendly places like Barfly and L'Absynthe, Taylor B added that "the music community is built on bands setting up shows themselves and that's only going to happen if costs are friendly and more bars are open to this." Chris agreed, adding that his favourite shows have been at their jam space Psychic City where they not only played but organized the show.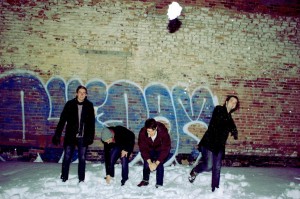 "I think there's an unfortunate trade off between intimacy and legitimacy when you play a show. You want the intimacy of a house party, because that's where you are directly with people. But then you don't want to be the band that JUST plays house parties. Unfortunately, the larger more legitimate venues you play, you get farther and farther away from the audience," Taylor B elaborated, "There's a discernible difference between  being on level with people when you play and being on a stage above them. I think we are trying to find the in between."
In keeping with my tendency for bad puns, I asked the band to trade some secrets with us: "We have a bizarre insane addiction to the Simpson, it infiltrates everything we do," said Taylor B. When asked which characters from the show they would be, Trade Secrets named: Carl Carlson, Hank Scorpio, Max Power, and Homer Simpson's Stock Broker.
Catch Trade Secrets Saturday at the CJLO fundraiser (Turbo Haüs: 1180 rue St-Antoine, room 408) where they will be performing alongside The This Many Boyfriends Club, with whom a small friendly rivalry is burgeoning: "Can we get on print that The This Many Boyfriend's Club has the best rhythm section in Montreal?" asked Kyle who explained that he has taken Evan Magoni (drummer of TTMBC) up on a friendly drum duel. We hope to get an invite.
We'd like to thank Trade Secrets for geeking out about music stuffs with us.