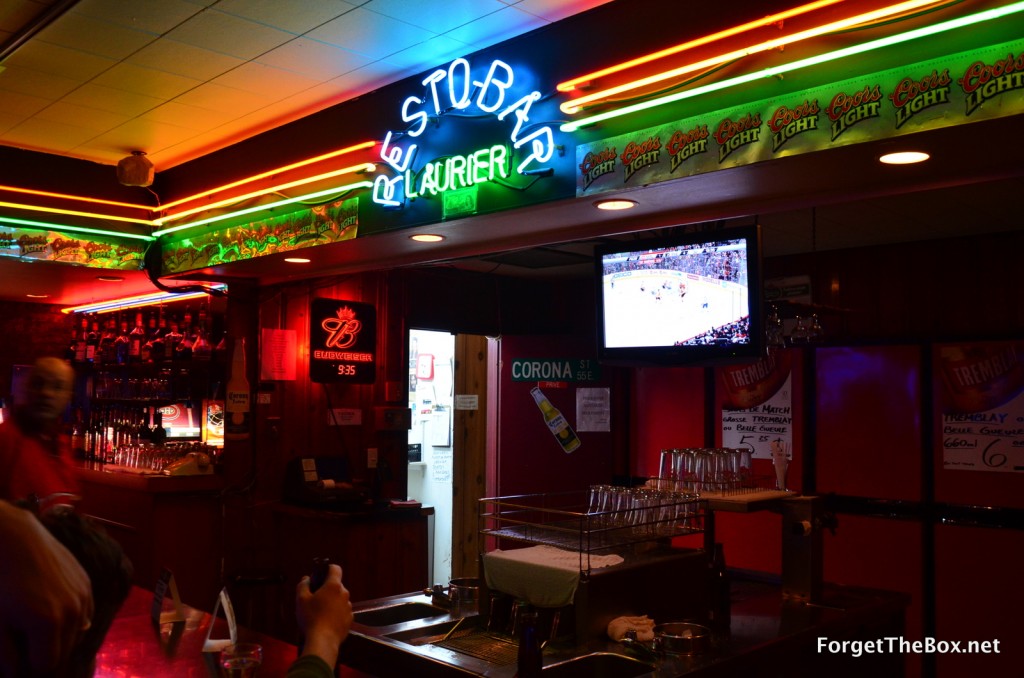 The Canadiens had one more game before going into the All Star break, it happened to be against the Philadelphia Flyers. It was also the lasting meeting against the #1 team in the NHL and they have been our #1 nightmare. This game was going to be tension and trash. A good opportunity for me to find a good bar for this exciting match up and I had one place in mind, Resto-Bar Laurier.
The bar on Laurier with nothing but a giant Brasserie sign outside had been a mystery to me for quite some time. When my old hockey buddy and I grabbed a beer there last Summer, we thought "this could be great place to watch hockey games." He was unable to make it on this evening, (like every game so far this season) he has become a rent a player in my lineup.
The Habs, like whoever I watch games with, lack a certain consistency. Mainly because of key injuries but what's my excuse? No excuses here. I walking into the bar to see the bar in full hockey mode.
I did find out this bar actually had a name (there was a neon sign over the bar), mystery solved. Resto-bar Laurier was a giant hall, it smelled of cheap beer and I expected loud cheers with everyone glued to the nearest TV. There was a good crowd for a Tuesday, and I liked that it was a mixed bunch of fans; from university kids to hipsters, even old men who remembered a time when the Habs would easily beat the Flyers. And all were having a good time despite the score.
We may have been losing the game but it wasn't killing the vibe of the bar. This was an old style brasserie, kind of rare to find in this neck of the city. Beer was definitely cheap, $5.25 for tall beers (either Tremblay or Belle Guelle), pitchers were cheap too especially on game nights. If you're hungry you can run across the street to Chez Claudette's for poutine and other fast food goodies, the bar won't mind. I however indulged on free popcorn and watched Philly destroy the confidence of the Canadiens.
We do have a decent team but the problem is this: we're at a level where we can make the playoffs consistently but we're not one of the elite NHL teams that can challenge for the Cup. We're a small, hardworking bunch but if we can't compete at an elite level (bigger, faster and harder hitting) then we don't stand a chance. I get frustrated liking this team sometimes, so was the waiter in the Habs jersey that kept serving tall beers.
Already the kids are alright, PK Subban has already garnered a reputation against Philly, loud boos whenever he touched the puck. Pacioretty still playing hurt, David Desharais making the best of his time in the big show. It was pointed out that Desharais is quite small, the same height as Gionta. I'm taller than these guys when I wear heels.
Yes, we're small and playing hurt. Each guy taking turns being the hero. However as goals mounted against us, the Flyers showed that they are the full package. They are the best in the league right now, playing rough and dirty hockey. They are looking more and more like a Cup favorite this year.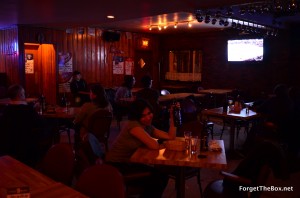 I did like this bar despite the score, it may have been one of my favorite bars I've been to all season. Let's see what the second half holds, game wise and bar wise.
As for the all star break, it was useful for healing nagging injuries and clearing heads. For Carey Price, selected as an All Star, he played respectably, even though he has played the most games of any goalie this season and is probably wishing for a break, eventually. He had good company with him as PK was a last minute addition and left quite an impression in Carolina.
Shout outs of the week: How they changed the all star lineup. It was a step up but here's a suggestion: NHL All Stars VS the entire Staal family. There are four Staal brothers playing, most of them were in Carolina. I think playing the entire clan would be awesome.
Photos by Chris Zacchia & Cindy Lopez