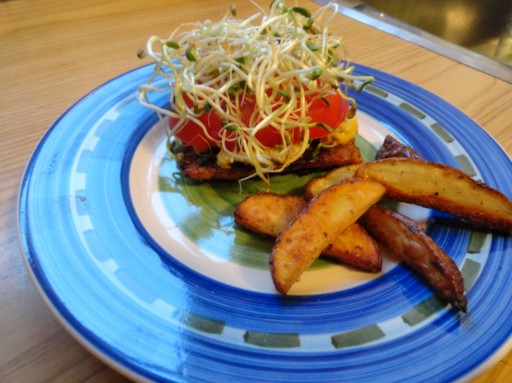 Everyone loves a good burger! With BBQ season in full-swing, vegans too have options for tasty burgers! Although there are actually many ways to make a delicious vegan burger, this week I will share with you the simplest recipe I know: a marinated tempeh patty ready to be BBQ'd, baked or sautéed on the stove.
Although most people know what tofu is, some of you have likely not heard of tempeh. Tempeh is made from soybeans, but unlike tofu, it is cultured and fermented. The fermentation process gives tempeh different nutritional characteristics than other soybean products: a higher protein content, more vitamins, minerals and fiber. So nutrient-dense, it is a protein staple in some parts of the world. Also, there are certain anti-nutrients in tofu which are not present in tempeh because the fermentation process reduces the phytic acid in soy. This therefore makes tempeh more digestible by the body and the minerals are more easily absorbed.
Tempeh has a bolder, nuttier flavor than tofu and is firmer in texture. Without proper preparation, you may not enjoy the flavor. This simple marinade recipe which I share with you this week makes a sensational tempeh patty. You can then dress it up any way you like, with a burger bun, or without! All condiments can be found in vegan format, even mayonnaise (called Vegenaise)! I really love to top mine with my healthy hummus, Dijon, tomato and sprouts.
All you have to do is cut the tempeh into your desired shape and size and marinate overnight in a bath of ingredients I list below. Thinner pieces will allow the marinade to seep in better so depending on the size of the tempeh slab you purchase, you may want to slice it in half lengthwise. This will allow the tempeh to absorb all the delicious flavors which we love in a burger. Once marinated, cook or bake it any way you like, and do what you do with burgers!
To make the burger experience complete: what better treat to have as a side dish than fries? So delicious! I make my fries in the oven, but they are so light and crispy that they are just as satisfying as their deep fried cousins! Follow the recipe below for these flavourful fries, throw a tempeh patty on the BBQ or burner, make a favorite salad, and you will have a vegan dinner fit for kings! Enjoy, in joy and in health!
 Home fries:
Ingredients:
Makes 4-5 servings
6 medium russet potatoes, washed and cut into wedges with peel on
2 tablespoons grapeseed oil
½ teaspoon sea salt
1/3 teaspoon black pepper
1 teaspoon oregano
2 cloves garlic, minced
¼ teaspoon cayenne pepper
½ teaspoon paprika
3 tablespoons coconut oil
Method:
Preheat oven to 425˚F.
Place potato wedges in a large bowl and cover with cold water. Let stand for 20 minutes.
Rub coconut oil on baking sheet or glass casserole dish.
Drain potatoes and pat dry with paper towels. Transfer potatoes to clean bowl.
Add spices, salt and grapeseed oil. Toss to combine ingredients.  Arrange potato wedges in a single layer on cooking sheet
Bakes potatoes for 25-30 minutes. Turn potatoes after 10-15 minutes.
Serve immediately.
How to Marinate Tempeh:
This is a versatile and simple technique to marinate tempeh for any recipe. In a large class container, place tempeh (cut into shapes and sizes of your choice) and the ingredients which follow. Refrigerate overnight or for at least 4 hours prior to cooking.
2 gloves of garlic, minced
3 tablespoons olive OR grapeseed oil
1 tablespoon fennel seeds
3 tablespoons unsalted steak spice
1 teaspoon oregano
½ cup fresh parsley, chopped
½ teaspoon ground black pepper
2 tablespoons balsamic vinegar
2 tablespoons wheat-free tamari
1 bay leaf
1 chopped onion (optional)
"I am not afraid; I was born to do this." ~Joan of Arc
Follow Maria on Twitter and Facebook.