For me, the 2013 Montreal Infringement Festival's opening weekend offered the familiar and fun, unexpected awe, a sense of longing for the show I missed and rainy artistic socializing.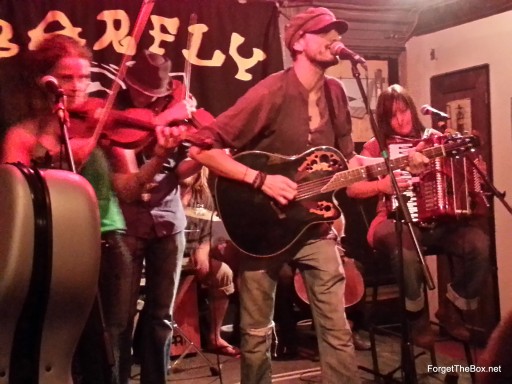 Thursday
The fest kicked off with an air of familiarity. To clarify, when it comes to the Montreal Infringement, familiarity means good rockin' tunes with a socially conscious vibe emanating from everyone's favourite dive bar on St-Laurent: Barfly.
After Martin G played a solo set of acoustic tunes where he reflected on what makes his art critical or activist (one of the questions on the Infringement application form), Grr en Famille took the stage. This six piece band (complete with accordion and violin) rocked out with bilingual tunes that everyone could dance to.
That night in Barfly, many did, just as they had done at the Infringement preview show a few weeks ago at Le Bull. A great way to kick off the fest.
Friday
If Thursday was familiar, Friday night was anything but. First off, I'm not that familiar with hip hop and not at all familiar with skate culture (I had a board when I was a kid, but that really doesn't count).
I may not be the ideal person to review the Infringement Hip Hop Show that took place at TRH Bar, a new venue on the Main with a skate ramp right in the middle of it. I can, though, look at it from a theatrical perspective.
The staging was a perfect infringement on the concept of separation between audience and performer. There was none and it was beautiful.
The rappers performed right next to the ramp as skaters did their tricks. In the case of Psynlangwage, they also mingled with the crowd around the pit and even on the terrasse.
Between that bustling terrasse and the skate ramp stage area sat Atlantic City native Lucas Simmons, who's performing theatre this Thursday but is also in town for the entire festival. This night in particular, he was drawing portraits of anyone who wanted for free.
I didn't expect this kind of evening, but it makes perfect sense. The Infringement is all about breaking boundaries and the show was called Smashing Through Walls and these performers did just that, both lyrically and conceptually.
Have a look at a bit of the scene and listen to some of the socially conscious lyrics of Jay Manafest:
Saturday
Sadly, I was all partied out and didn't make it to the fest Saturday night. I heard from one of the organizers that Super Greek League (who had played NXNE in Toronto the night before) really tore down the house at Le Bull Pub and thought, well, that's probably true but I can't be sure 'cause I wasn't there.
Turns out he was 100% correct, and here's the video proof and incentive for me to not miss any more infringing this year:
Sunday
I headed back to the fest as therapeutic rain fell on the city and washed Infringement Therapy, an outdoor interactive theatre performance which was supposed to happen at 7pm, to next Sunday at 1pm. Mother Nature didn't dampen the spirits of those attending the Dumpster Dive Art Drive, the vernissage for art made from stuff found in the trash went ahead as planned in the alleyway behind Bifteck.
There's no better way to spend a rainy Sunday afternoon than standing in an alleyway underneath a fire escape that protects you from the rain, sipping on wine, eating brie, looking at art made on the spot from what's available and chatting with like-minded artists. The Infringement is almost as much social as it is performance-based and the DDAD is the perfect example of this dynamic.
This was my weekend at the Infringement, but I didn't even mention all the fest offered these past few days. As the Infringement continues, so will our coverage.
The Montreal Infringement Festival runs until June 23rd. For the schedule, please visit infringemontreal.org
* Barfly photo by Iana Kazakova, TRH Bar & Le Bull photos by Alaya Martin