Have you ever craved some Hair of the Dog in the middle of getting a haircut? Dream no more, because it's become a reality.
Yes, to all of you curious voyeurs! It isn't just a gimmick! The Blue Dog Motel, a bar wedged between many others on the populated and always busy St Laurent Boulevard, won't judge you for ordering a gin and tonic with a side of haircut, day or night.
Perhaps for some dutch courage? Relaxation? Social lubrication? Whatever the reason may be, we should all bow down to Montreal born Daniel Marin who had a vision, and pioneered the concept, bringing a bit more fun onto the urban block.
Daniel, a talented hair barber and local ambassador for the Californian water based hair product Layrite, started off giving cuts at the last St-Laurent street sale. The concept really caught on and so his chair was moved from the sidewalk and into the infamous platform level of Blue Dog that once resembled the trippy living room from A Clockwork Orange.
The space has been transformed into a comfortable yet edgy mini salon that suits the atmosphere of the bar. In it, there is the station where Dan works his magic, and a mini bar stashed to the side offering different types of liquor. The bottles are stashed away at times and liquor service is generally offered at the bar itself.
Daniel is a versatile artist who seems willing to work with many different hair types, regardless of length, fullness, texture, or gender. The "no problem" look he gave me when I asked if he would be able to tame my unruly waves was definitely assuring.
"To me, it's very personal," he replied when asked where he draws the line, "they tell me what they want, and I let them know if it's possible beforehand." He also takes walk ins, which is ideal for those who are feeling impulsive.
As the night progressed and I watched him work his magic, Daniel's talent with hair really shone through. I witnessed him transform a burly hipster with mop hair into a sleek looking gentleman (with tamed scruff) and a soft looking, slicked back style that I felt tempted to run my fingers through.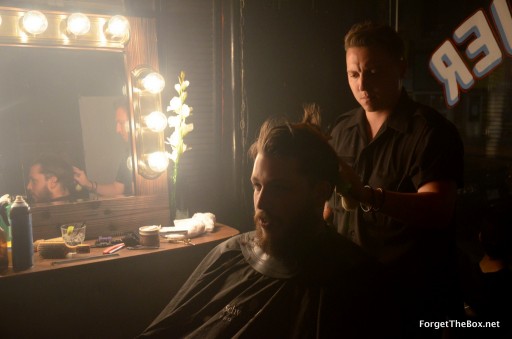 I couldn't help but notice that one of Daniel's other customers, and Daniel himself, had this similar haircut that resembled heartthrobs of my childhood days. When I asked him if this style was in any way reminiscent of the mid 90s, he scoffed and said "it's from the 20s and 30s!"
This seems to be the effect that the combination of Layrite and his creative genius have on men's hair. The product gives an end result of hassle-free hair, is easily washable and holds for just as long as its petroleum jelly based ancestor.
In my opinion, whether it's 20s, 30s, 90s, trendy, or merely crafted from Dan Marin's mind, I have nothing against the lads of Montreal walking around town with hair like Leo DiCaprio.
So, why should we start going to Blue Dog to get our hair cut? Well, it's the only liquor licensed barber in the city and who wouldn't want to do shots in the middle of a makeover? Also, it's very economical, since Dan has already done the haute salon scene and doesn't care to overcharge people for a new look.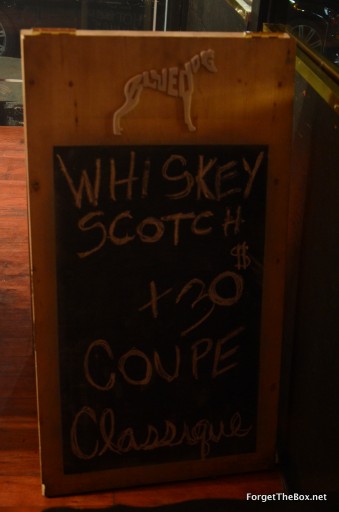 "What I wanted to do is be one of the lowest on the block," he said, "25 bucks for men 35 for women."
If requested, (or if he likes you) he'll whip out this super nifty head massager called The Hangover Cure. When this device was demonstrated, I didn't want to leave it alone.
Some may think this establishment could be a road to disaster, but Daniel gives off a super professional vibe. He never works past midnight, appears to be super sober as he's doing his job and dims the lights/restricts the Barbier area of the bar when he's off duty, "unless it's a busy night and space is limited. Then we turn it into a VIP area."
In my opinion, this establishment is a fun and fresh idea. It's nice to know that we have the option to knock back a couple while getting a haircut. It's a super fun concept, and besides, Blue Dog is planning on getting a striped Barber Pole for the occasion.
Do people think this is going to go far? Daniel's lovely girlfriend and fellow hair stylist Maral definitely thinks so: "this isn't a pop up shop, it's gonna get bigger, I feel it."
* photos by Chris Zacchia