Jacq the Stripper, aka Jacqueline Frances, is an insatiable female force of nature. She is a true "Jacq" of all trades: writer, stripper, illustrator, comedian, and inspiration to us all.
In her highly anticipated new show and book The Beaver Show she reveals a more intimate side of being a stripper. In the book she lets us in, deep, and tells us about her tour from Australia to New York. Now with the help from her friends, fans, and former lovers' Kickstarter support, she is coming back on tour to her favorite place in the world, Montreal!
I was lucky enough to ask her a few questions. As a burlesque dancer myself it was interesting to hear her perspectives and comments about girl power and body positivity. She does what she wants and takes inspiration from some of my favorites.
Go see her show and support beauty and bawdy artistic freedom, you will regret it for the rest of your life if you don't. I'll be the guy sitting in the corner jacking off. See you there! Splash zone in the corner. 😉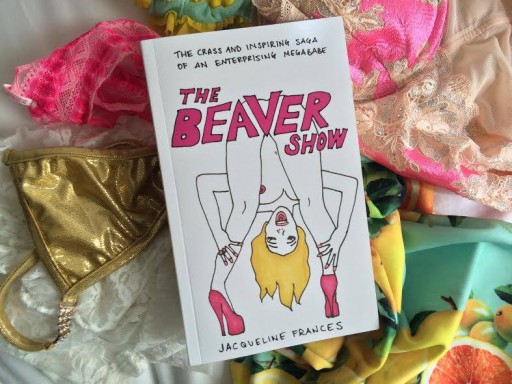 Here are a few excerpts from her incredible book The Beaver Show that you just have to buy and have her sign for you:
"I dance. Naked. For large (and occasionally insultingly modest) sums of money."

It all started five years ago in Sydney, Australia when she was just 23: "I still wanted to be a traveler, just not a poor one anymore. So I shaved my legs and bush, showed up to the first Google search result that came up for 'gentlemen's club Sydney,' got naked for this old fat guy named Jim and, to my surprise, I liked it. A lot."

Stripping is about feeling powerful, sexy, and endlessly curious about how far a dude's kinks will go ('show me your armpits') and how much he is willing to pay for them ($1200).

And the money's sexy.
The Beaver Show Tour is coming to the area (Did you just cum in your pants when you read that? Are you even wearing any pants?)
January 20 2016 8pm An Evening with Jacq the Stripper @ Chez Serge, Montreal $20 for the book (incl. free cover) or $5 cover
January 22 2016 The Riff @ Le Nouveau Theatre Ste. Catherine, Montreal $7
January 24 2016 9:30pm Crimson Wave Comedy @ The Comedy Bar, Toronto $5
January 26 2016 7pm An Evening with Jacq the Stripper @ The Side Door Barrie, ON $10 advance / $15 door
January 27 2016 @ The Beaver Toronto ON
T&A Q&A
1) So you are just a writer that strips right (sarcasm all day there)? When did you decide to write a book? How long did the process take?
I've always been a writer, and when I started stripping I couldn't NOT write about it. My first day ever was over five years ago, so I guess you could say that's when I started writing it. After a torturous year or so of trying to nab an agent, I published it in October 2015.
2) What was your initial response to David Bowie's passing? How has he influenced your art?
It was a very sad morning when I found out. In my first year at McGill, one of my teachers told us to choose an 'artifact that symbolizes modernity.' Most people chose things like ticketing machines or nylon stockings… I chose the persona of Ziggy Stardust and went on to write a 25-page paper on him. I got the paper back and my professor was like, "This is a stretch for what I assigned… but clearly you are very passionate about David Bowie. B+"
He did whatever the fuck he wanted and man did he ever commit to it. I knew he got dressed every single day not giving a fuck about what other people thought of him. His talent and his image were inseparable and it was clear that he enjoyed that. He's a legend in my heart and in all the manifestations of my creativity.
3) Congrats on meeting your Kickstarter goal! Have you ever seen the Amanda Palmer "Art of Asking" TED Talk? Have you ever thought of doing your own TED Talk? What would you title it? I'd so watch it! You are an inspiring lady.
Thank you! I guess my stand-up is a little preachy and story-telling-y, so maybe I'm already a TED talk in the making… albeit a raunchy one. I haven't seen Amanda Palmer's but I'll be checking that out very soon! What's their policy on profanity? I have yet to eradicate swearing from my set. It's just too important.
4) I respect that you are a touring artist and strive to do that more with my own burlesque show. Do you have any advice? How did you get your tour off the ground? Is it hard to be married and touring? Do you have any pets at home? I often think I need a tour bus that is cat friendly because I couldn't leave my lil fur babies.
No pets no babies low rent and the most encouraging, grounded wife in the world is how I can even fathom going on this tour. Kickstarter certainly helped make it all happen, which really just means I have a community of people who believe in me. I would not be able to do it without the support of my friends, family, and randoms on the internet who are stoked about my mission to humanize sex work and spread the gospel of happy sluts. The tour is only just beginning so I can't speak to its challenges yet. BUT THERE WILL BE PLENTY, I ASSURE YOU.
5) You are performing in Montreal this week. Tell me about your show? Does it vary based on the night?
The Beaver Show book tour is a different show every night. I like to invite local brains and talent to collaborate, as I don't think I'm at the one-woman-show point in my life yet. I have my stand-up act, but that's only part of it. In Toronto, for example, we're having Victoria Lean, a brilliant filmmaker, host while I tell jokes and riff from the book (I hate reading aloud – I think it's boring) followed by a Q&A with musician Leah Fay from July Talk.
6) Montreal is my favorite city in the world! What is your favorite Montreal adventure story?
It is my favourite city in the world, too! I spent five incredibly formative years there and I don't even know where to begin because my whole life there was an adventure. I mean let's just talk for a minute about how cheap the rent was: I had a two bedroom apartment all to my damn self for $600 a month. It was above GoGo lounge, so it was loud as fuck but I didn't care because I never slept. I painted on my walls and ate $2 chow mein with peanut butter sauce on it when I was hungry… Oprah should have really interviewed me about living my Best Life.
7) Do you have any comments about censorship? Male nipples vs female nipples on social media? Have you experienced censorship firsthand?
BOOBS FEED BABIES. Start censoring male nipples, please. They're not as pretty AND they are LITERALLY useless as fuck.
8) Do you consider yourself a feminist? What would you like a young girl to take from your show?
I AM A RAGING FEMINIST. I will shout it from the rooftops.
My show is 18+ because I talk about very adult issues. But I know that young girls are going to see it anyway, and to them I will tell them "It's your body and don't let anyone shame you for it. Do what feels right and always take a minute to make sure you're doing what you want and not what you think you should be doing."
9)Who is your biggest artistic influence? I also see that you just performed in Baltimore and your book is sold at Atomic Books. How has John Waters affected you and your work?
Oh my god John Waters is one of my heroes. I'd like to make movies as delightfully crass as his one day. He revels in bad taste and doesn't have a pretentious bone in his body. He is so curious and has lived a life where he's done whatever he wants, whether it's film, books, stand-up comedy or hitchhiking across America. Whenever I get discouraged about pursuing my dreams, I remember that he made Pink Flamingos with $10 000. He inspires me so say whatever the fuck I want without worrying about the approval of elitist tastemakers. The more people won't let you in to their club, the harder you'll try to build your own.
10) I'm a big fan of your illustrations! Did you go to art school? If so how do you think it prepared you for your current path?
I was in an art program in grade 9, but that was eons ago… I just started doodling to illustrate what was being said to me at work. Now I treat my art like a new platform for my storytelling, plus it's so goddamn therapeutic. Seriously if you can't afford therapy, buy a sketchbook. And if the thought of drawing stresses you out, buy a colouring book. You will feel better.
11) Any other tid bits you would like people to know about you? Where are you from? Like long walks on the beach? What's your sign? Ect….
I'm Canadian, from Ontario although I claimed Montreal for a while. Now I'm just an expat. I only say I'm from New York when I'm trying to book venues (it works).
I'm an Aquarius, I love blue cheese, swimming and giving close friends shitty makeovers.
Buy my book! It's called The Beaver Show, and you can get it on Amazon. Or go to your local independent bookstores and beg them to stock my book. If you have time to do that I would be eternally grateful.
* Featured image by Andy Boyle
* An Evening with Jacq the Stripper @ Chez Serge, 5301 Boul St-Laurent, Wednesday January 20th, 8pm, $20 for the book (incl. free cover) or $5 cover
* The Riff @ Le Nouveau Theatre Ste. Catherine, 264 Rue Sainte-Catherine E, Friday, January 22nd, $7
* For more: jacqthestripper.com