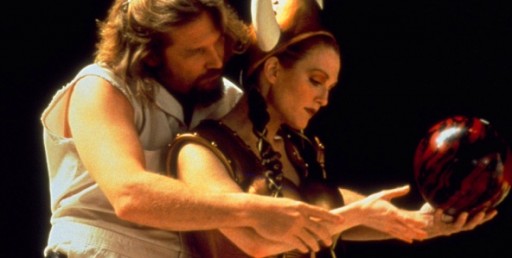 THE BIG LEBOWSKI (1998)
Starring Jeff Brides, John Goodman, Steve Buscemi and Julianne Moore
Written by Joel and Ethan Cohen
Distributed by Polygram Pictures
Directed by Joel Cohen
Most films released in North America these days don't deserve much better than the two for ten discount bin at WalMart. But sometimes, to paraphrase the great Sam Elliot,  there's a film. Well you don't want to call the film a hero, but  it's the film for its time and place.    It's a film that inspires such devotion that people put effort into  creating this. One of these films is The Big Lebowski.
What is it about  The Big Lebowski that inspires  devotion in this film writer? There's  lots  to love  but first and foremost, when it comes to films,  I'm most attracted to characters. Just like  Red  in The Shawshank Redemption  or Rita Hayworth as the mysterious Gilda, this film happens to have  one of cinema's all time greatest characters:  The Dude, portrayed by  Jeff Bridges. It's an instant love affair from  the moment  The Dude  comes meandering down the grocery asile in search of milk for his white russians.
With kidnappings, mistaken identities and intrigue the story of The  Big Lebowski  plays out in it the style of film  noir. In these types of films, the leading man is a suave, heroic ladies man such as a detective or cowboy.  You don't remember these films for their complicated plot (The Big Sleep anyone?)  but rather for Humphrey Bogart and John Wayne. The Big Lebowski is    what happens when you put a normal man, extraordinary only for his level of laziness, into a film noir situation.
Amongst the other characters that make up the world of The Big Lebowski, my favorites are The Dude's longtime friends/bowling partners Walter and Donny. As Walter, John Goodman is hilarious as a Vietnam vet with serious anger issues. As always, Steve Buscemi is perfect as timid Donny who sadly  always shuts the fuck up when Walter tells him to. I have a feeling Donny would  have something profound to say if he ever  got the chance.
I'll never get tired of talking about in this column how much I love her, but I'm just going to say it: Julianne Moore should never do accents.  As the Dude's love interest Maude,  this feminist artist is one of Moore's strangest characters.  Even with a bizzare character, she's completely watchable, but when she does accents, she loses something in her performance.
While I sometimes have problems with their scripts (am I the only one who hated the end of No Country for Old Men?) every single one of the Cohen Brothers  films  is visually perfect. For that, major  props go out to  Cohen Brother's  longtime collaborator  Roger Deakins.  With  The Big Lebowski,     Deakins shot the film noir story sprawling like a western. The movement and the gorgeous  depth of field help give  The Dude's rather modest life  of smoking pot and going  bowling an epic quality.
With the look, the A-list  cast and one of my all time favorite film soundtracks, The Big Lebowski comes together as one of the best films out there. But that's just my opinion, man. Go on and check it out for yourself.