"Got too many teeth?  Well the Blood Ballet Cabaret can scratch that itch. Come check out the spiciest hell kittens to fall out of Satan's grasp." That's the tag line for Montreal's newest and raunchiest Burlesque troop.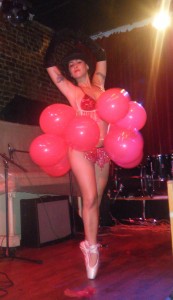 This weekend is the Montreal Burlesque Festival, which is featuring Burlesque dancers from all over the world as well as paying tribute to the women who made Burlesque what it is today.
The Blood Ballet Cabaret is a little different then the majority of other burlesque troops, while burlesque is a celebration of women in all their shapes, sizes and forms the Blood Ballet Cabaret has a preference for young, scantily clad, sirens.
The Blood Ballet Cabaret is driven by tassels and tickled by trouble; they will frighten and entertain! The newest troop on the Montreal scene, this will be their 3rd show and they're gonna take the scene by storm. Bloody Mary-Ann leads the group of rag tag sketch comedians, sexy burlesque & belly dancers and a collection of circus performers. If you want to catch the raunchiest, sexiest burlesque troop in the city come see us at the Belmont, on September 25th. 10$ at the door. Lock up your kids and hide your wife!

Contact us at  bloodballet@gmail.com for tickets [$7 in advance $10 at the door] or to reserve a table. Check out their web site at http://cargocollective.com/bloodballet
Part of the proceeds from the show will be donated to STELLA, (the Montreal sex workers rights association)