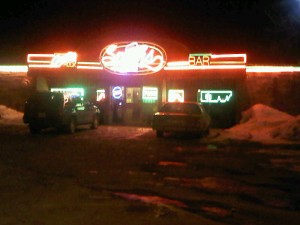 While the Montreal Canadiens were far from home on their recent west coast road trip, I also found myself   far from home. The time difference between Vancouver and Montreal meant that this hockey trek was going to be a late one. I got off the bus and walked along the sketchy, dark streets of the St. Jacques strip. Returning to the strip felt scary, but I knew it was worth it. Even if it meant I had to watch Vancouver Canucks hockey, whose style of play I don't usually enjoy.
On this trip we were all far from home except for Carey Price, as this game was his homecoming. Playing in front of a hometown crowd was important for our cowboy goalie, even if he's actually from outside Vancouver, from a small town called Anahim Lake. Since playing in Montreal could, sometimes, make a small town kid feel a little homesick, I looked for a place that would be a reminder of his roots.
I trekked to Spurs country bar (7360 St Jacques, Montreal), a saloon-like bar with a cowboy motif. Spurs has cheap drinks and is big on bluegrass and country music. It's no secret that Price loves country music and goes cowboy in the offseason.
I figure our country-loving goalie would love the cowboy atmosphere; he would feel like he was back home. He may be a BC boy, but he's more small town humble than Vancouver chic. It was a quiet night in the bar which didn't disappoint me at all; I was too busy digging the lone cowboy vibe in Spurs. Watching Price and the Habs play against the best team in the NHL was a little bit of a challenge: Some redneck wanted to get the English feed of the game, however satellite TV has its limits. RDS was the answer, however it was synched up with the CJAD radio feed, which was 10 seconds behind the TV.
A word to the wise to the guy who requested the changing the channel: hockey in any language is the same no matter what. The redneck who requested this cheered 10 seconds after one of the Habs goals, I cheered for it when it actually happened. C'EST LE BUT = GOAL!!!
Only a handful of us were watching the game, the rest were gambling at the video poker machines in the corner.
This is the week teams all over the league gamble on either keeping their team as is or trading players for a better chance at making the playoffs. I figure between this game and the next entry, the Canadiens will do something to better their playoff chances.
It could be defense as we've been losing guys to injuries. My bet: grab someone off the street to play defence, it's the safest bet.
Also, I think I've had it with Kostitsyn, tired of seeing whether or not he'll be a goal scorer. If he's gone by Monday I wouldn't be surprised. I wish I could say the same for Scott Gomez however…big contract troubles.
W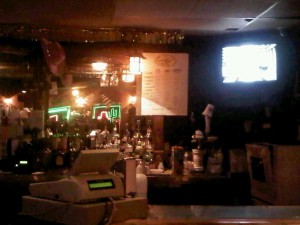 hat was surprising was that our two smallest guys had scored,  Brian Gionta and David Desharnais (both are 5 foot 7). Other surprises might be that the Habs beating the #1 team in the league and the Sedin twins neck and neck in the scoring race but coming up empty. Even Olympic hero Roberto Luongo was having an off night. I felt a little nostalgic here as around this time last year I was sitting in a sketchy bar watching hockey from Vancouver, only it was the Olympics. This was how "Cindy's Hockey Blog" got started.
More surprising was that Spurs (from the outside it looks sketchy) is a pretty solid bar. Its busy nights are the weekends with a country band headlining the night and seriously cheap beer. The drawback is that it's so far from everything and well, not really a hockey crowd.
In the end, I wasn't surprised that Carey Price would win in his backyard, he has proven it in Montreal and now he's done the same in front of friends and family. Spurs may be a country bar in my eyes, but I guess to someone else, it can be a home away from home (even if it's a little scary on the outside).