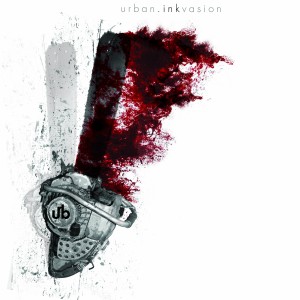 The Inkvasion has begun! Local Verdun graphic artist Carolyne Trudeau (aka Chainsaw Girl) is invading our urban style one drop of ink at a time, under the guise of her newly founded company Urban Inkvasion.
Using innocent T-shirts as her method of distribution of her dark and macabre, touching, blood-spattered artwork, Carolyne is spreading her pleasure of chainsaws, gas masks, tommy guns and Rorschach paintings throughout the city. Grasping our senses with definitive colour contrasts, ink splatters and blotches with intricately detailed ominous smoke trails, it grabs our attention and captivates our senses, giving these normally grim or shocking ingredients a life of their own, intent on infecting us with their darkened beauteous allure, and spreading like a virus throughout the city.
Originally from Trois Rivieres, Carolyne studied Graphic Arts at College Ahuntsic graduating in 2008. After a few years of working small contracts here and there she quickly realized she didn't enjoy the aspect of working as a graphic artist for others; she found it difficult to associate her name and work, using others directives and guidelines. The idea of starting her own company, where she could have the freedom to use her own designs, was then formed and grew from there.
In 2010 she received her first big contract for the visuals in Patrick Senécal's La Reine Rouge directed by Oliver Sabino. She also participated in the original teaser for La Reine Rouge as an extra dead body, taking the entire film crew in for two weeks, and even replacing the photographer for a day. La Reine Rouge holds a special place in her heart and a year later, she is still working strong on the film, continuing to give it her all.
It wasn't until early 2011 that she started taking steps towards her goal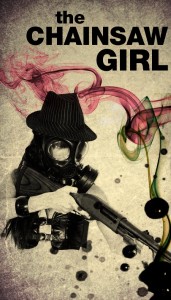 of freedom and entrepreneurship, creating Urban Inkvasion, a t-shirt design enterprise, as a method of publicity for her artwork.
The idea for Urban Inkvasion all started on facebook, where she posted black and white pictures on her wall, which immediately garnered her a lot attention and numerous inspiring comments. Deciding to embrace this dark approach, and increase the quality of her work, she began having high quality photoshoots in her living room, where she'd incorporate her now trademark accessories, like machine guns, caution tapes, chainsaw's, and gas masks. The photoshoots were a great success and the   accessories added to her somber concept drawing even more attention, and positive encouraging comments.
Friends and fans have generously baptized her with the nickname The Chainsaw Girl, which she has happily embraced. Carolyne continued her photoshoots, further pushing her striking concept, now adding ominous smoke trails and ink blotches to her already popular style, creating a distinctness which can only be attributed to The Chainsaw Girl. Realizing that printing her designs on a shirt would be a simple process for her and a perfect way of advertising and displaying her art, Urban Inkvasion was born, changing the way we view bloody chainsaws and the grim, and scary forever.
To be a part of the inkvasion and order a shirt to begin infecting the people around you, you can contact The Chainsaw Girl herself at urban.inkvasion [at] gmail [dot] com or on her Urban Inkvasion facebook page.
All photos courtesy of Urban Inkvasion.