In the 1980s, Christian Yaccarini was on the administration council of the Association générale des étudiants de l'UQAM when he was found guilty of stealing the contents of a caisse étudiant (student-run bank).   The same decade, he was convicted of defrauding the librairie Caron where he worked of $11 604.   He was also found guilty of shoplifting thousands of dollars worth of merchandise from Audio d'occasion.   As he admitted in La Presse today, he spent a couple of months in prison and got out early for good behavior.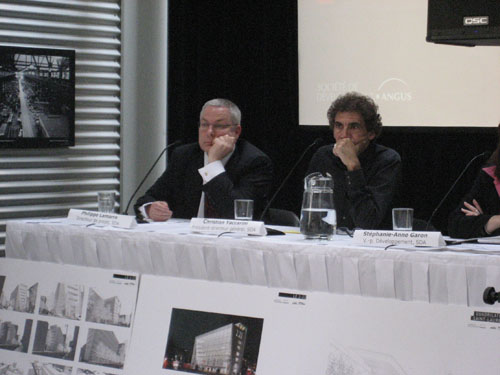 Christian Yaccarini (right) at a press conference earier this year
30 years later, the Tremblay administration was looking for someone they could trust to redevelop the stretch of St-Laurent boulevard between St-Catherine and Rene-Levesque.   Rather than hold an open bid, they followed the suggestion of then Ville-Marie borough mayor (now disgraced former right-hand man to Vision Montreal's Louise Harel) Benoit Labonte and sent him to court Yaccarini on their behalf.
The contract, valued in the millions, was awarded to Yaccarini's Angus Development Corporation and the administration fought hard to push it through.   They ignored the Office de Consultation Public findings that the project needed to be re-evaluated and instead decided to trust Yaccarini with taxpayer's money.
In an election dominated by corruption and mafia involvement in city government particularly through the construction industry, Yaccarini even weighed in on the debate a few days ago, complaining that Benoit Labonte had asked him to use a particular construction firm.   He also asserted that Angus has always operated within the "les règles de l'art" whatever that means.
Yaccarini's criticism of Labonte could be seen as a way of deflecting potential allegations that his firm was in some way part of the problems that have even led to Maclean's Magazine calling Montreal "a corrupt, crumbling, mob-ridden disgrace."   It could also be argued that his attack was designed to shore up support for the Tremblay administration who clearly now had Angus' back.
No matter how you cut it, though, just four days later Yaccarini has his own scandal to deal with.   It seems that this is becoming a trend in this campaign.   Corrupt people accuse others of corruption only to be outed as corrupt themselves a short time later.
Meanwhile, the groundbreaking ceremony for Yaccarini's 2-22 project, the less controversial of his two projects, was cancelled.   Also last week a fire broke out in one of the recently abandoned buildings that would be demolished to make way for the Quadrilatere St-Laurent, the Angus project that has generated quite a bit of criticism.
The fire was a stone's throw away from holdouts Café Cleopatre and the Montreal Pool Room.   The cause of the blaze has yet to be determined, so we won't make any claims as to its cause.
It is, however, safe to say that in the case of this fire in one of the buildings owned by a developer with a known criminal past and ties to politicians accused of corruption and involvement with the mob and an interest in seeing the area devalued further, arson has not been ruled out.