Is hugging just plain weird? Hugs not drugs. Free hugs. Cheek to cheek bodies entangled. A pat, a brief squeeze, or a firm grip. There is something incredibly magical about the transfer of energy between two people. The touching of bodies in a warm embrace, a gesture of kindness and love.
But there can be a dark side to hugging. You can trigger all kinds of stuff by thinking you are just innocently hugging someone. It is no different than rape. The key is consent, making sure that the person you are about to hug wants to be hugged.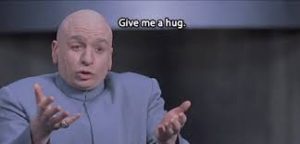 Personal space is always to be cherished and respected. You cannot assume anything about anyone, you don't know if someone was abused or just doesn't like to be touched.
Someone you normally hug may not want the hug this time. Do you ever have days where you just don't feel like being social? There have been times I have felt obligated to hug someone because they wanted it. I wouldn't just sleep with someone because I know they wanted it! Hugging should be no different.
I am calling myself out on being an offender of taking away other's freedom with my free hugs. I have hugged someone and immediately regretted it. I have been a hug rapist. I have also been guilty of lingering too long, making the hug uncomfortable by accident.
If someone is pulling away let them. Do not be too aggressive or squeeze the life out of someone. Don't force yourself onto anyone, ever.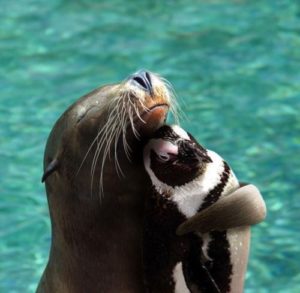 It really is a personal thing, so yea, I think it is weird to hug someone when you first meet them, even if you are being introduced by someone you both know and hug. A hug goodbye on a first meeting may be appropriate with proper consent of course. A hug hello can be amazing between say two people who haven't seen each other in awhile. Running toward each other at the airport. The hug is obviously wanted by both parties, they yearn for it. When they finally collide in a rush of squeeze it is beautiful. This is the hug people dream about later.
Human contact is so important. We feed off of each other. A good hug with consent is like no other feeling in the world. You can literally feel the energy merge.
I feel the need to offer a hug to people I love when they are sad. Putting a sobbing human into yourself is intense, you take in all of their negative energy and try so hard to rub off your positivity into them. Comforting another human is a raw and pure basic instinct.
I find myself taking on a maternal role with some of my younger friends sometimes. I am fairly certain that I am never going to have children, so I don't mind sharing my energy with others, hugging the world that wants to be hugged.
Children often are the victims of unwanted hugs. I remember being hugged by a lot of adults. It was confusing because I knew I was not supposed to talk to grown ups, you know stranger danger, be aware. Then I would meet family friends or whatever and they would go in for the hug immediately. Red flag bro! I don't even know you! Why would you put a kid in that situation. It will cause a lifelong fear of intimacy.
A lot of people do not like hugs. Never assume someone wants it. Always ask, even if body language suggests otherwise. If they say no offer a handshake, fist bump, or a wave. Don't ever just "Oh we are friends" and go for it, if you do that you are not a good friend.
The double cheek kiss is an odd greeting to me too. Nobody has time for a cheek full of someone else's lipstick traces, but that's for a different blog.
Just remember, consent, consent, consent! Oh, and I hate when people go in for the hug when I am just done performing and still topless. No bad touch. Be considerate and respectful to others at all times. "May I hug you?" See that's easy!