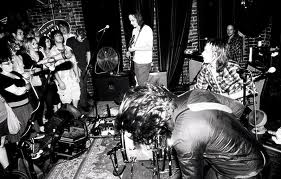 Let's just try to get this out of the way: Jack White, Jack White, Jack White, Jack White. It is impossible to discuss Cincinnati rock-revivalists, the Greenhornes, without mentioning the man in red, white and black.
So, yes, the Greenhornes' Patrick Keeler (drums) and Jack Lawrence (bass) are better known as Jack White's go-to rhythm section. They are found on Loretta Lynn's Van Lear Rose (2004), comprise one half of super group, the Raconteurs, and Lawrence plays bass for black-leather-clad rockers, the Dead Weather.
With leadman Craig Fox, however, Patrick Keeler and "Little" Jack Lawrence are the Greenhornes and have been, according to their myspace, "churning out the highest quality rock n' roll for well over a decade." On Sunday, April 3, the trio will be at Toronto's legendary Horseshoe Tavern accompanied by San Antonio's own, Hacienda.
The Greenhornes are touted as Brit-rock mimicry with no revisions, according to their myspace biographer. We are urged to draw up bands like the Yardbirds, the Kinks, the Animals, et al. In fact, Fox's vocals are pure Eric Burdon of the Animals whenever he abandons his Iggy Pop croon for a more explosive, rock n' roll yelp.
Their latest release, ★★★★ (2010), is their first full-length since 2002 and was produced by (surprise, surprise) Jack White and released under his Third Man Records. Albeit more inventive than their earlier releases, ★★★★ leaves me with nothing to grab on to. The songwriting and instrumentation have matured, the production is slick but it seems to lack something. Something important.
At a 2001 show in Houston, the Greenhornes shared a bill with the White Stripes. During the Stripes' set, Jack stops to berate the audience thusly: "Now, all you people who were sitting down when the Greenhornes were playing have committed a moral sin and may god have mercy on your souls. Especially all you hipsters standing still, who haven't been to no rock n' roll show and don't know how to move your head even."
Forgive me, Father Jack, for I too have sinned. I caught the latter half of a Greenhornes set a couple years ago in Toronto and remember it as nothing too ground-breaking, just loud (I sound like a lame parent, I know). I recognized their Brit-rock bent and heard a punky, garage rock flavour but again, was somehow left hanging.
Despite all this, the Greenhornes are worth seeing. They are an entertaining live rock show and if you're in the downtown Toronto area Sunday night, I urge you to check them out for yourself. I truly want to love this band: I want to be blown away, be proven wrong and have to eat these words for Monday breakfast.
Also, if you plan on going, be sure to catch opening band Hacienda. These rocking Texans are gaining serious momentum under the tutelage of Black Keys frontman, Dan Auerbach, and will join the 'Hornes as they head to Montreal's La Sala Rossa two nights later.
Sunday, April 3, @ the Horseshoe Tavern, 370 Queen St. West, Toronto
Hacienda @ 9:15, Greenhornes @ 10:30
Tickets are $14.50 in advance, $17 at the door
http://www.youtube.com/watch?v=l5OkruYJeXU
Photo soundsinwaves.blogspot.com
Not enough? Catch us Facebook.