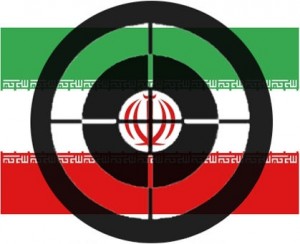 The winter of 2012 is still less than a month old and if you had turned on a television since the New Year, you'd have found two seemingly different stories being covered on the news networks. The first being the Republican Primaries that got underway a couple weeks ago, the other would be Iran.
In the past, I would have said that sabre rattling and a looming American election went together like peas and carrots. From the invasion of Iraq, to the liberation of Kuwait, from the invasion of Grenada and beyond, war has played an important part in American politics since the onset of the Cold War.
Is there a difference this time around? That would depend on who you ask; Barack Obama favors bleeding them dry, preferring sanctions over military action, Rick Santorum and Mitt Romney would bomb them back to the Stone Age and it would appear Ron Paul wouldn't do a thing even if Iran attacked Canada.
With all the War the United States has waged in the last decade I would think all but the biggest hawks are weary of never ending conflict, Iran though might be the exception. Other than the USSR, the United States has had no greater enemy over the last thirty-three years and, of course, the USSR is no longer a problem.
Iran/US relations started weakening quickly after the people of Iran overthrew the Shah, a "King" the United States helped to install. It deteriorated completely less than a year after the Iranian (Islamic) revolution when a group of students took hostages at the US embassy. The students accused the embassy's personnel of being CIA spies who wanted to overthrow the Islamic Republic just as they did to democratically elected Mosaddegh in the 50s. Ayatollah Khomeini backed the students 100%.
Relations haven't changed much since those days; aside from the Iran-Iraq war of the eighties both countries have all but ignored each other… until 2002. In President George Bush's State of the Union Address that year he labelled Iran, Iraq and North Korea part of an Axis of Evil. The following year Bush invaded Iraq as he deemed it to be the greatest threat of the three.
After this threat backed up by the use of force, North Korea quickly developed nuclear weapon capabilities as a deterrent to what they saw as American aggression, Iran I would imagine is trying to do the same thing. While some people say that Iran's military might is a threat to Israel as well as its neighbours, Iran's military budget is only 2% compared to that of the United States. A nuclear weapon is therefore its only defense; even so Iranian officials still claim its nuclear program to be strictly for energy and medical purposes (an argument most of the west, including myself, does not believe).
In the past few weeks, Obama has introduced harsh new sanctions that aim to cripple the Iranian economy and its oil exports; we've seen another assassination of an Iranian nuclear scientist and continued tough language coming from western countries. Tehran in the same time span has begun to enrich uranium in an underground bunker, threatened briefly to close the Strait of Hormuz and sentenced an Iranian-American citizen to death on espionage charges.
I am by no means a supporter of Iran or their cause; in fact I despise any country that uses religion to guide its policies, democratic or otherwise. I worry though, when a man gets backed into a corner and has nothing left to lose, this man won't necessarily give up and die. Desperate times call for desperate measures and autocratic regimes never give up so easily. Iran just might be lured into starting a war it had no intention of fighting.
So, I'm still left with an unanswered question: Is Barack Obama's sudden tougher stance on Iran just to help his re-election aspirations or is the Iranian threat a clear and present danger? Perhaps it's just good timing? I'll leave the answer to you and time will tell. One thing is certain however, if war breaks out not much good will come of it.
Follow Quiet Mike on Facebook and Twitter