"I haven't the faintest notion what inspires me to write songs and I do not want to know" says Andre Kirchhoff of the Jimmyriggers. "I think if you start to understand a great deal about your writing process it becomes just that, a process, and the writer is at greater risk of falling back on cliches and patterns that have worked before. I believe Francis Bacon said the job of the artist is always to deepen the mystery, so, in that spirit, if a song is to be successful I think it has to remain mysterious to me as well."
The Jimmyriggers are a four piece roots/folk rock band consisting of David Pearce (bass, vocals), Andre Kirchhoff (guitar, vocals), Kevin Moquin (guitar, lap steel), and Lewis Handford (drums). Their songs blend together country-rock, folk, roots, and pop quite nicely. The two-part harmonies and intricate melodies make them stand out. Furthermore, these guys are great supporters of the Montreal music community.
David and Andre first met at an open mic night and from then on the band took on many configurations. For about three years the Jimmyriggers were a trio consisting of David, Andre, and Ram Krishnan (The Unsettlers). Then after a short period of regrouping, David and Andre joined forces with Mark Goodwin and Robert "R.D. Harris" of Lazarus Moan. By the time their album I Stand in the Weeds was finished, " Andre and I had decided to augment the band's line up permanently by bringing in a second guitar player and making the Jimmyriggers a four piece instead of a trio," says David. "I saw Kevin playing lap steel with a band called Ryan and the Holy Rollers and thought he would be a great fit." As for Lewis, he joined the line up recently but has known the rest of the guys for about four years.
"My songs are usually inspired by emotional triggers," says David. "Anger and loneliness seem to get the better of me and often show up in some of my lyrical themes, but I always try to balance that out with an optimistic melody or chord progression." For Kevin, inspiration is everywhere: "I just make sure that I keep my ears and thoughts open. I learn a lot of music and spend a lot of time with my guitar, and I try to listen to as many different things as possible. Inspiration isn't one of those things that you can sit down and "work on," but that doesn't mean that you sit there and wait for it to come. You have to allow yourself every opportunity to be inspired […] You might have to get some beers in me to get the full answer. I feel like I could go on for hours on this question."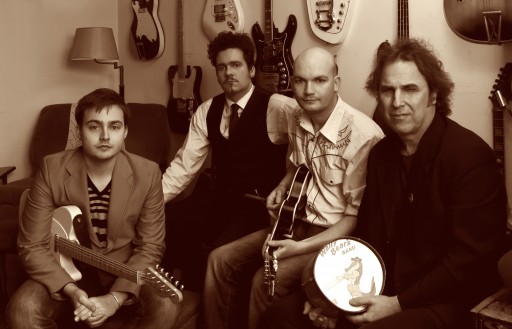 When asked about the best place for a beer in Montreal, the answer was unanimous and not entirely unexpected: Grumpy's. "Well, my ideal place for a beer has a lot to do with how comfortable the place is," explains Lewis. "Maybe it goes back to watching too many Cheers episodes where  everybody knows your name." Andre agreed adding, "Grumpy's is my regular watering hole of choice as well; hell, it's practically my living room. From a beverage quality point of view, Dieu du Ciel brews the best beer, but I don't go there very often."
Lately, the Jimmyriggers have been listening to a diverse selection of music. David has been listening to the music of friends including Lee Mellor's Lose, Kristen Bussandri's Diamonds to Dust, and The Dirty Cheap Winos' self titled Ep. As for Andre, he told us that he doesn't listen to much music: "I don't like to have too many competing frequencies cluttering my brain. When I do it can be a fairly schizophrenic selection, which in the last few weeks has included Kayla Luky's The Time it Takes (a Manitoban we met while on tour in Moncton), Neil Young & Crazy Horse Live at the Filmore 1970, The Rolling Stones' Exile on Main Street, and some Beethoven piano sonatas."
These days, the Jimmyriggers are working on some new tracks and playing shows around Montreal including a show at O' Patro Vys this Saturday, February 18th, which will be recorded for a live album. Keep your eyes and ears open for these guys!