In the Maritimes we dance. We dance like it's the last time you're gonna have those three shots of whiskey and be carried home by your friends. I'm sure in Montreal you used to dance too. But, as of late, there has been this ridiculous phenomenon happening..? danceless shows. I know, I know, take a deep breath and bear with me. The kids just don't dance these days. I wonder why? Are we afraid of something (can't say that out loud, it'd make us uncool). Are our pants and tights just too tight, that if we move the button might bust or the tights might rip? Or have bands just accepted and supported the fact that dancing isn't "cool" anymore. I'm gonna call bullshit on this and here's why (though some bands have accepted it. Lame.).
Last Sunday night the FTB team soberly (yes that's right we arrived sober) went to Casa (where else would we go?) because the acclaimed B.A. Johnston was performing, along with The Burning Hell. I'm pretty sure that if you weren't dancing or making space for B.A. Johnston's awesome shenanigans, you were asked to leave – that's right, we wanted you gone (don't be a fun killer dude, no one likes fun killers). You're probably wondering just how much fun it was, right? Well, how does an encore in the men's bathroom, along with crazy sing-a-longs and serious foot-stomping-hand-clapping sound? Sounds pretty damn fun to me.
Let's get to the goods. B.A. Johnston is awesome…he's so awesome that he's got a deep fryer in his bedroom. B.A.'s lyrics are catchy and hilariously true. Everyone can relate to them (well, okay, maybe not everyone). For example in the song, "Have Fun on Warped Tour" he sang, "I've been replaced by a 23-year-old emo kid fuck ball." I don't know about you, but I'm pretty sure a lot of my ex-boyfriends can relate to that. And if you can't, you know at one point you dreamed about it happening (being with a 23-year-old Warped tour kid back in 2005 and okay, maybe I did just dream about it happening). If his lyrics didn't make you laugh and shake your head back and forth, then his crazy stage jumping, beer pouring (which I don't agree with because wasting the liquid gold is just wrong) and bathroom encore suckered you in. Who does encores in bathrooms? B.A. Johnston dude, B.A. Johnston.
Once B.A. was through with us, The Burning Hell took stage. The Burning Hell is apparently pretty well known or at least that's what I've been told and noticed on their MySpace. The majority of the crowd was there to see the fiddle player because she was from Newfoundland (NFLD). If you know someone in a band (I'm hoping anywhere) you make sure you get your ass to the venue and show your support. As well, if you're from NFLD you know how to have a good time. You should have seen these kids. This is what I mean by the kids still dance. It was like I was transported back to the Maritimes with a bunch of friends, knocking back beers and whiskey and bouncing off the walls.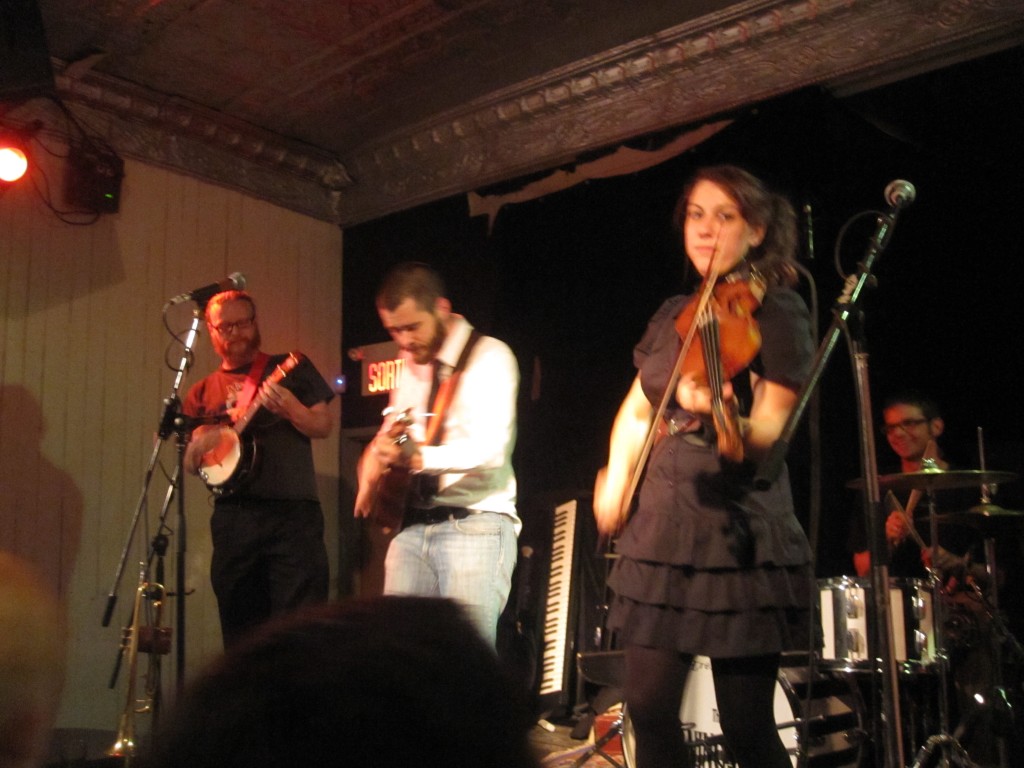 Okay, maybe I'm exaggerating, but The Burning Hell is one of the best random bands to dance to that I've seen in a long, long time. I am a little biased to live shows that are somehow related to my homeland (isn't everyone?), either way, the attendees that showed up to see this band knew every song. How many bands that you've never heard of (sorry if you've heard of The Burning Hell, but I hadn't) can you say have a following like that? I can think of maybe four and they're my friends. It was amazing. Everyone knew the words, everyone knew when to clap and everyone knew when to take a drink break (thank god I'm good at adapting to situations and mouthing lyrics so it looks like I know what I'm singing). Point is: The Burning Hell is well worth seeing, well worth the exercise and well worth wearing your Sunday's best.
Before B.A. and The Burning Hell took stage, there was this really cute little ukulele player who I'd like to mention, the only problem is by the time she stopped performing we were all so enthralled with her music (and maybe intoxicated and maybe mesmerized by her cuteness…and of course music) that none of us remembered her name. She wasn't even in the Casa listing and I can't find her MySpace. But, don't worry, we have pictures (that one, to your left, who is she?!?). Anywho, let us know if you know who she is OR if you are our team's Inebriated angel.
Here's Jerry's take on B.A. Johnston. Cool beans. Keep on dancing and catch you at a show sometime soon!