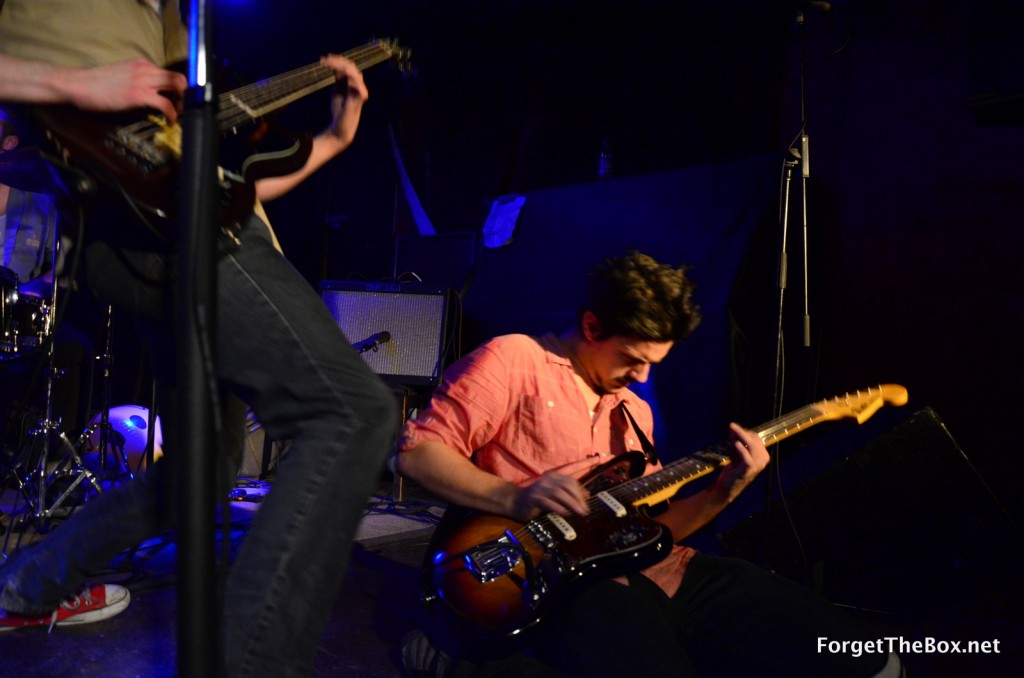 * Please note the date for The Madafakaz next show is February 25 @ Bistro de Paris (not March 4th). See you there!
I stood outside Le Divan Orange late last Thursday trying to describe what I'd just seen in a concise manner. Despite my efforts, my first experience seeing the Madafakaz on stage could only be described by a choppy string of profanities that meant to say how impressed I was. In other words, the Madafakaz surf-thrash show @ Le Divan Orange January 28 was solid proof of how true badasses live up to their names.
When I saw three band members come on stage wearing brightly colored pantyhose on their heads, two of which were also wearing volleyball knee pads, I knew there was going to be one hell of a show. The roomful of fans and unsuspecting Madafakaz strangers were quickly won over by their intense energy, musical skill,and unpredictable entertainment.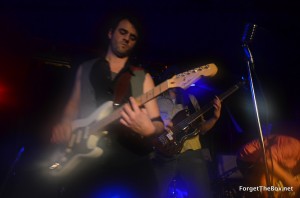 The band set the ambiance for the night with Crazy Beach. This surf-styled song got the reluctant audience on their feet doing the twist and bush-whacking like you'd see in the musical interlude of a '60s beach-party movie. The band had just enough of a don't give a fak disposition to warrant naming "attitude" an official band member on their myspace.
Lead singer Fred "RJ" St-Aubin's antics were all a part of a captivating performance. During their song, German Girlfriend, an alt-punk tune that showed off the group's quirky sense of humor, RJ catered to the mix of beach bunnies and metal thrashers wearing a furry German military hat and singing in German-sounding phonetics. Meanwhile, Phil "Phang" Hughes made great use of his knee pads by spending most of the song rocking out with complete abandon on the stage floor. If these guys were fakkin' your mada, you'd be pretty damn proud of it.
The Madafakaz played for the people, with the people, and sometimes on top of the people among several other places in their healthy two-hour set. They were on the floor, in the crowd, and on top of the bar. RJ would join in on the collection of thrashers in front of the stage, such as during, Yo're Mama, as the circle of audience members observed the chaos, cheered, and yelled the lyrics.
The Madafakaz didn't just win me over with their showmanship; they were also stacked with musical talent. Phang, RJ's right-hand man, channeled what can only be described as a balance between the western-styled fatality of a cowboy duel, the badassness of a rockabilly motorcycle showdown, and looseness of a beach babe's bikini strings on a hot afternoon. That's the recipe for something really fakkin' infectious.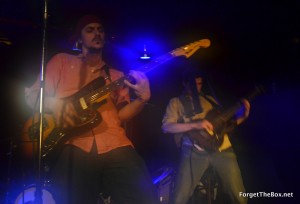 The majority of their mostly instrumental two hour set was made up of Madafakaz' originals, but one of my favorite moments of the night was the Trashmen's 1963 hit Surfin' Bird cover. This is when RJ   sifted through the crowd and proceeded to exit the venue, yelling how "well-a-bird-bird-bird, bird-is-the-word" through a loudspeaker to unsuspecting passersby. All of this, only to be carried back to the stage by a collection of fans to finish off the show like the Madafakaz that they are.
Everything considered, the Madafakaz managed to showcase their talent while maintaining on-stage and off-stage entertainment. If last Thursday is what an audience should expect with every Madafakaz show, these guys aren't just gonna be a quickie on the Montreal music scene. Cheers to a whole lot of Madafakkin'.
The Madafakaz's self-titled album is released this Thursday. Make sure to check it out and come to their show on February 25th @ Bistro de Paris. It's gonna be wild.
For more photos check us out on Facebook
Photos By: Chris Zacchia