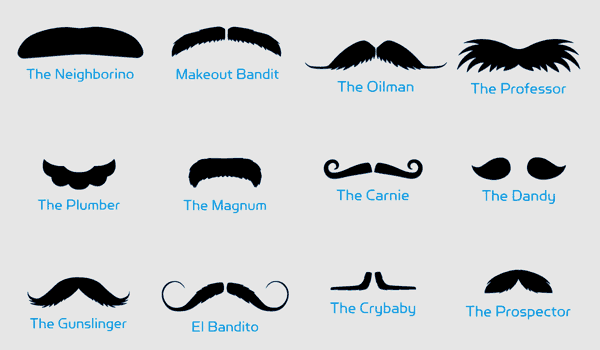 I don't know about you, but my office sure has been looking a little more manly this month. I even caught myself making flirtatious eye contact with guys I'd never really given more than a glance to before. Then it hit me: Movember! I wasn't flirting with the face – I was flirting with the mustache.
Yes, there something about the mustache that signifies manliness, an image which the team at Movember has continued to cultivate with their ever-growing fundraising campaign. Last year, the Canadian campaign raised over $32 million for prostate cancer research, with nearly a quarter of a million men donating their upper lips for the cause.
No one could have predicted that what started off nine years ago as a team of 30 "Mo Bros" in Melbourne, Australia would turn into a global movement involving millions raising funds and awareness towards men's health issues, specifically prostate cancer.
This year, Montrealers flaunted their handlebars, Fu Manchus and and porn staches on twitter @MovemberMTL. Their month-end gala party will be held Friday, November 30th at the Rialto theatre, 5723 Parc, where they're be handing out prizes for Best Mo in Character, Team Mo, Miss Movember (wonder if there will be any muffstaches?), and Man of Movember 2012.
Competing for the mustache crowd that evening is the crew at Spreakeasy Electro Swing Montreal, presenting an Electro Swing versus Electro Blues event at La Sala Rossa, 4848 St. Laurent. I imagine the mustaches will fit right in with the bow ties and retro vibe of what promises to be a night of sweet dancing and solid grooves. They will also be holding a contest for best mustaches on the dance floor, best man and best woman, where they encourage women to get creative in the facial hair department.
So in honour of Movember, I present a few of my favorite mustaches:
I had to include him here, as his bushy black stache is one of the first that the mind conjures when it hears of the word mustache. Marx's moustache began as greasepaint smeared on his upper lip during in his vaudeville days, making the switch to a real one when he moved to television.
Of course the reigning champion of all things bizarre and surreal would have his own take on the mustache. The Dali stache is so renowned that it has its own category in the World Beads and Moustache Growing Contest, who describe it as "slender with long tips, straight up or arching up".
Mr. Reynolds has the distinction of having likely the only mustache in the world with a band, Facebook group and abhorrent sexual tryst named for it. It's right up there with Tom Selleck's as a pillar of rugged of masculinity.
If you're throwing your own Movember party, you can even Pin the Mustache on Burt Reynolds:
Nick Offerman:
The contemporary mustache champion of the silver screen is without a doubt Park and Recreation's deliciously deadpan Ron Swanson, played by Nick Offerman. In addition to being able to grow a truly awesome mustache, Offerman has helped to shape this "man's man" in other ways, such as incorporating his real-life passion for woodworking. This year, he's served as one of the spokesmen for Movember, filming a mock PSA for men with the in-between stache hoping that it gets fuller.