As I was climbing up the stairs into the cozy little attic known to Montrealers as The Wiggle Room, I absolutely had no idea what to expect. I had heard that late night shows were quite different than the earlier ones. I mean, you must have heard of Dave Chappelle just deciding to show up at the Théâtre Saint-Catherine. No one expected that!
So, with the Montreal Show starting at 11:30 p.m., I had every reason to expect that tonight's show would be something different. Also, if you look at Just For Laughs' website, you will see that they don't have the line-up for the show listed anywhere – well, at least when I looked at my iPhone sitting at the Wiggle Room, I couldn't find anything.
What I knew was this: The Montreal Show used to be a really big part of the JFL fest, but it was dropped for some unknown reason. This year, it's making it's grand comeback, hosted by Tim Rabnett. Some of Montreal's funniest people jumped on the stage today: Morgan O'Shea, Massimo, Jess Salomon, Mike Ward (who also hosts The Nasty Show), David Pryde, Mike Paterson, and Joey Elias!
This is the part where I should say "but wait, there's more!" But I want to talk about these people a bit before I get to the surprise of the night. I mean, if you're on Twitter, or if you've read the title of this piece, you know what the surprise was anyway.
So the deal with such a crowded line-up is that the comedians do not occupy the stage long enough that you could risk getting bored. But also, because they're there for such a short time, they feel like they need to give you 150%. In a single sentence, I laughed a lot tonight.
Morgan O'Shea talked about his dating life and how he was not really good with second dates. Massimo talked about his magical Italian mother, who can apparently conjure cannolis out of thin air. Jess Salomon shared how it feels to be a Jewish-Arab "who looks like a Saint Patrick's Day parade." Mike Ward told a weird story about how xenophobic hatred could save children from pedophiles (Obviously the guy from the Nasty Show does the pedophile joke). David Pryde did a Braille joke about Hooters. Mike Patterson did an impression of his mother's (I think?) boyfriend George's impression – even if no one really knew who George was. Then finally, Joey Elias did not tell a single joke, but instead had interesting conversations with members of the audience.
Now, I think that's what the regular line-up of the Montreal Show is going to be. Although, it was the first night and some of the jokes did fall flat on me. I mean, funny is subjective, right? But apart from that, I still can't find jokes that mock religions funny – despite being an atheist myself. There are so many other things you can poke fun at. You know? Like, Donald Trump's a big joke, yet I heard not a single "Trump's toupée" joke.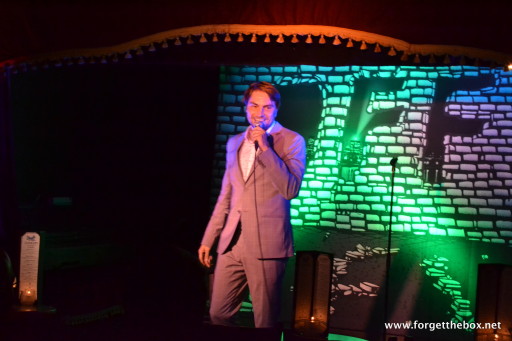 I promised I would say, "but wait, there's more!" So here it is.
But wait, there's more!
That's right! At the second half of the show, the roastmaster Jeffrey Ross took over the Wiggle Room. Ross will be hosting the Roastmasters Invitational: The 2015 World Championship of Competitive Roasting. Apparently, all the comedians that will show up at that event decided to show up at the Wiggle Room.
So, on top of the seven comedians of the Montreal Show, the audience tonight got to see nine more comedians. That's sixteen in total, and I am currently overdosing on comedians.
So who else showed up? Brian Moses, who wore a confederate flag shirt that had "gay pride" written on it; Jeremiah Watkins, who did an impression of the Kings of Leon lost in the woods; Jesus Trejo, who talked about being an only-child in a Mexican family; Whitney Lee Rice, who did animal noises; Ed Larson, who is the world's most prolific mediocre roadie; Earl Skakel, who said that "Montreal is to a hockey fan as Israel is to a Jew;" Ashley Barnhill, who is apparently a very awkward single woman; and Tony Hinchcliffe, whose jokes I actually did not find funny, like at all.
Seriously, Hinchcliffe. I found it appalling how easy it was for you to just joke about sexual assault. I mean, perhaps you were trying to make a point about how society finds it acceptable that people who make "great art" to be sexual offenders (he was talking about Bill Cosby and Michael Jackson). But, I get the feeling that you weren't. I don't know, I just found it distasteful.
At any rate, the non-surprise part of the Montreal Show was enough all by itself to ensure a great night full of laughter and joy. Keep in mind, these folk are completely 100% made in Montreal. As Joey Elias said, Montreal has the "funniest bunch of bastards" on the planet. So go check 'em out, will ya?
You can catch the Montreal Show on July 21, 11:30 p.m. at the Wiggle Room. Check hahaha.com for more information.
Also, I was only allowed to take photos in the first 10 minutes of the first set. Soooooooooooooooo…