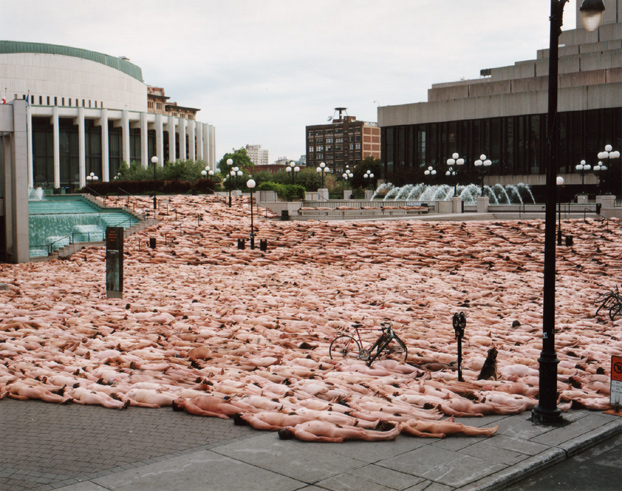 Ontario resident Brian Coldin has gone up against an Ontario court, claiming that Canada's current nudity laws should be struck down on account of being overly broad and archaic. The proprietor of a naturist resort, Coldin has been arrested numerous times for public nudity, including five counts that stem from incidents that occurred at Tim Horton's and A&W drive-thru-s.
Coldin hired a prominent defense lawyer, Clayton Ruby, who argued that not only was he not completely naked (he was wearing sandals), but his nudist behavior was not done in a "prurient or indecent manner".
The decision will be handed down by a court this May.
Be it resolved that Canada's laws prohibiting public nudity are an infringement of constitutional rights.
Pro:
Under the current laws, a throw-back to the stuffy Victorian morality code, indecent acts done with intent to insult or offend in a public place are prohibited. Yet few activities match the thrill of being naked in public, especially around people who are as accepting of it as you are.
I'm going to bare it all here I love being naked. I was raised in what can be said to be a "naked house".   This is not to say that we ran around in our birthday suits every day because that could get a wee bit awkward, but that it was a climate where nudity was not something to be ashamed of. I guess you can blame my mother for my desire to strip down and bare it all in the name of burlesque!
There is nothing fundamentally wrong with nudity. As psychologist Brian Ferris told the National Post, nudity causes conflicted feelings between wanting to accept it on one level and wanting to condemn it on another. I guess some of us just have more of the acceptance and less of the condemnation.
Ferris also points out that children don't feel the least bit self-conscious at a nude beach, since they lack the connection between nudity and sex. Take a moment to indulge your inner child and strip it all off. If you're reading this at home, I encourage you to turn this article into an interactive experience by peeling away your clothes. Even if it's just around your apartment, embrace your naked self!
Nudity is art! It can also be used for protest, as evidenced by a recent group of Ukrainian feminists advocating democracy, I think… I was too busy checking out their boobs. Nudity is self-expression! Nudity is freedom from the bondage of clothing!!
Con:
A society where everyone ran around naked all the time is tantamount to anarchy. Nothing would get done!
Next time you're on the metro, here's one of my favorite games to pass the time how many people on this car would you fuck? I've been mentally undressing attractive strangers for years, and my odds are usually around one or two per car. Now imagine all the rest of the rejects, naked as the day they were born. This is precisely why we could need some sort of committee to decide who could benefit from the laws most.
And I would like to be on that committee, as the jewels in the haystacks would more than make up for all the flabby stomachs, hairy chests and sagging testicles.
Post script:
At the end of the day, nudity is about acceptance. To be comfortable with nudity, you have to be comfortable with yourself. It's a little like putting your words out there to be read, judged, chewed up and spit out… it's definitely not always easy but often you learn a little something about yourself and others' perceptions of you along the way.
In order for Canada's nudity laws to have any type of meaningful change, there would also need to be a change in people's attitudes to remove the stigma of nudity, and the societal pressures to look a certain way.   While skin in and of itself may be sexy, it isn't nearly as sexy as someone who is wholly comfortable in that stripped down skin, no matter how they look!
Photo courtesy of www.essential-architecture.com/tunick/tunick.htm