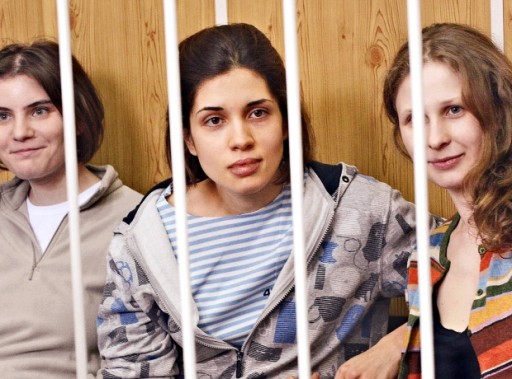 Back in February, five members of the Russian, anti-Putin art collective known as Pussy Riot performed a "punk prayer" at the altar of Christ the Savior Cathedral in Moscow. The song they belted out was a plea for the Virgin Mary to remove Vladimir Putin from power just weeks before his re-election.
Days after the demonstration, three of the members were arrested, charged with "hooliganism" and denied bail. After a speedy and one sided trial, Judge Syrova found Nadezhda Tolokonnikova, Yekaterina Samutsevich and Maria Alekhina guilty of "hooliganism motivated by religious hatred" and sentenced to two years in prison.
The three women had insisted there was no intention of offending Russian Orthodoxy, but wanted to bring attention to the church's close ties to the state. "Our goal was to bring attention to Father Kirill's public statements that the Orthodox must vote for Putin," Alekhina wrote in a lettered statement "I thought the church loved its children. It turns out the church only loves those children who believe in Putin".
The verdict and subsequent sentence prompted protests from people across the globe including from musicians such as Paul McCartney, Anthony Kiedis and Madonna, as well the governments of Britain and the U.S. (Canada has said nothing).
The judgment highlights the Russian president's increasing crackdown on dissent. Putin has taken to raiding the houses of anti-Putin activists and anti-corruption bloggers. He has also passed several laws including one that raises the fine for taking part in an unauthorized demonstration to about $7000 USD (Bill 78 anyone?)
With the exception of the Russian church, what Pussy Riot did in the eyes of many was a simple act of civil disobedience; an action that was taken in order to educate the Russian public on the church's close ties to a president who has managed to abuse his power for far too long.
Pussy Riot knew full well what the consequences of their Cathedral protest might be given Putin's reputation, but they did it anyway. This band of activists has a passion for the welfare of their country, a deep desire to make it better. What they did took guts, something sorely missing in western democracies.
We don't face the same problems as the people of Russia, Syria or other similar places, but that doesn't mean we should sit back and enjoy the ride. To quote an American punk/metal band; "the greatest weapon of a fascist is the tolerance of a pacifist". Those lyrics were written over twenty years ago, but resonate more in North America today than when they were first sang.
Today we live in a country where the people take a backseat to corporate power. A new authority determined to syphon as much profit from the masses as it possibly can at the expense of the environment, our health and our very wellbeing, to make matters worse it is doing so with the help of our governments.
The occupy movement brought this fact to light, but at the same time, local governments were quite effective in dispersing the crowds and the momentum the 99 per cent created. Awareness is only a stepping stone however; sitting in a park will never end decades of growing corporate dominance. What we need to do is follow in Pussy Riot's example, sometimes a simple act of civil disobedience can galvanize a movement—look at Rosa Parks.
If some punk band burst into the Mormon Temple in Salt Lake City to protest Mitt Romney's 1 per cent presidential candidacy, do you think the band would get arrested? Absolutely, but people would take notice and perhaps start something. Besides, it's not as if they'd go to prison for two years, thanks to the renegades in America's past, we don't live in a place like Russia.
Follow Quiet Mike on Facebook and Twitter