What bleeds for a week and doesn't die?
I find myself sitting alone in my bed watching, videos of kittens cuddling with various other cute creatures, orphans getting adopted for Christmas, the reactions of dogs seeing their soldier owners after years of deployment, and more sappiness into the wee hours of morning just weeping. Crying my eyes out for no reason and every reason imaginable. Its ridiculous – I feel weak and powerless over my emotions. Its like that Sarah McLaughlin fucking Angel song is playing on repeat in my brain for the entirety of my red wave.
Recently, I have been really feeling like a WOMAN. I have had my period for about a week now. This month my darling Aunt Flo is a relentless bitch. I love my femininity most of the time, but during my red days I would much rather have a penis, even a small penis would be better than a throbbing, bloody pussy. Penis envy is not my thing, but I would trade her in for a few days each cycle. I know that I am probably no fun during these days. All of the energy is drained out of my body and I catch myself being hormonally cranky and full of pure rage for no apparent reason. I apologize for anyone whom I hurt during this time.
When I am not crying or ready to kill someone, I am ferociously horny. Its insatiable. Time to earn your red wings lover. I do often find that I am pretty much irresistible while bleeding, the bears can smell the menstruation. I smell different and am full of all the hormones – the "whore moans." I have had some of the best sex of my life while on the rag. Shower sex is so much fun or even just putting a towel down works. I'm a squirter, so I do these things anyways. I even had a bearded gentleman suitor eat me out, while my beef curtains were extra rare. It was fucking intense! He couldn't help himself, like a wild animal he devoured me. I have had sex with several women while they were on their periods, I did not let the bloodbath scare me. I mean, I definitely concentrated on the clit with my mouth, and let the fingers do all of the dirty work, but it was beautiful and spontaneous. Tasted a little like pennies.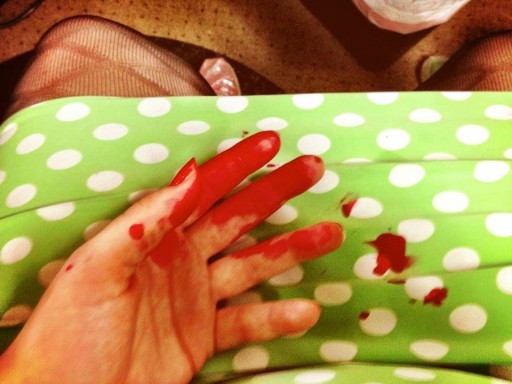 The day I lost my virginity: I was a young teenager and my boyfriend lived like a half hour away, he had to take the bus to come see me. The night before we messaged each other on AIM, and planned the whole thing. My parents were going to work and he was going to make the trek over to pop my cherry. This is it, I thought, the day I am going to become a woman! So I wake up with a smile on my face, and then look at my panties: SONOFABITCH! I got my period. There was no way to call him off since this was before cell phones were prevalent. So I cleaned it up and pretended like nothing was out of the ordinary. We had sex for the first time and I bled. He was also a virgin and just assumed that all the blood was from my precious little hymen breaking. I started my sexual career based on a lie.
I never read the book but apparently there is a part in 50 Shades of Grey, where he removes her bloody tampon and they get it on. Good for them! I'm happy that this is being discussed. The intimacy of a relationship is built on love and attraction. I am a woman and I bleed, fucking deal with it! If you want to get it on go ahead. Period blood is natural and lubricating. Its not that I want a guy to pull out the tampon and ring it out with his teeth like a delicacy or chew on the blood clots like candy. I just want some consideration down there. It's easy to wipe your junk off or to take a shower. Could be from red to dark brown clumps, still fine. What's a little blood and uterus goo between lovers?
I have to admit that I have had my reservations in the past when it came to period sex. Now, I see that it was just the insecurities of my partners at the time that made me think that way. I had been told by too many men that it was gross. You want me to swallow your cum and that's sexy, but if you get a little blood on your dick that's gross? Fluids are fluids as far as I'm concerned. I even had a man freak out once when I woke up with my period and stained his sheets. It was mortifying and I felt second-class the way I was treated. Total disrespect.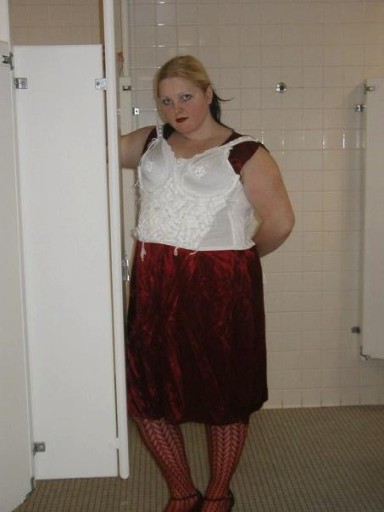 Some people are even into blood play. They go as far as cutting each other and having sex in the blood. In a world where HIV is real, I think that is a little dangerous. What I'm talking about is sex with a condom during a light day of my period, not so gross. It is a myth that you cannot get pregnant during your period, so still be safe, please.
People are obsessed with blood to the point that they make art with it. Menstrual blood paintings are a real thing. I once was dressed like a zombie and left a bloody hand print on someone's wall, that was pretty funny. In college it seemed like every feminist art student made at least once piece with tampons. I made a corset out of tampons and other feminine products. Imagine filling squirt guns with fake blood and having a war with the tampon corsets on, they would puff up. Total period piece.
During the time of the month where our life-giving uterus sheds its lining, women can become ferocious sex crazed beasts. Take advantage of that. Get over the bloody stigma and dive right into the red sea – it is spread open and ready for the taking.