The real targets of the Charter of Quebec Values are the CAQ, Quebec Solidaire and the NDP. Muslims, Sikhs, Jews and Orthodox Christians are just innocent victims caught in political crossfire.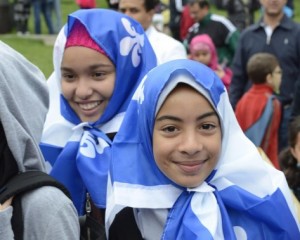 For decades, Quebec politics split into two camps. Federalists and most anglos voted Liberal provincially and either Liberal or Conservative federally. Soverigntists voted PQ and Bloc.
Progressive voters, especially progressive anglos, didn't have much choice at all. With the PQ leaning increasingly to the right on social and economic issues, even progressive soverigntists had to hold their noses when voting PQ.
I hate to generalize, but in this case I have to. The PQ has always had two political bases: left-leaning secular soverigntists living predominately in urban areas and ultra-nationalist Catholics in the suburbs and countryside who veer right politically, sometimes to the point if xenophobia.
The nationalist base also flirted with homophobia when openly gay Andre Boisclair was leader. The PQ fell to third place for the first time ever as nationalist right wing voters found refuge in the ADQ, who only had to not rule out the idea of a separate Quebec.
The current incarnation of the ADQ, the Coalition de l'Avenir du Quebec, are separatist at the core but promise not to hold a referendum right away. This allows them to pick up right wing anglos fed up with the Liberals but also take hard right nationalist votes away from the PQ.
Meanwhile, upstart leftist sovereignist parties like QS and Option Nationale threaten to take soft separatist votes. Throw in some progressive federalist voters and lefties who care more about social policy than which flag is flown and the PQ stands to lose seats in their urban enclaves.
In the last federal election, progressive soverigntists who realized Ottawa was the wrong place to fight for independence banded together with progressive federalists and decimated the Bloc, taking a bunch of Liberals down too. The Orange Wave that saw the NDP take most of the seats in Quebec was part love affair with Jack Layton and part rejection of the status quo of Quebec politics.
It's that status quo that the PQ desperately needs to reestablish both provincially and federally. Enter the Charter, with it's rules against public sector employees wearing "ostentatious" religious attire.
Small crosses are okay as are Star of David and Muslim Crescent trinkets which have no religious meaning whatsoever. Burqas, niquabs, turbans, yarmulkes, kippahs and Orthodox Christian crosses (generally larger than the Catholic ones) aren't.
The target audience is clearly the right-wing nationalist side of the PQ's base, but Marois and company probably figure that the reasonable accommodations crowd will go for a ban on turbans and burquas with little prodding. So the marketing push is focused instead on secular leftists, talking about women's rights and the neutrality of the state.
Arguing that a law which targets specific groups is neutral is a stretch at best, explaining how banning a Jewish man from wearing a kippah or a Sikh from wearing a turban has anything to with women's rights, meanwhile, is downright impossible. But it doesn't matter. This strategy gives progressive PQ supporters enough political cover to defend their party without having to admit they support far-right social conditioning.
They'll also be able to criticize QS, a feminist party, who opposed the charter on principle. Expect a repeat of the baseless accusations that surfaced before the last election, claiming that QS is just a puppet of the NDP.
Thomas Mulcair opposes the Charter, as do Justin Trudeau and Stephen Harper. In fact, the only federal party supporting it is the Bloc. No surprise they booted Maria Mourani for speaking out against it (and in the process, kicked out a fifth of their caucus and their only female MP and their only representation from the island of Montreal).
The CAQ thinks the Charter goes too far, but does support it when it comes to government employees in a position of power. Their position, squarely seated on top of the fence, makes sense: the Charter plays to right wingers who they covet but it's also bad for business, their other key demographic.
The Quebec Liberals, predictably, are opposed to the Charter outright. The PQ's traditional opponent in stark opposition, just like old times.
The PQ's endgame is not separation, it hasn't been for years. The threat or promise of it is just another tool to achieve their real goal: bringing back those good ole days when it was them and the Bloc versus the Quebec Liberals and the rest of Canada.
Now Marois can claim that only the PQ and the Bloc speak for Quebec and its values. All she had to do was redefine the values of half her base as those of Quebec.
It doesn't matter how many people are discriminated against and leave Quebec. It doesn't matter how many people are accosted in public for no good reason. The only thing that's actually valuable to her and her party is for Quebec politics to return to the status quo.