The Canadian Mining industry is huge already and continues to spread around the globe, leaving open-pit mines in places like Mexico, Honduras and even in Quebec with the Toronto Stock Exchange acting as a key player.   Meanwhile governments in Canada and elsewhere turn a blind eye and in some cases assist both financially and legally with the destruction of communities and polluting of the environment that this industry is responsible for.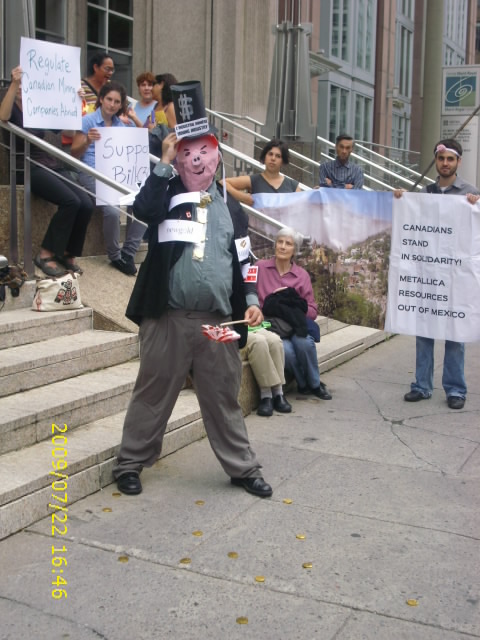 Oink, oink:   The Canadian mining industry at your service
One thing has become clear, this is a situation that shows no signs of stopping, only spreading.     Some argue that you could even look at it as an outbreak, an outbreak that must be contained, kind of like swine flu.   The swine in this case, however, being the mining companies and the TSX.
That's the premise behind a scene performed last Wednesday (July 22nd) by members of FAO Montreal in front of the Montreal offices of the TSX on Sherbrooke Street.     This group recently succeeded, inadvertently, in getting Mount Royal protected against mining interests by staking a claim to it themselves under the name of RoyalOr, a fake mining company created for the event.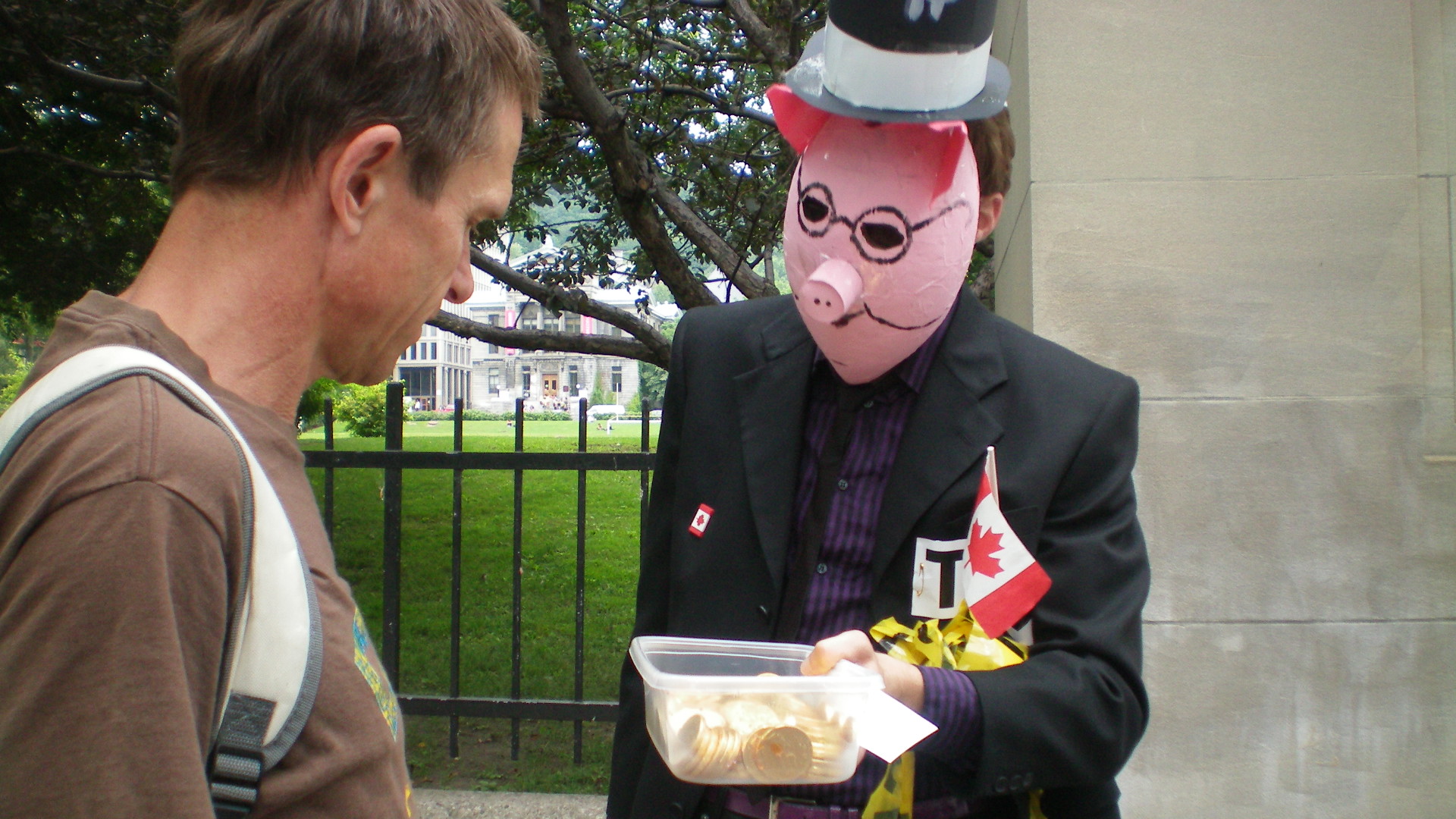 The Toronto Stock exchange pigglishly offers some blood-covered gold to a passerby
Wednesday's scene was much more direct.   Actors dressed as big pigs in suits and top hats (full disclosure – myself included) representing the mining industry and the TSX sent out smaller pigs (all the different mining companies) to go and "develop" the villagers.   They did so with force and brought back blood-covered gold coins to invest back into the TSX.
This was followed by a search for more investors who donned small pig noses until they realized just what their investment was causing and pulled out.   Eventually, quarantine officers arrived on the scene and contained this particular outbreak of swine flu with caution tape.
Villagers after being "developped" by mining companies
The scene was part of the Global Day of Action Against Open-Pit Mining which saw actions in Toronto and Mexico City among other places.   In Mexico, the Frente Amplio Oppositor (Broad Opposition Front), which FAO Montreal is affiliated with, staged a sit-in at the Canadian embassy.   This group was formed to oppose the huge open-pit mine in Cerro de San Pedro put there by a local division of Metallica Resources (now part of New Gold).
Enrique Rivera Sierra, a human rights lawyer, was defending the FAO and speaking out against the Cerro de San Pedro mine when he was severely beaten by paramilitaries.   He came to Montreal to seek refugee status in Canada and is actively involved in speaking out against Canadian mining practices.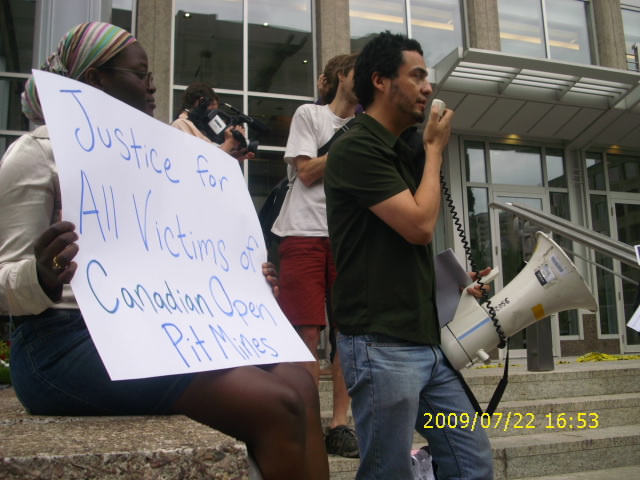 Enrique Rivera Sierra speaks to the crowd
Sierra, along with people from some of the other areas affected by Canadian mining and representatives of the Mowhawk community in Kahnawake spoke between the scenes and after the performance.   Yves Engler, author of The Black Book of Canadian Foreign Policy also spoke.   After Engler mentioned the situation in Honduras (Canada has yet to condemn the coup regime, most likely due to the new "government's" support of mining), a visibly agitated man tried to grab attention and subsequently tried to take the mic attached to the megaphone once Engler was done.
He wasn't successful as it was discovered that he worked for the conservative think-tank The Frasier Institute and had authored a very pro-mining report.   He wanted to complain about how there was too much red tape involved in ripping off mountaintops and told one member of the FAO that he thought the Cerro de San Pedro project was small and not that big a deal.
If he had been able to take the mic, he probably would have been booed as this clearly wasn't his crowd and maybe given a bit of an education from those present who had experienced the ill effects of what he was trying to promote.   Still, his presence underlined the importance of getting the message out about what really is happening at the hands of Canadian mining companies.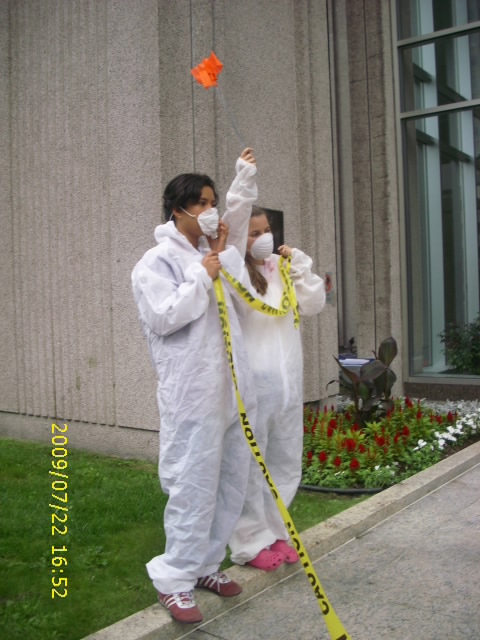 Quarantine officers successfully contained the outbreak
It appears that some people and the public in general don't know what is going on.   Until they do and start demanding action, maybe a quarantine is the only way to stop the outbreak.
Photos by Raymond Bégin