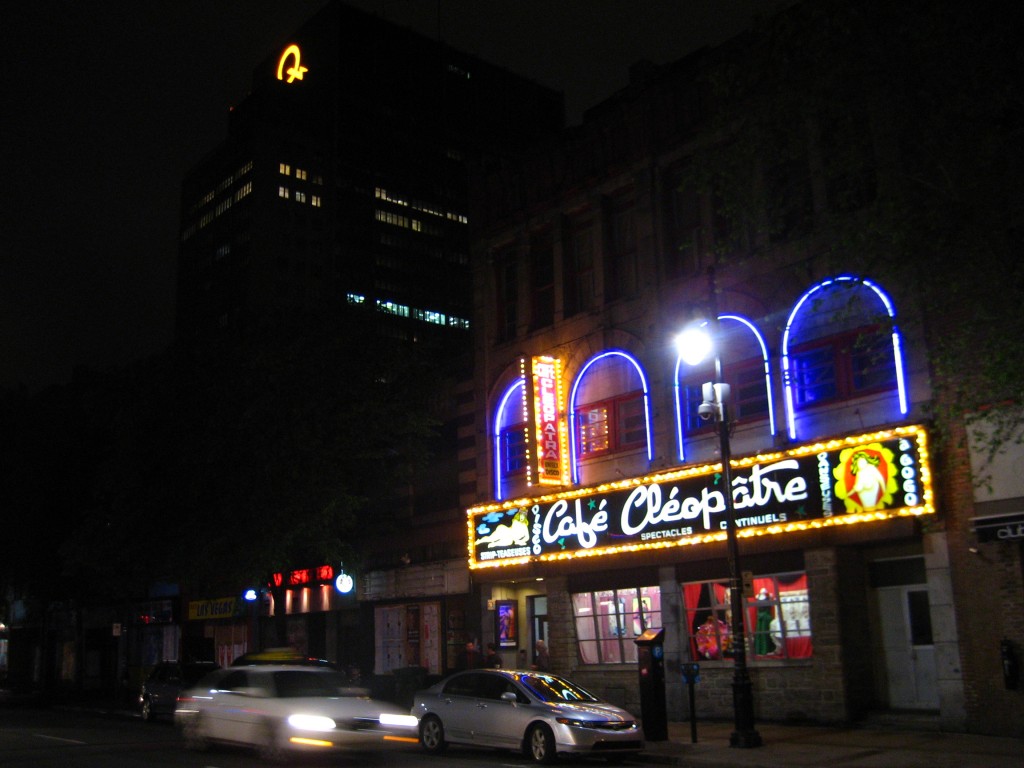 Ever see the slacker classic Joe's Apartment? That's the one with Jerry O'Connell starring alongside some well trained cockroaches as a mid west boy in his first foray into quasi-manhood in NYC, conveniently landing a rent controlled apartment, subsequently discovering his landlord is trying to kill him off so they can tear down the building and put up a maximum security penitentiary. Well, the same thing's happening on the Main. Basically.
If you've been following the bouncing ball then you already know that Angus Development Corp owns most of the west side of St. Laurent between Ste. Catherine & the Monument Nationale, and was all set to build an office tower. They wanted the remaining land, and almost had it when the Montreal Pool Room moved across the street from its original location, leaving only Café Cleopatre standing her ground, at the same spot she's stood for the last 35 years. Proud and determined, the lady couldn't be bought.
Back in March, the city and developer Angus, under public and legal pressure, dropped plans to expropriate the Café Cleopatre. While I was fairly certain what that meant, I double checked the meaning and found "expropriate" defined as 1: to deprive of possession or proprietary rights 2: to transfer (the property of another) to one's own possession and really, thems some expensive words to say stealing someone's shit, so I'm kinda surprised they even entertained the question.
So, the Café won't sell, and the city can't let it be stolen, the office plan got shelved; what to do? Well, neglect the surrounding buildings until they get condemned and torn down. In a decision that was undoubtedly made while stroking an oddly complacent cat and laughing maniacally, that seems to be what's happening. The nineteenth century heritage buildings owned by Angus along that strip are in wild states of disrepair, with city barricades erected to protect pedestrians from falling debris. In fact, if you've seen the strip lately, I bet you thought the buildings were unowned and waiting patiently for their chance to shine again, but that's never been in the game plan.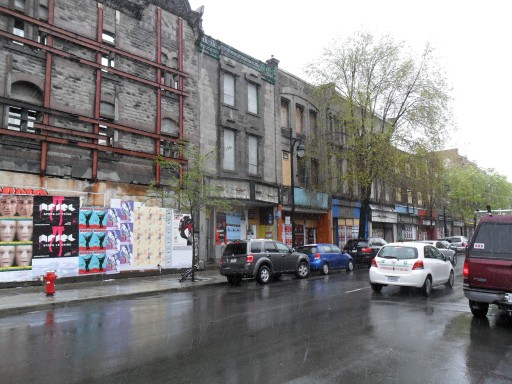 I hate it when people rewrite history. Did you know that rue du Bullion was formerly rue Cadieux, rechristened because the street name was notorious among sailors for the quality of the brothels? A reputation worthy of civic pride, in my books. That fact alone should be taught in schools, but instead it's proof of an age old Montreal tradition to try to eradicate the collective memory of our stylishly sordid history. As a result, the red light district, — which, save for Café Cleo, is pretty well done — must go.
I asked a dear friend of mine, actor, producer and avid lover of the interestingly sexual, Jason McCullough, why he adamantly supports the Café:
"The richness of the place is a texture when you walk in. From the vaudeville lighting to huge space and friendly sassy staff, it's a adult theme park event to be at Cleo's. I've booked shows and events there, I've worked the 60's era spotlight, attended fetish night events and comedy shows, as well as the amazing drag show hosted by Reena. The two bars are fully stocked and they even have a signature "Cleo Cocktail" that will lay you out if you're not careful.  The whole joint is owned and run by Johnny, a kind and soft spoken businessman, who fought the big corporate business who tried to take his 40 year business away from him, and WON.  It's a certainly one of the final icons of the Paris of the north, Canada's sin city. The only thing I could compare it to would be a speakeasy in Chicago during prohibition. The light is always on at Cleo's , and its RED!"
While leaving sequined men and open minded folk of various sexual shades out in the cold may not seem as dramatically heart wrenching as the hooligans in Joe's Apartment throwing old ladies down the stairs to clear out the building for destruction, it's an equally underhanded attempt to destroy the face of a neighborhood.
Cue my singing cockroaches.
I'd love to say that this is an isolated struggle; that it's the world against Café Cleo, and that there's one evil developer trying to cleanse our city's sinful soul with corner offices and condos, but it's more insidious than that. I remember when there were more lights on the Main, and then when those went out, I remember that we were promised more, better, brighter lights that never came. Recently the police's morality squad has been making itself seen around town, in bars, cracking down on establishments with restaurant liquor licenses, (here too), breaking up illegal parties, or as their calling them, endroits clandestins.

I hate to be the one to mention it, but when did the city built on filles de roi, strip teases, after parties and endless vernisages, decide to get uptight again? We should maintain our identity with pride rather than settle for the homogenization of our metropolis. It seems to me, and correct me if I'm wrong,  they're clearing out the gritty, the artsy, the authentic and independent like it's all a scourge on society, in favor of government sanctioned entertainment like the Quartier des spectacles, the main attraction of which seems to be the spotlights that passersby can fiddle with, and prospects of an office tower where we currently have a landmark.
Before it's all gone like an apostrophe on a sign, write to someone. Support Café Cleo. Demand that Mayor Tremblay revitalizes instead of turning a blind eye while the developers let the area crumble into a valid excuse to change the face of our city.
Celebrate New Year's Eve this Saturday from 10pm at Café Cleopatre, 1230 St. Laurent, where Reena hosts a special cabaret with Penelope, and the promise of many surprises. Admission is free (because they're nice people).
Send your thoughts on the subject to:
Montreal Mayor Gerald Tremblay – geraldtremblay@ville.montreal.qc.ca
Montreal Culture Minister Helen Fotopulos – hfoto@videotron.ca
Christian Yaccarini (Angus Development Corporation) CYaccarini@technopoleangus.com
Tweet at me while you're partying @McMoxy
Cleo at night photo by Chris Zacchia, lower Main photo by Donovan King, courtesy optative.net