For many people, collage isn't really an art form. It's an activity you give kids when you have a bunch of old magazines to get rid of and they're bored and restless. Quebec Collage is looking to change all that.
This initiative seeks to promote the art of collage through webcasts, calls for artist submissions, workshops, and exhibitions. Their latest effort is the Retailles exhibition, a collective art show featuring collagists from Quebec and abroad.
Hosted at Galerie/Atelier Marc Gosselin, The Retailles exhibition invites you to look beyond your perceptions of collage. It features two parts, one showcasing ten Quebecois collage artists, and the other displaying a selection of postcard art in the Noir & Blanc.
The Quebec artists featured include Virginie Maltais, founder of Quebec Collage, as well as Jérome Bertrand, Lucie Bosquin, Éric Braün, Madame Gilles, Caro Dubois, Linda Luttinger, Jean Marie Moncelet, Jean Martin (RAVEN), and François-Xavier Vigneault Marcil. One look at their works will dispel any misconceptions you have about the art of collage.
Despite the myths, collage is a complex art, with some artists featuring intricate scissor cuts or torn paper and elaborate placement, while others, like Virginie Maltais and Linda Luttinger, opt to combine torn or cut paper with the use of paint in their work. It is truly eye opening and proof that collage is more than child's play.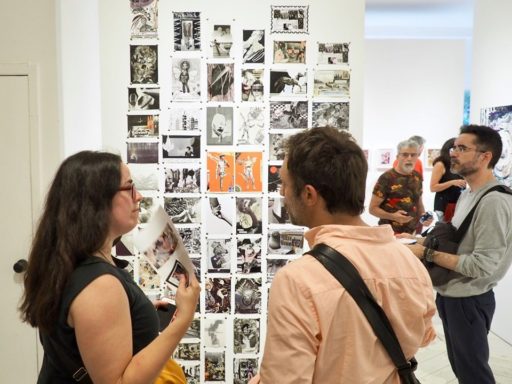 The Noir & Blanc part of the exhibition is the result of an international call for submissions. Artists from around the world were invited to submit analog collages in the form of black and white postcards.
This included everyone from established collagists to those new to the art form. What you'll see at the exhibition are the postcards that made the cut, pun intended.
If you're interested in visual art and want to expand your horizons, learn about collage, or just see some amazing work by local and international artists, check out the Retailles exhibition. It ends tomorrow (Sunday), so get moving!
Retailles can be seen at Galerie/Atelier Marc Gosselin, 3880 Saint Catherine East until July 14, 2019 at 5 pm
Photos by Rene Bellefeuille