Last February, while streaming Radio3.ca (my usual station), I stumbled upon a band named The Wooden Sky. I immediately began listening to this band on repeat for the next couple months (my roommate tried to hide my computer because he couldn't handle it anymore). Yes, I'm one of those annoying people who plays songs and albums they love on repeat until they know every word.
Anyway, last Tuesday (October 26, 2010) evening I was running between two events; a record launch and Sala Rosa. While the record launch was okay, it was Sala Rosa that I was most longing for…can you guess why? Yes, The Wooden Sky was playing.
The Wooden Sky, a Toronto based indie-rock band, have been roaming and growing in the music scene since their first debut in 2003 as Friday Morning's Regret. In 2007, they changed their name to the current (The Wooden Sky) and produced their first album, When Lost At Sea, a folky-melancholic-yet-heartening album. Their latest album, released in August of 2009, If I Don't Come Home, You'll Know I'm Gone, proved to us fans and general listeners that yes, this band is dedicated to this thing called music and yes they will surprise you with their ability to move past the love-lost tunes to more mature, layered instrumental sound (I'm tapping my feet right now while listening to them, instead of writing black and white poems about my ex). So, let's get to the goods…
Sala Rosa as a venue has pretty good sound and a great stage (panoramic view, kids, panoramic!). As The Wooden Sky took stage the group of us gathered around to tune-in to their new songs, while also enjoying our 2007 favourites. Hitting every note perfectly, drumming intensely and getting all our heads nodding, The Wooden Sky did it well. Gavin Gardiner's (vocals, guitars, harmonica) gritty yet edgy voice had all of us glued to the stage, Andrew Kekewich's drumming (drums) kept our hearts beating, and Simon Walker (piano,vocals, guitar) and Andrew Wyatt made sure we were all synchronized with each song. It's interesting to me, because…even though their songs seem mellow (via MySpace and albums), their performance was sincerely up-beat (something I wasn't expecting). They filled the room with life. If that's not good enough for you, how about concert in the middle of the Sala Rosa staircase? Yea, that happened.
At the end of their set, they strolled down the main stairs of Sala, along with Jeffery Innes from Yukon Blonde, to tie everything up with a hallway-blow-out. As I'm straddling the top of stairs looking down at everyone gathering around this stairwell and clumped together like sheep at the bottom of the hallway, I could hear all our voices chanting and singing along with Oh My God (It Still Means a Lot to Me), amongst other melodies that were performed. It's awesome when bands push the norm into the corner and let originality shine through, so thank you The Wooden Sky and Yukon Blonde.
Like said, I was trying to be in two places at once that night, so unfortunately (literally, unfortunately) I missed Yukon Blonde. Have you heard of Yukon Blonde? (Oh don't worry, I linked here). If you have here's my virtual HIGH FIVE, if not, good thing I linked it for you Canadian-indie-music-lovers.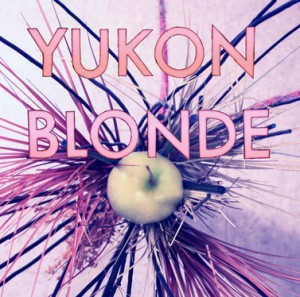 Yukon Blonde, a Vancouver based band is said to be by Radio3.ca host Vish Khanna, "one of the best underground indie bands on the scene right now" (or at least that's
what I heard the other morning while tuning into his
breakfast show). I couldn't agree more with Vish. Don't believe me? How about this…Yukon Blonde was voted
one of the 10 Canadian bands destined to break in 2010 by CBC and Chart mentioned that they were the best band at Canadian Music Week Festival this year (yea, see, that's what I'm saying!). On another note, their EP, Everything in Everyway, was recorded live to tape and should be included on your November iTunes playlist.(we're Canadians so let's support this country's amazing ability to produce wonderful music and artists!).
And, here…I'll make your day…their full-lenght LP was just recently released (oh and I'll make it even easier for you lazy kids) click HERE.
The first song on their MySpace player, Brides Song, has been stuck in my head for a week and I'm not letting go of it anytime soon. Their memorable lyrics (EXAMPLE: …and you can scream your heart out/ 'cause it's everything you do/ and girl, you know you do it too Brides Song) and indie-intense drum-guitar-vocals make me wish I lived in Vancouver just so I could see them live sooner than later. They're also a great group of guys that you wouldn't mind having around for a party. Heck, The Wooden Sky and Yukon Blonde are fucking awesome people to have around for a party (the bottle of rum was found in VEGAS…by the way) and they make great music.
Anyway, that's the down-low. Make sure you're not standing outside wishing you were inside next time either of these bands come to your town/city it's worth missing any prior event for.
Cool beans, catch yea around.
P.S: Where did these bands get their names from…The Wooden Sky? Yukon Blonde?…Just a question and thought.
P.P.S: Sorry we don't have any Yukon Blonde photos! I wish we did…
The Wooden Sky & Yukon Blonde played @ Sala Rosa, October 16, 2010. They played on stage. They played in the stairwell and they know how to party. Check the tour schedule and buy the music.
Click her for an INTERVIEW with Gavin from the Wooden Sky!